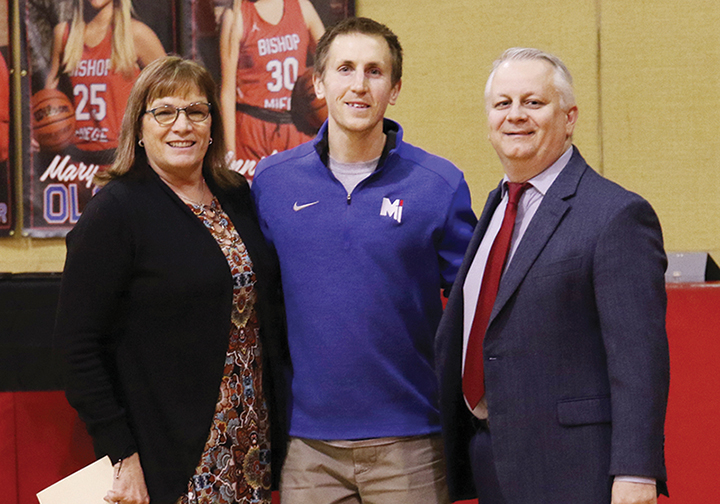 by Joe Bollig
joe.bollig@theleaven.org
ROELAND PARK — Generally, school administrators don't want to see a gymnasium full of students go crazy — but this time was different.
On Jan. 27, the entire student body of Bishop Miege High School in Roeland Park — as well as teachers, administrators and guests — gathered in the gym for an awards ceremony for teachers. When two specific names were announced, the roof may have been raised an inch or two.
"I was just amazed at how excited the school community was. [T]o see a gym full of [students] going crazy with excitement over their teachers getting recognized," said archdiocesan superintendent of schools Vince Cascone, "was a wonderful thing to see."
John C. Clark was awarded Archdiocesan Teacher of the Year by the Kansas Association of Independent and Religious Schools (KAIRS).
Robin Christie was chosen as Statewide Music Educator of the Year by the Kansas Music Educators Association (KMEA).
"We have a tradition that when our teams win a state championship, we bring everyone in the gym and the team walks around the gym with their trophy, and we play a song, 'Stand Up for the Champions,'" said Maureen Engen, Miege principal.
"The students got so excited," she continued, "one of the juniors asked if she could come to the microphone. I said sure. She said, 'I think we need to honor these teachers. They won their own championship. Let's play 'Stand Up for the Champions' and clap for them as they walk around,' so they did."
Clark, a member of Holy Trinity Parish in Lenexa, has taught physics and engineering at Miege for four years and has been a Catholic educator for 11 years.
"I was a little surprised — I hadn't heard anything about it until I walked down the stairs to the gym where the assembly was happening and saw Dr. Cascone at the podium, and he was [talking about] the person who won the award," said Clark. "I put the pieces together then. It was a little embarrassing to walk across the gym floor with all the people there."
In her nomination letter for Clark, Engen wrote: "Students draw so much energy and joy from him because he invests in their life at the same time being a phenomenal instructor. [He] is the teacher who models compassion void of judgment as he moves students from a laissez-faire model to mental and emotional exhilaration."
Additionally, she said he lives his faith and prays with them, demonstrating a passionate faith and showing how science and faith harmonize.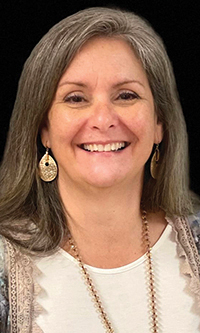 Christie, a member of Queen of the Holy Rosary Parish in Overland Park, has been a Catholic educator for 28 years — 21 of them at Miege. She is the high school's music department chair and vocal music director. This is all the more remarkable since she has 50% hearing loss and thus is a rarity: a legally deaf music teacher.
Christie had been first awarded East Central District Music Educator of the Year, and thus was eligible to be the Statewide Music Educator of the Year, although she didn't have a clue about it until she saw the past, present and incoming presidents of the Kansas Music Educators Association at the assembly.
"Teaching music has given me a window inside the kids you don't see in a typical classroom," said Christie in a video message to fellow KMEA educators. "In teaching in a Catholic school, we've been able to discuss our faith and our faith journey.
"When I'm open to letting the kids teach me, I learn so much more and we grow together. They listen and respect when given responsibility and respect. We lead Mass at many of the area parishes each spring. This teaches my students not only how to be a part of their community but also how to give back to their community and [to] God with the talents they have been given."
Miege also instituted nine new faculty awards — the St. Angela Merici Core Value Awards — to be given annually on the saint's feast day, Jan. 27. The 2022 award recipients are:
• Emphasis on the Individual: Elaine Schmidtberger
• Academic Excellence: Erica Hafey
• Leadership: Scott Anderson
• Community: Bill Creach
• A Positive Attitude Toward Change: Nancy Weber
• Spirituality: Kayla Moylan
• Service: Ross Dessert