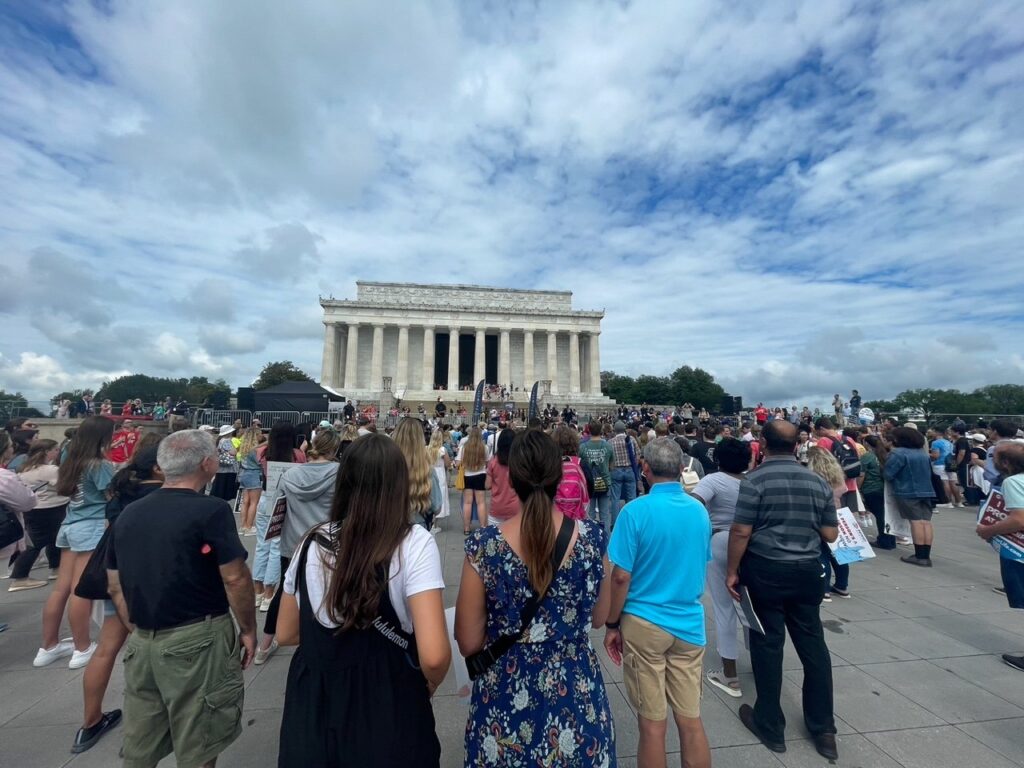 by Katie Yoder
WASHINGTON (OSV News) — Sheila and David Porter left their home in Newport News, Virginia, at 5 a.m. to celebrate the first anniversary of the Supreme Court's landmark decision to overturn Roe v. Wade in Washington June 24.
Together, the couple attended the 2023 National Celebrate Life Day rally held by national pro-life groups on the steps of the Lincoln Memorial. The event commemorated the court's ruling in Dobbs v. Jackson Women's Health Organization that overturned Roe, which legalized abortion nationwide in 1973, and freed states to decide abortion policy.
"I hope next year, this time, that we have much more to celebrate," 64-year-old David told OSV News. "In order to do that, I and the rest of the people that are pro-life have much work to do."
Sheila, 63, agreed: "We can't stop fighting."
The Porters brought with them shirts, available for a donation, that cited the Bible verse Jeremiah 1:5: "Before I formed you, I knew you." In between the text, an image of an unborn baby appeared, resting in the palm of a hand.
The event invited pro-life Americans to celebrate the anniversary, honor past pro-life heroes and unite to protect the unborn from abortion as persons under the 14th Amendment, which says, in part, that no state "shall deprive any person of life, liberty or property, without due process of law."
"I think it's very important now that we're living in this post-Roe era, this new dawn for our nation, that our generation, the pro-life generation, understands we haven't reached high noon yet," Kristan Hawkins, the president of Students for Life of America, or SFLA, which organized the rally, told OSV News.
"In order to achieve that moment, every human being must be recognized as they are: A unique, unrepeatable human person," she added. "And the 14th Amendment does acknowledge that, and that is our path to success."
Ahead of the event, crowds slowly gathered in front of the memorial as the threat of thunderstorms loomed. Curious tourists passed through, asking questions. Printed signs handed out by SFLA read, "Equal rights for all, born and preborn." Others held handmade signs.
The crowd in the hundreds appeared significantly smaller than the March for Life rally, which challenged Roe each year in Washington. But, like the March for Life, the crowd was youthful. Nearly 2,000 joined to watch the event online, via livestream.
A dozen or so protesters crashed the start of the event, but soon disappeared. By the end, the hot afternoon sun replaced the cloudy morning.
In addition to SFLA and SFLA Action, the event was hosted by Pro-Life Partners Foundation, Live Action and 40 Days for Life. Sidewalk Advocates for Life and Patriot Mobile served as co-hosts. Heartbeat International and The Vulnerable People Project participated as partners.
The slew of speakers included Hawkins, former Vice President Mike Pence, Mississippi Attorney General Lynn Fitch, Live Action President Lila Rose, Susan B. Anthony Pro-Life America President Marjorie Dannenfelser, activist and author Alveda King, and Catholic University of America professor Chad Pecknold.
People traveled from near and far to celebrate Dobbs and share their stories.
Kaylee Stockton, 20, traveled with her baby boy, Colton, from Phoenix. She carried a sign reading: "This Teen Mom didn't build her SUCCESS off of MURDERING her CHILD."
She was 18, she said, when she became pregnant.
"My biggest challenge being a teen mom was everyone telling me to get an abortion," she told OSV News, before describing her life as a young mom. "It's scary, and I think every mom feels that when she first finds out she's pregnant, but it's so rewarding."
Kayla Garcia, 22, traveled to the event from Los Angeles. She used to defend abortion clinics. That changed when, at 18, she visited a Planned Parenthood while pregnant and in a physically abusive relationship.
"The only thing that they offered me was abortion, and so I took it because I really thought that was my only option," she remembered, noting that Planned Parenthood failed to report the bruises on her arm.
Today, she leads a pro-life group with SFLA at her college, Citrus College, in Glendora, California. For women contemplating abortion, she encouraged them to visit StandingWithYou.org, run by SFLA.
Nearby, 23-year-old Redi Degefa from the Washington area, held a sign reading "PRAY THE ROSARY TO END ABORTION." She wanted to show people her age, especially young girls, that young people exist who believe that abortion is evil and that life starts at conception, she said.
The event followed a letter published June 15 by National Review in which pro-life leaders and scholars across the political aisle argued that "our North Star in the pro-life movement remains the same as ever: the end of abortion through ensuring the equal protection of the laws."
The speakers June 24 appeared to come from more right-leaning groups, but more progressive groups, such as Progressive Anti-Abortion Uprising (PAUU) attended. Founder Terrisa Bukovinac said she arrived after PAUU held an event at the Supreme Court.
"I just want to join with my pro-life community in celebration of the overturning of the deadliest Supreme Court case in history," Bukovinac, one of the signers of the letter, said. "We support equal application of the law for every single human being. And the unborn are human beings. They are persons."