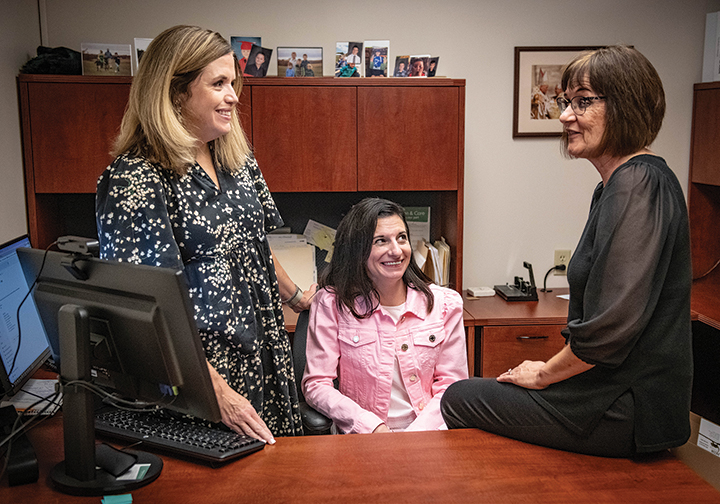 by Moira Cullings
moira.cullings@theleaven.org
KANSAS CITY, Kan. — Walking alongside those who have been abused by a Catholic Church representative is a collaborative effort for the archdiocesan office for protection and care (OPC).
This summer, the office added two new team members to the mix.
Jessica Crocker was hired as a victim care advocate in August, just a few weeks after Kristi Lam became the office's new investigator/auditor.
"These positions are critical to the ministry of the OPC," said director Jenifer Valenti.
"We are working to earn lost trust and the confidence of the community," she continued, "which is why it is so important our team is qualified, dedicated and has a balanced and well-informed approach."
'Counselor by trade'
Crocker, who received a bachelor's degree in psychology before earning a master's in counseling, will work closely with fellow victim care advocate Amy Stork.
She's had experience in the areas of employee assistance, trauma response and private practice. She's worked extensively with victims of domestic violence and sexual assault.
Crocker also served as a victim care advocate for the Diocese of Lincoln, Nebraska, which was one of the later dioceses to adopt the U.S. bishops' "Charter for the Protection of Children and Young People."
"Though some might have been deterred or discouraged by the heartbreaking work," said Valenti, "Jessica only became more resolved to join the ministry and advocate for sexual abuse victim/survivors in the church.
"Jessica is a counselor by trade, bringing a deep understanding of trauma and its impact."
Crocker and her family moved to Kansas last summer from Nebraska, and she worked at Ascension School in Overland Park as a paraprofessional before transitioning to the OPC team.
As a victim care advocate, Crocker walks with victim/survivors throughout their entire journey with the OPC, providing resources and seeking to restore justice, hope and healing through restorative principles.
Sometimes, that means connecting them with a therapist, giving them space to share their stories or working on specific changes they'd like to see made with abuse prevention efforts.
Crocker said it's rewarding to see clients "go through that healing process and regain some sense of self, some control, over parts of their life when they were innocent and didn't have much power or control over what was happening to them, or they weren't aware that what was happening to them was so wrong."
"We hear the term a lot: 'I'm a bad Catholic,'" she said. "Once this trauma has happened to them, it greatly impacts their relationship with God or how they view God.
"[We work on] getting them to a place where they can find healing in that. What was done to them doesn't make them a bad Catholic."
'Compassionate approach'
Lam received a bachelor's degree in English and Spanish translation at the University of Nebraska at Kearney before earning a master's degree in education at the University of Houston.
She was a teacher — including the six years she spent with her husband overseas — and worked in the school of religion at Prince of Peace Parish in Olathe and at the Olathe Police Department.
Valenti believes Lam's background in law enforcement has given her strong tools to succeed.
"Kristi listens to seek understanding," she said, "which is vital in conducting a fair investigation to both the accused and the person alleging harm.
"Kristi is equipped with trauma-informed training, as well as a compassionate approach to interviewing and gathering information."
As an investigator, Lam responds to concerns, questions and reports of abuse or boundary violations. Those inquiries come from the OPC website, its confidential phone line and through email.
"If [people] have a concern or they're reporting something that's happened," said Lam, "then my job is to interview the victim, the person who's accused [and] any witnesses with impartiality to get to the truth by finding the facts."
She then puts together a report for the archdiocese's Independent Review Board, which makes recommendations on next steps.
Lam's role as an auditor is a new position for the OPC.
"Although parish and school audits were conducted as a part of the archdiocese's financial auditing process," said Valenti, "Archbishop [Joseph F.] Naumann recognized the benefit in having a special focus on safe environments.
"We see, on a daily basis, the tragedy of abuse — not only for the victim/survivor, but also for their families and their communities.
"Having a dedicated team member ensuring that our parishes and schools are able to keep our commitment to protect the vulnerable is critical in creating and maintaining a strong safety net of protection."
Valenti looks forward to seeing continued fruits of her team's efforts.
"We hope our new team members will continue to enhance our ministry to prevent abuse and respond with the care and atonement victim/survivors deserve," she said.
Reach out
The OPC team encourages anyone who has experienced abuse by a Catholic Church representative to reach out — no matter how long ago the abuse took place. Callers can choose to remain anonymous.
• Kristi Lam can be reached at: opc-ia@archkck.org or (913) 276-8703.
• Jessica Crocker can be reached at: jcrocker@archkck.org or (913) 433-6701.
• Amy Stork can be reached at: astork@archkck.org or (913) 289- 9244.
To learn more about the office for protection and care, go online to: archkck.org/protection-and-care/office.