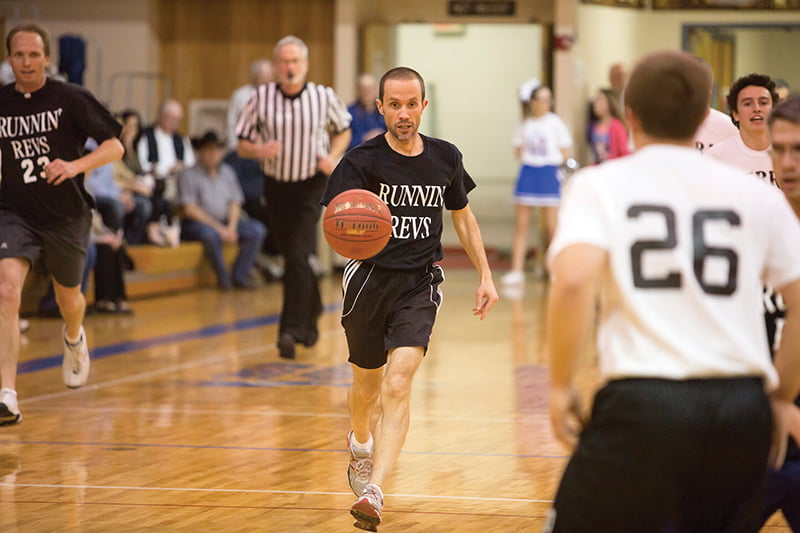 by Moira Cullings
moira.cullings@theleaven.org
KANSAS CITY, Kan. — The annual Runnin' Revs basketball games sponsored by the Serra Club give young men the opportunity to compete against priests and seminarians in a sport they love.
The events seek to promote vocations and bridge the gap between priests and laypeople.
But over the years, it seemed like something was missing.
Father Joel Haug, AVI, approached vocation director Father Dan Morris with a new idea — to have priests and seminarians play on the same team as the eighth-grade through high-school boys.
The idea came from Father Joel's own experience growing up playing sports.
"Even if it is a friendly, light-hearted event, the players you grow closer to through the experience are primarily your teammates, not the opponents you are trying to outscore," he said.
Father Morris, who had worried there could be an "us vs. them" mentality, thought the suggestion was a great idea that would cultivate "working together rather than competing against."
This year, the new format is being implemented, along with a name change from Runnin' Revs to Runnin' with the Revs.
The event will now rotate between the archdiocesan high schools, and local boys high school basketball coaches will help coach the teams.
Father Morris hopes these changes will continue to show the boys who participate that "God calls all kinds of guys to the priesthood."
"Many of these [priests] have the same passion and talents and gifts that these young men may have," he said.
Father Joel emphasized the importance of young people seeing priests in this light.
"People expect priests and religious to be spiritual and do 'religious things,'" he said.
"I believe we as religious can actually do more to evangelize at times by doing normal things," he continued.
"And the laity can do much to evangelize by doing spiritual things in the context of their daily living," he added.
In order to get these messages across effectively, Father Morris said the boys who participate in Runnin' with the Revs are chosen for a reason.
"We want men or boys selected who can play the game of basketball," he said. "But we also want them to select people who are already showing some sort of leadership skills and faith component."
To cultivate those qualities, Runnin' with the Revs includes a pregame pep talk that incorporates information about vocations into the mix.
The boys who play will also receive a jersey with patches that symbolize being a captain — both for the team and for Christ.
"Hopefully, they wear that and take that back into their school with a sense of responsibility to live that out and to be a leader always in all areas of their life," said Father Morris.
"To play in the Runnin' with the Revs game is an honor," he added. "And it's an honor for more than just the reason of you're a good basketball player at this age.
"People see something in you that God has given you as a gift. How are you going to use that gift to lead others to him?"
The first Runnin' with the Revs game this season will take place March 9 at St. James Academy in Lenexa. The second game will take place April 27 at Hayden High School in Topeka. Both events are at 7 p.m. Click here for more information.