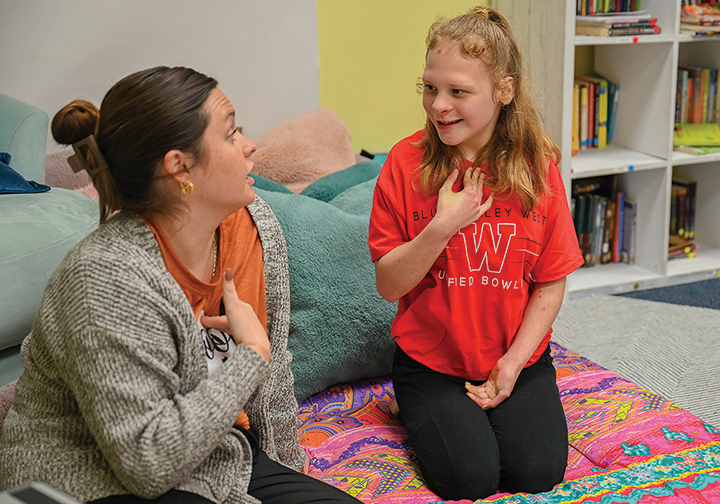 by Tom Racunas
Special to The Leaven
OVERLAND PARK — In Psalm 139, King David prays: "For you created my inmost being; you knit me together in my mother's womb. I praise you because I am fearfully and wonderfully made; your works are wonderful, I know that full well."
Bearing witness to that fact that all are "wonderfully made," Archbishop Joseph F. Naumann launched an effort in 2015 to make the Archdiocese of Kansas City in Kansas more responsive to the catechetical and sacramental needs of persons with disabilities.
He asked then-vicar general Father Gary Pennings to spearhead a task force to that end. The task force conducted a series of listening sessions for parents who had a child with a disability.
"The listening sessions made me aware of the pain families experience when they meet with barriers — though many times unintentional barriers — from the church and other institutions, in gaining access and acceptance for their child with a disability," said Father Pennings.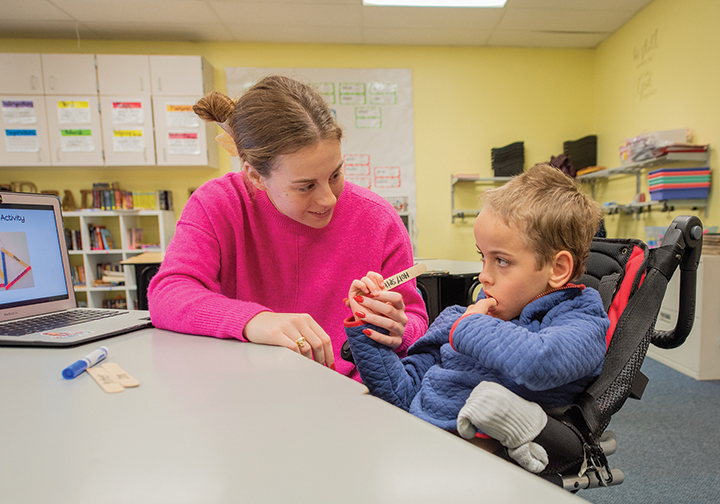 Those sessions strengthened his conviction that the church could do more and provide more than what was available at the time.
Two years ago, Father Pennings was named pastor at Church of the Ascension in Overland Park. He established a special-needs team of parents and professionals.
"The goal is to be more responsive to people and families," he explained. "The team explores ways we can be more hospitable, ways to make reasonable accommodations for participation in faith formation and the liturgy, and to provide what we can for students with disabilities in our school."
Around that same time, Father Pennings was approached by Jim and Mary Kate Hamilton, who had moved from Chicago and are parents of three children, including a son with autism. The Hamiltons were seeking a support group to help them deal with the daily struggles of parenting a child with special needs. Not finding one in the parish, the Hamiltons developed a proposal and rubric and presented it to Father Pennings.
In August of 2022, the special-needs team and the support group concept were blended under one umbrella and named "Fearfully and Wonderfully Made," a ministry for families and individuals with special needs. The results of a survey conducted by Eleni Maloney, a volunteer parish advocate, reported some 30 families in the parish had a member with special needs.
The new ministry went on to identify four areas of focus: caregiver support; youth faith formation; adult faith formation and social activities; and Mass and parish events. A subcommittee was assigned to design and implement action plans for each area of focus.
The caregiver support group meets monthly. Child care is provided.
"What we thought would be a small group getting together to share practical advice has become something much bigger," said Jim Hamilton. "We have invited speakers on topics such as special-needs trusts, accessing community services, and therapies. The agenda includes a prayer, introductions of each family and the program. We have had from five to thirty families attend. Some families come from other parishes and we see new families each month."
In September, in collaboration with parents and advocates from Church of the Nativity and St. Michael the Archangel Parish, both in Leawood, a respite care event was held. Respite care provides parents a break from caregiving. Supported by 30 volunteers, 15 youth and their siblings enjoyed games, music, art, crafts and a meal.
Maloney helps lead the subcommittee on youth faith formation. Using the survey, she called parents who had indicated a desire for faith formation and sacramental preparation for their young child.
Two graduates of St. James Academy in Lenexa, Brooke Warlop and Megan Thomas, volunteered to teach. Currently, five students receive one-to-one and small group adapted catechesis. Several students are preparing for their first Communion, while the others are preparing to receive the sacrament of confirmation.
"We work closely with William O'Leary, the pastoral associate for youth faith formation," said Maloney. "The adapted classes are held on Wednesdays — the same night and at the same time as all the other children who attend youth faith formation. Our goal is to have a truly inclusive program."
The other "Fearfully and Wonderfully Made" committees are in the early stages of planning social and faith formation events for adults with disabilities and are assessing the most appropriate ways to provide an adapted liturgy, such as assisted Stations of the Cross during Lent and a sensory- friendly space in the church.
The outreach extends to the school as well, and an effort to better serve the needs of Ascension School students who have learning challenges.
"Resources are limited," said Father Pennings. "We know we can't do everything but efforts to increase supports to students have been fruitful."
"Having students with disabilities in our school creates an awareness and opens the hearts of all the students," he added. "They are a blessing to all of us.
"Our students with special needs call us to turn out of ourselves and to serve. That is a good thing!"