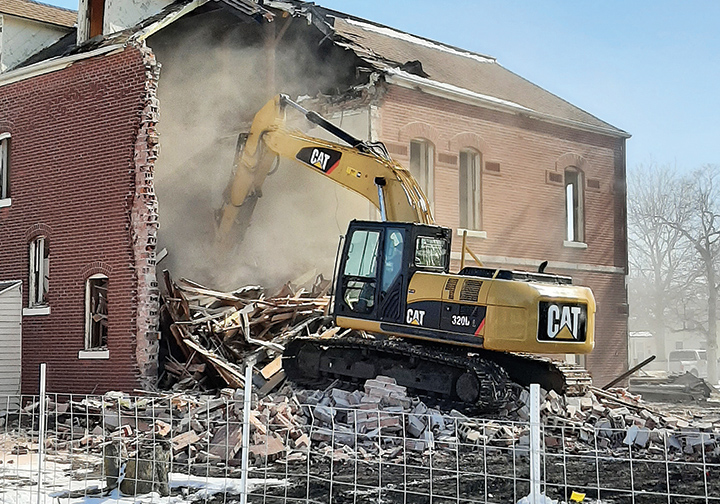 by Susan Loyacono
Special to The Leaven
SENECA — In the small town of Seneca, something big is happening.
Though just over 2,000 people live inside the city limits, the town is part of an area- wide Catholic community that has taken on an ambitious, intense and truly exhausting project.
They are rebuilding the parish rectory — using mainly volunteer labor of the Knights of Columbus in Seneca and the surrounding communities.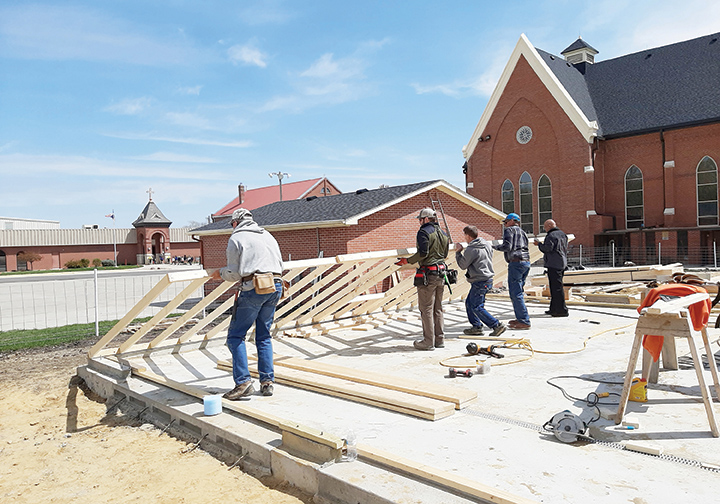 Before the pandemic, the Knights decided to look further into some of the challenges with maintaining the 130-year-old rectory. The parishioners had previously funded a school and a $4 million renovation of Sts. Peter and Paul Church.
Expecting to make a laundry list of to-dos to get the place in shape, they discovered something unexpected and alarming.
"The rectory was very unsafe," said Jim Runnebaum, retired insurance man, parishioner and finance chairman of what became the new project to demolish the old building. "We planned a renovation, but two contractors looked it over and found floor joists rotting, mold, electrical issues and too many major fixes to make our original plan feasible."
It would have cost as much to fix it as to rebuild it. That's when a grand new plan was hatched.
The will to succeed
"It's a very active parish," said Runnebaum, of Sts. Peter and Paul. "With 200 children in the school, a mission center serving people in town who need things like clothing and furniture, and groups that require meeting spaces, it's an important building to people in this community."
The goal became to build something for the future, something larger than what they had. These determined parishioners set out to transform the building into something extraordinary — using some experience, some donations and their own hands.
The group asked pastor Father Arul Carasala to list for them all that a rectory should entail.
"It's not just a house," said Father Carasala. "I talked to other priests in the region, and we came up with ideas that will eventually help serve four active and/or retired priests who can live here for years to come. Meeting space for church groups is important, too."
The building will have no stairs on the main floor for easy access to residents. There is a two-car attached garage, a small chapel and a separate entrance for official groups to come and go without disturbing the residents. The facade of the building was selected to match the architecture of the church and school.
The plan was approved by the archdiocese; fundraising came next. A letter went out laying out the plan, outlining the three phases required and detailing the costs.
Phase one was moving an existing gas line west of the parish house, then removing the house. The Knights rented a temporary home for Father Carasala. Phase two was to construct the parish house and finish the main floor. Phase three will finish the basement area.
The cost to complete the first two phases is around $600,000. Their expectation was to acquire donated labor and materials to reduce costs. The Knights donated $25,000, and eventually raised $400,000 before starting work.
Go time
There are approximately 400 Knights of Columbus members in Seneca and the surrounding areas. Among them are people with an array of construction experience — contractors, plumbers, roofers, electricians, HVAC experts, concrete experts and more.
At this point, the only work that will be subcontracted out to a third party is the Sheetrock and drywall.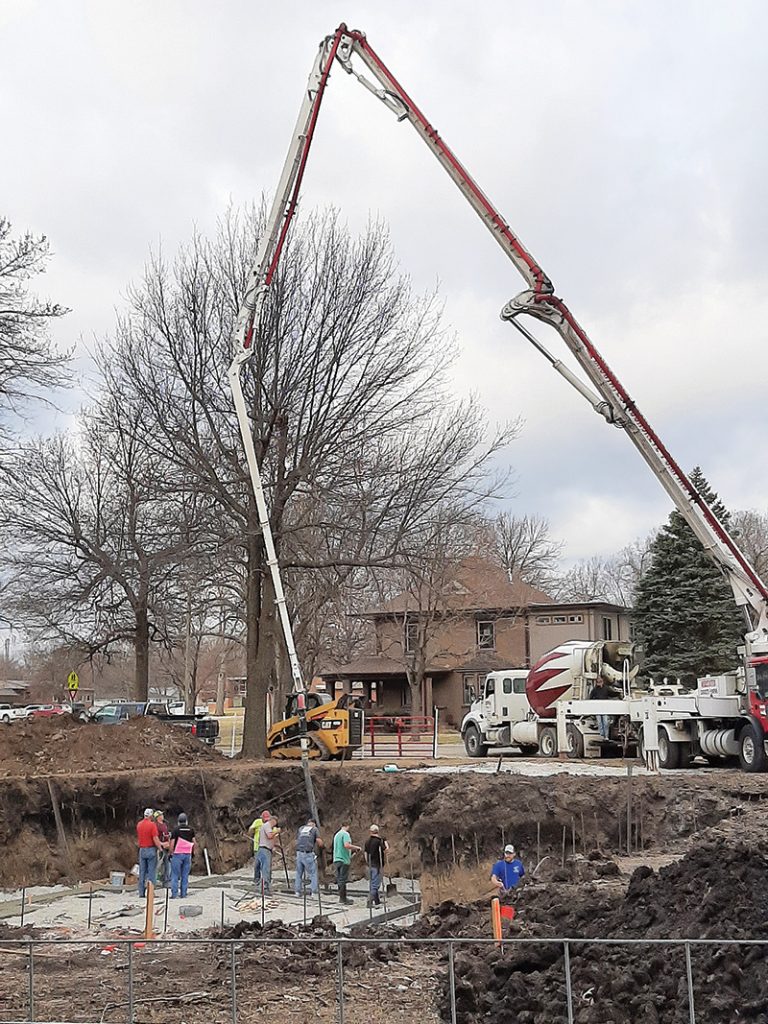 Steve Stallbaumer, superintendent of the build, is a 40-year veteran of construction. He is volunteering his time.
"I found a plan for the building in a book," he said. "Then I drew up the plans on CAD (computer aided design software) and that's how it started."
Progress — which has been rapid — relies on a pool of about 40-50 volunteers.
"They sign up for shifts based on the construction schedule. They bring a hammer, a tape measure and maybe a ladder — whatever they have," said Stallbaumer. "Whoever shows up comes to work . . . and sometimes that's at the end of the day after their full-time job. It's hard work. And sometimes they stay till dark."
This labor of love may not be possible in other rural communities, he continued, because farmers have obligations throughout the day and would be unable to spend as much time on this kind of project.
"But Seneca happens to have a lot of people with the right skills to lead other volunteers," he added.
"This is typical of our Knights," explained Myra Runnebaum, Jim's wife. "The COVID shutdown didn't seem to affect their determination. There is a crew there every day."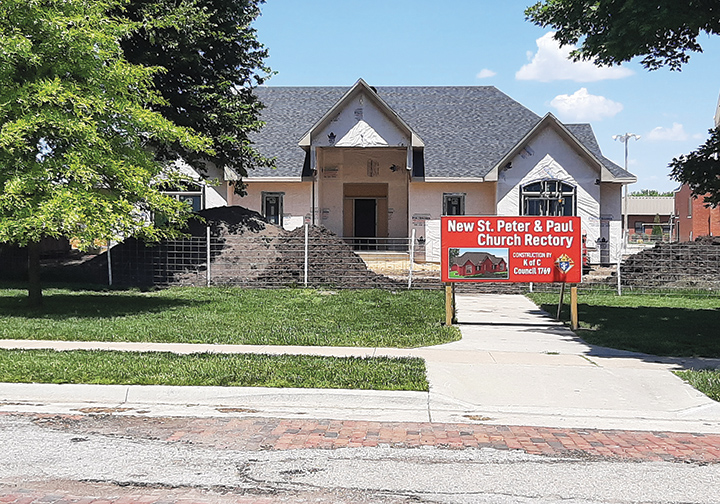 The Altar Society is standing by to furnish the new building with the help of a local designer when it is complete, she said.
Not everyone can carry scaffolding, but that doesn't stop people from remaining engaged and involved. "Even if people can't do the labor, they can do errands for the crew," she added.
Building a community
"At this point, we are about a month ahead of schedule," said Jim Runnebaum proudly. "Today, we are finishing up the screened-in porch. . . . Next week, it will be rafters and windows . . . then brickwork." Due to the large scope of work done mostly by volunteer labor, he hopes to complete phase two sometime in October.
"We still need to raise about $150,000 to finish the basement, which will include two more bedrooms, a storm shelter and an elevator to accommodate the needs of residents," Stallbaumer said.
Fundraising is pretty much word of mouth now.
"But every week," said Jim Runnebaum, "I receive some money to put towards it."
Father Carasala — who enjoys watching the construction from a nearby window — said the project has been good for the whole parish.
"Because of COVID-19, the parish wasn't able to gather the way we were used to," he said. "But people really have come together, and they will continue to . . . thanks to this great project."
"There is a lot of pride going into this build," said Runnebaum. "It takes the whole parish, and other parishes to believe in it. Then a lot of hard work. And in the end, you really don't even mind your sore muscles."