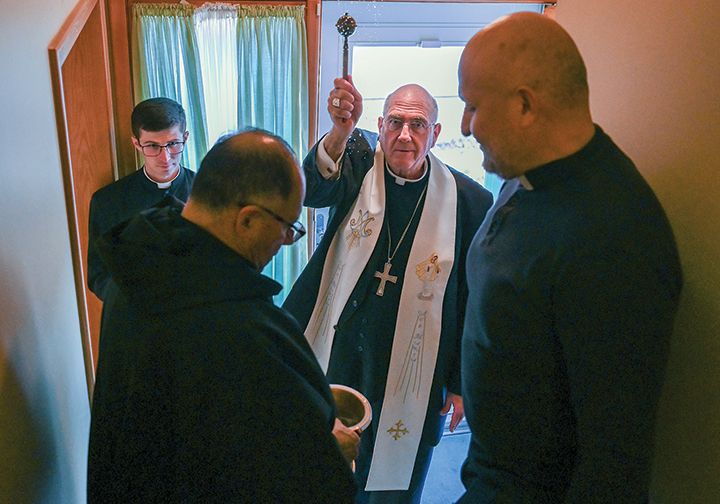 by Joe Bollig
joe.bollig@leaven.org
KANSAS CITY, Kan. — The scaffolding inside All Saints Church here was removed in July, so the full effect of the interior's magnificent transformation has been on full display for months.
But even the artists who led the painting project were moved to see their handiwork be blessed by Archbishop Joseph F. Naumann during a Mass on Nov. 1, the solemnity of All Saints.
The pews were full and several of the children enrolled in religious education at the parish were dressed as their favorite saints.
"God himself spoke to us through Father Peter Jaramillo and the committee," said Paul Helmer, architect and color consultant with Touch of Distinction Color and Design of Kansas City, Missouri.
"It certainly isn't something I just invent on my own," he added. "I always try to be open to the prompting of the Holy Spirit. . . . God led us through the people of God."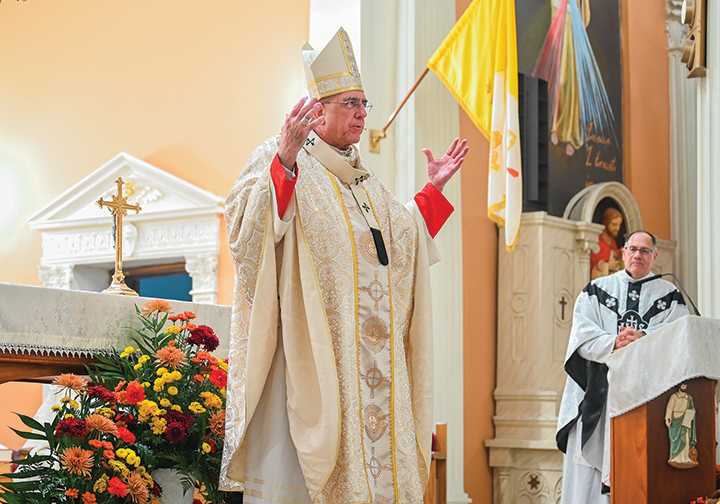 Phelipe Linstrom, artist and owner of Linstrom Pro Painters of Sugar Creek, Missouri, was deeply affected seeing his work play its role in the context of Catholic worship.
"I had an emotional moment when they asked [Paul and me] to stand up, and gave us a moment of recognition," said Linstrom. "I was like, 'Wow, I can't believe we did this.' But it's God's work. He willed it and we made it happen. It was a beautiful story in the end. . . . I can't wait to do it again if the opportunity arises."
There was much to celebrate on Nov. 1 at All Saints Parish, and not only because of the renovated church interior. Archbishop Naumann also blessed the new religious education classrooms/parish hall in the basement and the new rectory, a donated former family home.
"What a great day, and on the feast of All Saints, for us to have the triple blessings of the church, priests' residence and church hall," said pastor Father Peter.
"I'm enthused about this and grateful for our people to have such joy and finally see things come to fruition — especially after this pandemic," he continued. "It was hard for this. I thank the Lord and appreciate the archdiocese giving us all the support we needed to accomplish our goals."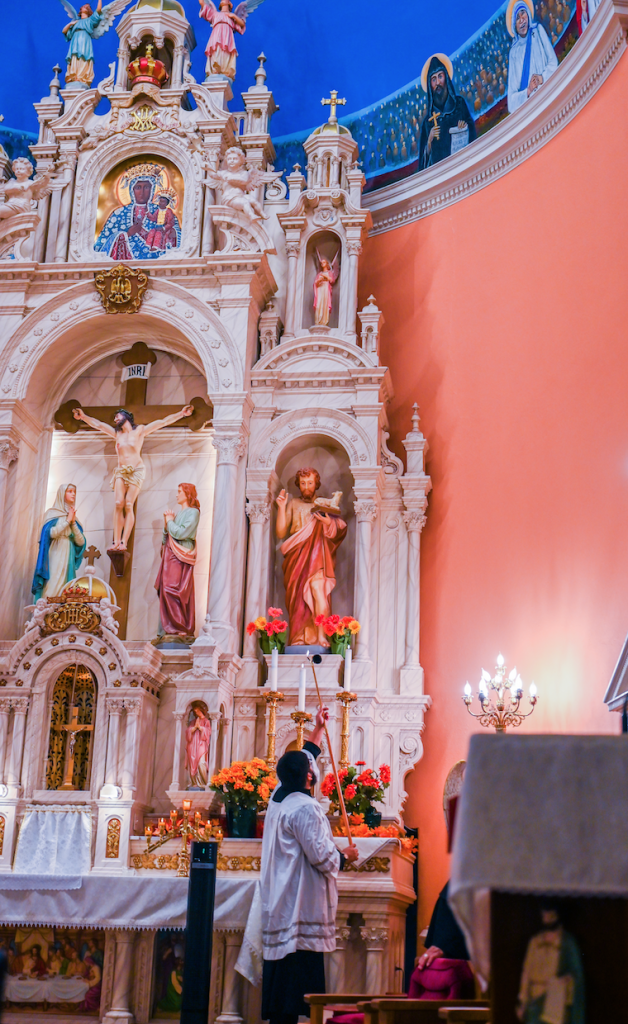 The century-old structure was originally St. Joseph Church, built to serve Polish immigrants. Over the years, population shifts led the archdiocese to merge six former parishes to make All Saints parish in 2007. Today, the parishioners are predominantly Hispanic, most families originating in Mexico. Thus, the parish is bilingual — English and Spanish.
The parish funded the $190,000 interior painting project with unused beautification funds and additional fundraising. The project began in April and was finished in July.
The plain, white ceiling and walls were transformed by rich hues of metallic gold, burgundy, yellow and blue.
The ceiling over the altar depicts the communion of saints and 12 patron saints of the parish: Sts. Cyril and Methodius, St. Teresa of Kolkata, St. John Paul II, St. Kateri Tekakwitha, St. Benedict, St. Juan Diego, St. Faustina Kowalska, St. Maximilian Kolbe, St. Óscar Romero, St. Josephine Bakhita and St. José Sánchez del Río.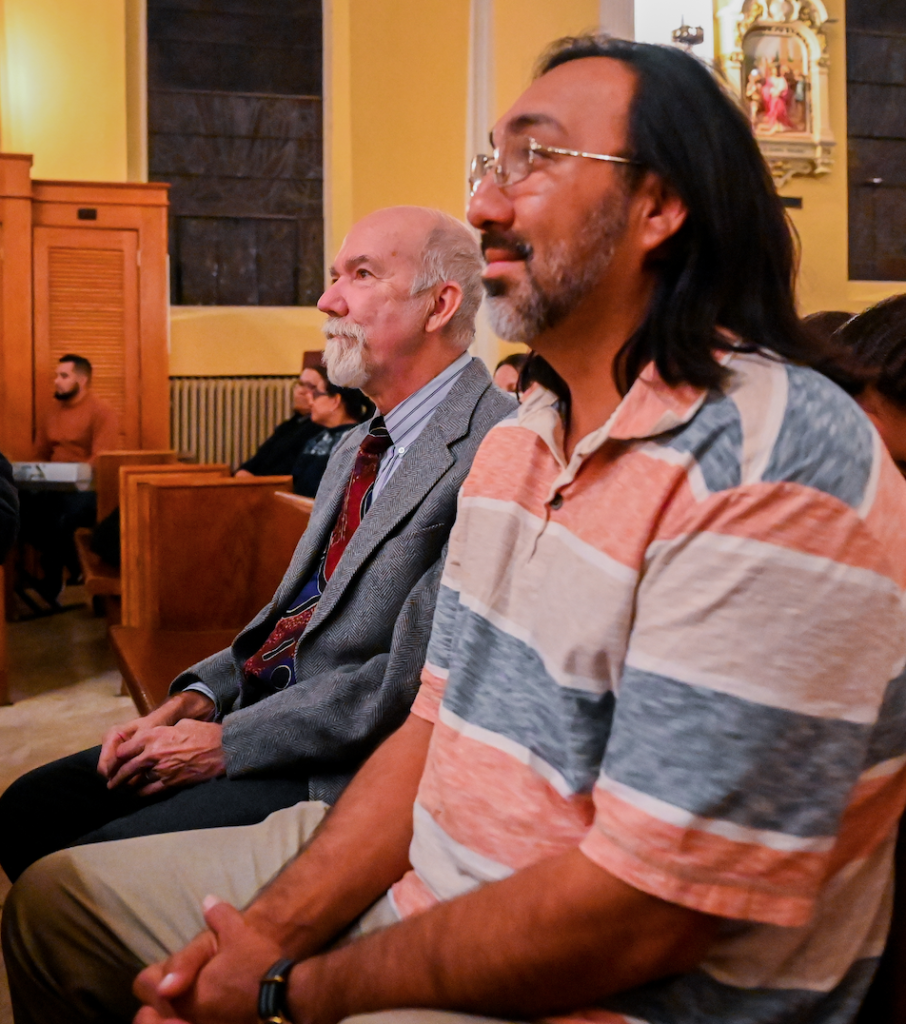 "I believe this is a very good time for all the parishioners to come together, the Spanish people along with the Anglos," said Joel "Beto" Camareno, a parishioner.
"I believe us coming together makes [this evening] more special," he continued. "The saints painted there are not just Hispanics or Anglos . . . and so, that represents the way we are at All Saints, a mixture of different cultures. Nobody's left out. Everyone's one, as we should be."
The parish religious education space consists of four classrooms created with movable partitions in the basement parish hall. It was paid for by a $20,000 Cor Christi grant from the archdiocese. They've been in use since Sept. 1.
Previously, religious instruction for the parish children took place in the church. It didn't work very well.
"We're so excited because now we have the opportunity to know our students and share our faith," said Maria Carmen, catechist for students preparing to receive first Communion and reconciliation. "It's so much better now. We're grateful for Father Peter's idea [for the partitions]. He really surprised us with this idea. We didn't know this was a possibility. This is wonderful."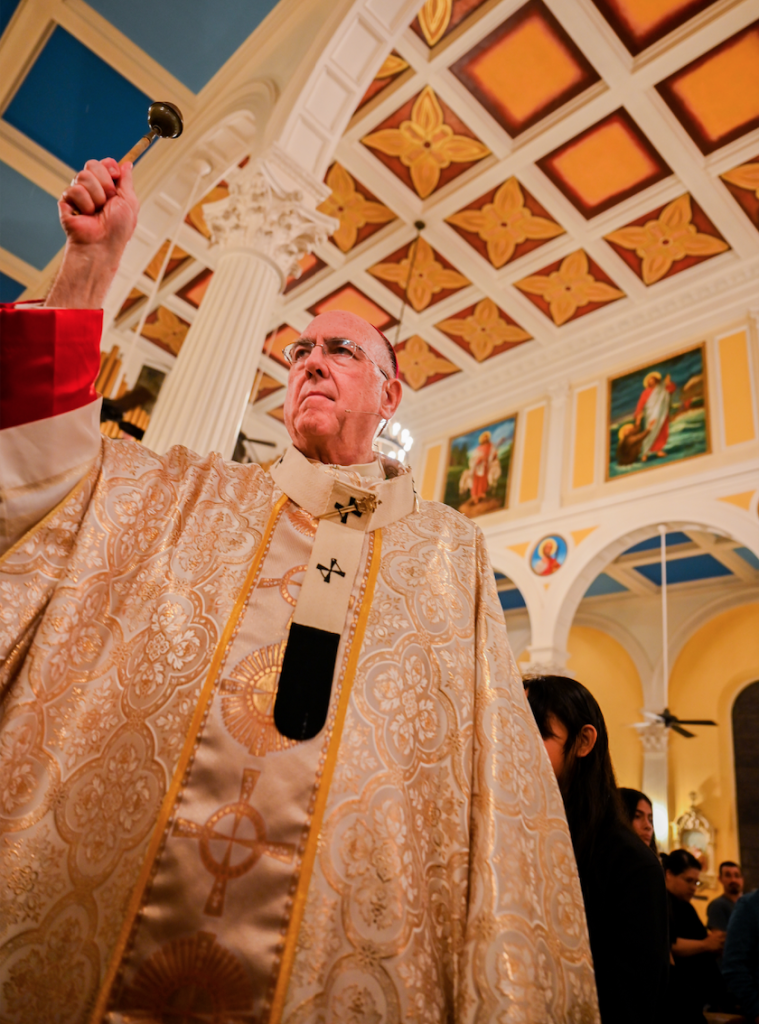 The new rectory, at 754 Pacific Ave., was blessed before Mass by Archbishop Naumann. It is occupied by Father Salvadore Diaz Llamas, a member of the Missionaries of the Nativity of Mary.
Dr. Richard Ibarra and Elia Ibarra built the 15-room house in 1966 and raised three sons there. The doctor practiced medicine at the nearby St. Margaret Hospital (now closed) and his home office.
Elia died on Nov. 15, 2019, and her husband died on Oct. 11, 2020. Before he died, the doctor discussed donating the house to the parish with his three sons Richard Jr. (who died in 2021), Joseph and John.
"My parents were devoted to serving that parish and the church," said John Ibarra, a member of Good Shepherd Parish in Shawnee.
"We, the family of Dr. Richard and Elia Ibarra, are blessed to be able to help All Saints Parish in providing a residence to serve as housing for its clergy," he added. "We are filled with pride and joy in honoring our parents' legacy of dedication and service to the parish and the neighboring community by making this gift of the 'Ibarra House' to All Saints."