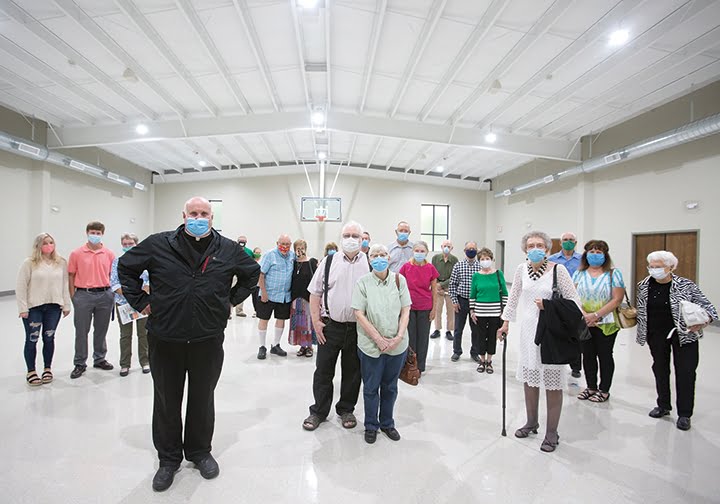 by Joe Bollig
joe.bollig@theleaven.org
PAOLA — It's been an "off again, on again" project for decades, but Holy Trinity Parish here has finally finished its marathon effort to build a new multi-use parish hall and office building.
"It's been a want of this parish for the past 20 years," said Father Pete O'Sullivan, pastor for the past five years. "It was really needed."
For many years Holy Trinity has used the church basement or, when available, the school cafeteria, for events and funeral dinners — neither ideal setups.
The parish office was in an old house and the rectory garage was used for storage. The parish needed meeting rooms and a place that grade school children could use for indoor activities.
"Plus, Paola is growing," said Father O'Sullivan. "Johnson County is slowly and surely moving down here."
The parish consists of more than 400 families.
Parishioners saved and contributed, and a major donor boosted the effort over the finish line. Construction of the $1.5 million building began in February and was completed in mid-August. The general contractor was Legacy Contractors of Paola, and the architect was Richard Zingre of Zingre & Associates of Fort Scott.
"The parishioners are ecstatic that it's come to completion," said Father O'Sullivan.
The one-story building, approximately 10,000 square feet in size, is attached to the west side of the school. The exterior is a mix of red brick and metal siding.
The interior consists of a multi-purpose room with storage and an adjacent warming kitchen, a suite of offices for the pastor and staff, a smaller meeting room, bathrooms and storage. The multi-purpose room can accommodate nearly 300 people for dinners.
One interesting feature is a storage room that is only accessible from the outside. It will contain freezers, refrigerators and shelving. On the outside it has a landing raised 30 inches to facilitate loading.
This pantry, with 24-hour access, will be used by parishioners who volunteer once a month at the St. Mary's Food Kitchen/Hot Lunch Services, Inc., in Kansas City, Kansas.
Part of the project was a new parking lot with 11 new spaces, four of them dedicated to handicapped accessibility. The parking lot is between the building and the church.
One of the great challenges facing all parishes that have started building projects this year has been the COVID-19 pandemic. In some cases, the work has been slowed or delayed. Paola, however, got lucky.
"I think they had impeccable timing in that they raised all their funds and got up and running before the start of the year," said Dan Himmelberg, director of the archdiocesan office of real estate and construction. "They also used a local contractor and architect . . . they were self-contained in Paola. And they were careful and wore masks. They got a good start on everything."
Additionally, all the materials were ordered before the pandemic hit, which caused shortages and shipping problems for many others.
Himmelberg, whose role was to provide advice and oversight, praised the parish on a job well done.
"They did a great job," said Himmelberg. "They built a really nice facility. It's perfect for them. It gives them the flexibility they need as time goes on, and it gives them the breathing room they've never had in a really nice space."
No date has been set for a dedication and blessing, said Father O'Sullivan. That will likely happen post-pandemic.