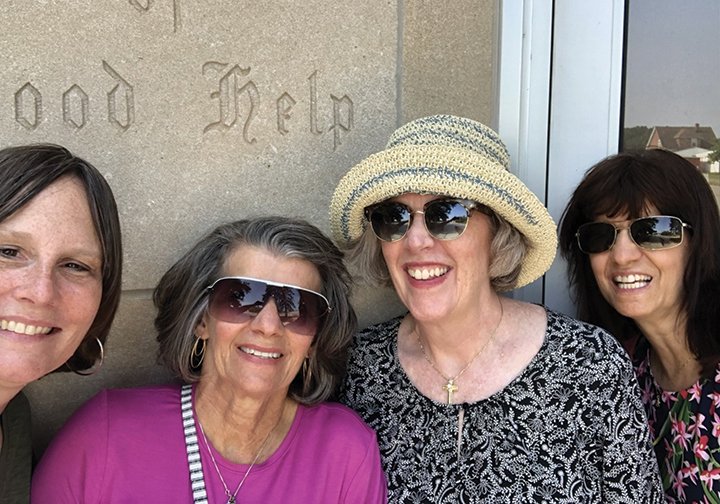 by Dean Backes
Special to The Leaven
KANSAS CITY, Kan. —  When they left the toils of everyday life behind earlier this summer, archdiocesan teachers Terri Mathiasmeier, Bonnie Mendoza and Diane Quinn — as well as Lainie Snider of Bentonville, Arkansas — anticipated a little healing and plenty of prayer.
Along the way, however, they forged surprising bonds, discovered some things about themselves and even made some new acquaintances.
"We had no idea what we would be encountering on our way," said Mathiasmeier, who teaches preschool at Christ the King School in Kansas City, Kansas. "It was beautiful, and I think everyone should get out and enjoy the beautiful churches and all of the things that God has put out there."
The foursome loaded their gear into Mathiasmeier's Nissan Murano June 23 and headed north to Wisconsin to kick off their six-day, five-state, 1,600-mile adventure. With Mathiasmeier behind the wheel the entire 12 hours, all four women engaged in a day of talking, laughing and prayer.
"Even though we had a 12-hour drive up, it felt like nothing," said Quinn of the long day on the road. "It was just such rich, amazing, beautiful conversation."
Upon completing their first breakfast together, the quartet attended Mass and spent the day touring Our Lady of Champion in New Franken, Wisconsin, before driving two hours to Holy Hill in Hubertus, Wisconsin. The four then spent more than a day at the Basilica and National Shrine of Mary Help of Christians at Holy Hill before traveling on to Chicago for a tour of the National Shrine of Maximilian Kolbe in Marytown, Illinois.
In Chicago, the four toured St. Procopius, Holy Name Cathedral, St. John Cantius, Holy Trinity, St. Stanislaus and St. Michael Old Town churches before capping off the trip with a stop in Gower, Missouri, to visit Sister Wilhelmina's incorruptible remains on the drive back.
Along the way, Mathiasmeier, Mendoza, Quinn and Snider attended healing Masses at Our Lady of Champion and Holy Hill, prayed the Stations of the Cross at Holy Hill and enjoyed a scavenger hunt that was connected to the churches they toured in Chicago. Mendoza plans to share the scavenger hunt with her fifth graders through a PowerPoint presentation this fall.
A friar at the Chapel of St. Thérèse at Holy Hill also gave the sightseers a sneak peak of the replica exhibit of the Shroud of Turin though it was closed to the public due to construction. It was just one of many personal conversations the local teachers cherished from the weeklong journey.
"Oh my gosh," Mathiasmeier said of a chance meeting with the Sisters of Charity. "They were so beautiful and just so calm and peaceful. They were so helpful. That's what we kept running into along the way. We ran into beautiful people on our pilgrimage that were willing to share with us, pray with us and just talk to us.
"I think that's as much of a pilgrimage as seeing the sites. Being with those people and learning about them and listening to them and talking with them."
All of the details of the pilgrimage that ran through Iowa, Wisconsin, Illinois, Missouri and back to Kansas, seemed to fall into place for the four. They'd been careful not to overplan their adventure.
In fact, the trip to Gower was added on only after the entourage began their tour.
"If it's a pilgrimage, be open to the Lord or the Spirit, or let Mary direct it," Mendoza said. "It was sheer beauty at the physical level. The beauty of the churches was awe-inspiring. It is really gratifying — strengthening — to go to these places and see other people who are really trying to follow the Lord. Wanting to honor him and give him glory."
While all four travelers appreciated the time they were able to spend together, they each took something different away from the trip. Mendoza sensed that she was God's daughter.
Mathiasmeier, on the other hand, said the women that she spent the week with were the most beautiful and holy women. Snider brought about 30 prayer intentions to one of the shrines and placed them in the prayer box.
"That was very important to me because one of my gifts is intercessory prayer," Snider said. "It meant a lot to know I left their prayers there for a year on the altar. I continued to pray for everyone at every church on the journey. It was a great experience to wrap them in prayer."
Quinn, a sixth grade teacher and math specialist at Nativity Parish School in Leawood, simply learned something about herself.
"When I got home, I came home with a full cup," she said. "When I left, I didn't know my cup was empty. It was amazing. It was an amazing experience to be with these holy women. There were no distractions. We didn't turn on the news. We didn't check our email.
"It was just a complete disconnect from the secular world. The true takeaway is that I did not realize how empty my cup was until it was full."