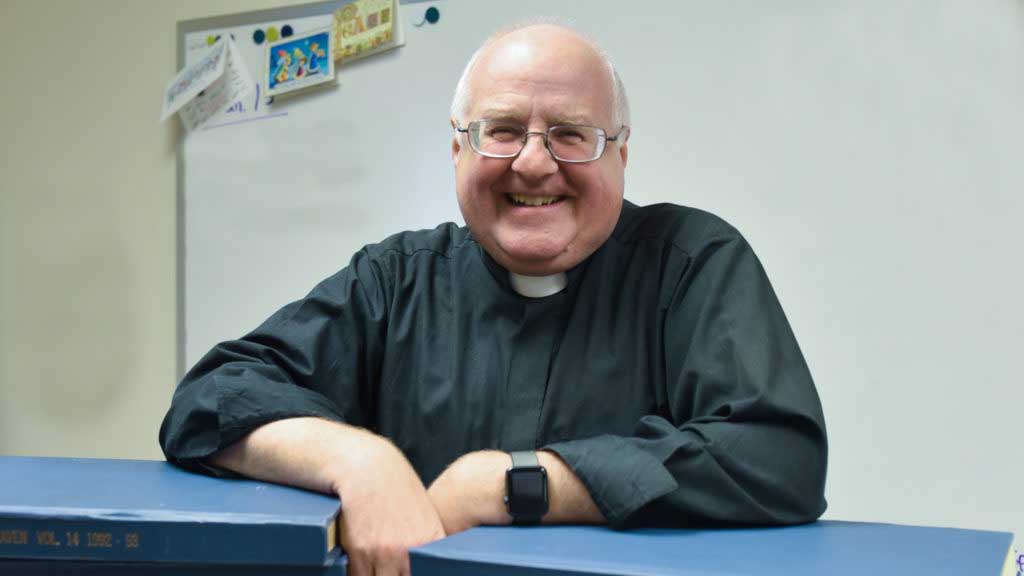 by Father Mark Goldasich
Ah, the month of February is almost here — a time when folks turn their attention to thoughts of love. And usually, the first thing that pops into their minds is their love     of . . . the Catholic press?!?
OK, sadly, celebrating February as Catholic Press Month isn't found on many (any?) calendars. But I hope that can change someday.
In his message for World Communications Day, officially celebrated on May 29 this year, Pope Francis decided on a simple theme: Listen! That's something essential to the Catholic press.
Listen to this moving story told by Greg Asimakoupoulos:
For 57 years, Steve Henning of Huntley, Illinois, could not hear music, laughter or human speech. Even though he lived a full and joyful life, he still longed to hear the voices of his family.
In the winter of 2001, he learned of a surgical procedure that would allow sound waves to bypass the nonfunctioning part of his ear and travel directly to the auditory nerve. On Jan. 30, he was operated on. Because the implanted device could not be activated until the swelling in the ear decreased, doctors and Steve didn't know for six weeks if the operation was successful.
Finally, the long waiting period ended. As Steve waited nervously, the audiologist programmed the implant and invited Steve's wife Pat to say something. She leaned toward her husband and gently said, "I love you." Steve's face broke into a beaming smile. The first words he physically heard were those of love. (Adapted story found in "1001 Illustrations That Connect," edited by Craig Brian Larson and Phyllis Ten Elshof.)
Now, you might think it strange to link listening with the Catholic press. After all, isn't The Leaven called to print news, to inform readers? Absolutely.
But before we have something to print, we must listen. We regularly invite pastors, parish staff members and the many archdiocesan ministries to let us know of local story ideas. Through our Leaven website, email address and phone number, readers "in the pews" suggest happenings that may be of interest to a wider audience. And our reporters listen carefully to all the people they interview to accurately and objectively relay their stories.
So, The Leaven is a two-way street: First, we listen; then, we report. And then, we listen again to the responses of our readers. Most times, readers are encouraging and enthusiastic, even when something we've published doesn't seem so significant to us. One of those things is the crossword puzzle! There are a lot of folks out there who are avid solvers . . . and woe to us if we get something wrong there.
Sometimes, readers aren't so happy with stories, especially those dealing with sensitive subjects, like racism or immigration. We listen to their concerns, sincerely discuss them and seek to respond with love.
Our world can use a good dose of listening. But that can be hard. In his message, Pope Francis quotes the great Vatican diplomat Cardinal Agostino Casaroli, who said that true listening can be a "martyrdom of patience," especially in difficult situations.
Furthermore, the pope notes that in our polarized world, rather than a dialogue, we seem to be stuck in what philosopher Abraham Kaplan calls a "duologue: a monologue in two voices." In other words, we can hardly wait for the other person to stop talking so we can impose our ideas on him.
The antidote to this is synodality, which can be translated as a "common road." And that begins with listening, especially with the ears of the heart.
I like to think The Leaven is a big part of that. And that's something to celebrate.