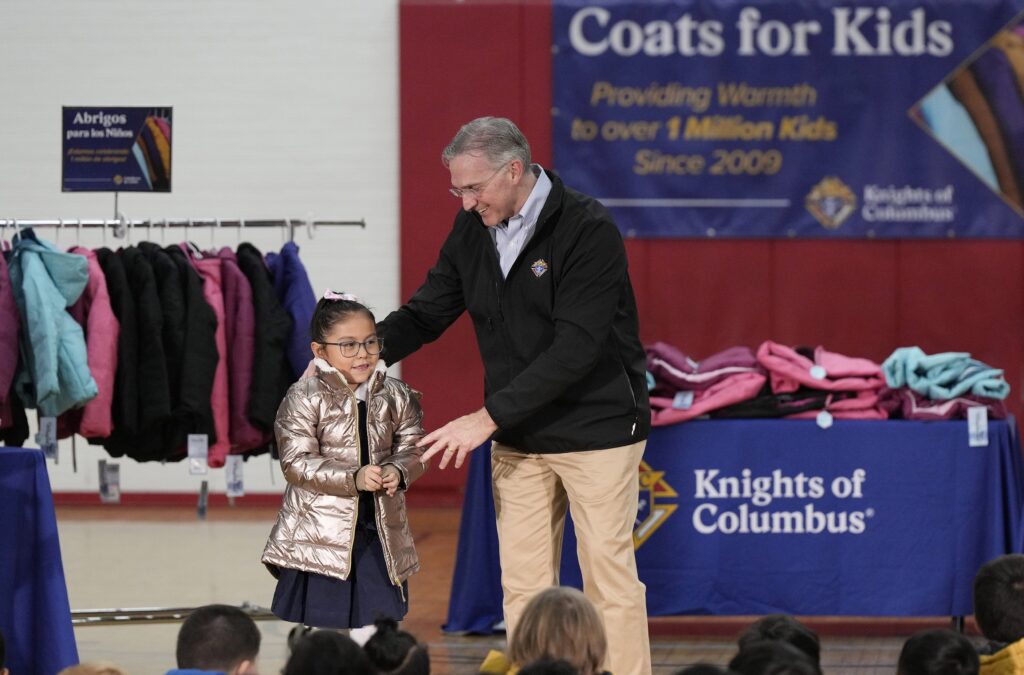 by Kevin J. Jones
DENVER (OSV News) — The Knights of Columbus have celebrated the 1 millionth coat given away through their Coats for Kids program, thanks to a wide network of volunteers who are helping meet the winter needs of children in many different communities.
Annunciation Catholic School in Denver hosted a special celebration Nov. 6. At a school assembly filled with students who had received winter coats, Supreme Knight Patrick E. Kelly presented a gold-colored jacket to Annunciation student Lexi Cordova.
School leaders had suggested the surprise gift go to Cordova because of her sense of style and her great heart.
"We thought if a girl with a heart of gold gets the gold coat, it would be perfect," Kelly told the assembly.
Annunciation serves 180 students from preschool to eighth grade. The students are from low-income families and are predominantly Hispanic, though 15% are Sudanese.
The Monday giveaway was part of a daylong effort to distribute 1,000 coats to five Denver-area Catholic schools. The Knights of Columbus made an additional $10,000 donation to each of the schools, including Annunciation, to celebrate the work of the Coats for Kids program.
"It's grown into one of the most successful programs the Knights do," Kelly told OSV News. "It's really gratifying that we've hit this million-coat mark. We help these families give their kids a nice coat for the winter."
"It's a very heartwarming program for us, and it's in keeping with the charitable mission the Knights have had since our founding," he added. "That's why thousands of councils have taken up this program: because it's a way that they can serve others. That's ultimately what the Knights are all about."
The Knights of Columbus is a Catholic men's fraternal organization with about 2 million members worldwide. Their Coats for Kids program launched in 2009. Organizers hope to distribute more than 200,000 coats in the U.S. and Canada this year.
Major clothing suppliers provide the coats at cost. The Supreme Council of the Knights of Columbus helps pay half the cost of each case of coats. Local or state-level Knights of Columbus groups, called councils, then buy and distribute cases of coats.
Dan DeCrans, the Knights of Columbus state deputy in Minnesota, is one of the many people active in the program.
"Minnesota is one of the colder states in the lower 48 states," he told OSV News. "It's not uncommon to get 30-below weather here in Minnesota. Sometimes, like last winter, I think we went three months without it hitting 32 degrees above zero."
Minnesota Knights have distributed over 11,000 coats so far this year, an increase of 3,000 over last year. Most councils buy them through the Coats for Kids program. Some councils, however, also buy coats and other winter clothing at discount prices in the spring and store them to distribute later as winter approaches.
Knights of Columbus councils in Minnesota hold coat distributions at schools and provide coats to county social services. Some toddler-size coats go to pregnancy centers.
"We have a few councils that do distributions on the Native American reservations, and my council is one of them," said DeCrans. He is from the northwest Minnesota town of Nevis and a member of Knights Columbus Council 15807.
There are multiple Native American reservations in his part of the state. DeCrans' council holds coat giveaways for the children of several reservations. These are the Leech Lake Reservation, home of the Leech Lake Band of Ojibwe; the Red Lake Reservation of the Red Lake Band of Ojibwe; and the White Earth Reservation of the White Earth Band of the Minnesota Chippewa Tribe.
He recounted the grateful response to the coat distribution at Cass Lake on the Leech Lake Reservation.
"I can't tell you how many parents, teachers and other adults stopped me while we're up there and told me and the other Knights how glad they were that we were there, and thanking us for coming," DeCrans said.
He told OSV News that the intensity of the response perplexed him, because many other groups give coats to kids. He asked the adults why they felt this way.
"You bring new coats," they told him, according to DeCrans. "Everybody else brings hand-me-downs."
When the Knights bring new children's coats, word spreads quickly and the Knights soon run out of coats.
"I feel pretty bad because we don't get a lot of coats," DeCrans said. "The years when we can get a little bit more, it makes a huge difference."
"It's a great program that really helps a lot of people," said DeCrans. He said he is very happy at the 1 million coat milestone, but he also was worried. "It took too long to get there," he said. More councils need to be involved and find more people in their communities who need coats.
"If everybody would just follow what the Holy Spirit has to say, we would have a lot more coats there," said DeCrans.
In Canada, Shawn Scherr, Coats for Kids program chairman for the Saskatchewan State Council, told OSV News that their program partners with the Prince Albert Grand Council, an umbrella organization representing 12 First Nations of about 30,000 people. The grand council's service region in northern Saskatchewan stretches over an immense area nearly 1,000 miles northward.
The Saskatchewan Knights of Columbus and the First Nations' grand council help pay for the coats, while the grand council helps distribute them.
Elsewhere in Saskatchewan, Knights bring new coats to many different families, including immigrants and refugees. Some are Ukrainians who fled war, while others come from warmer climates and have never felt such cold. Homeless shelters, pregnancy centers, school boards and individual schools also get coats.
"You don't realize how big the need is outside of your community," Scherr said. "It takes somebody to listen and act."