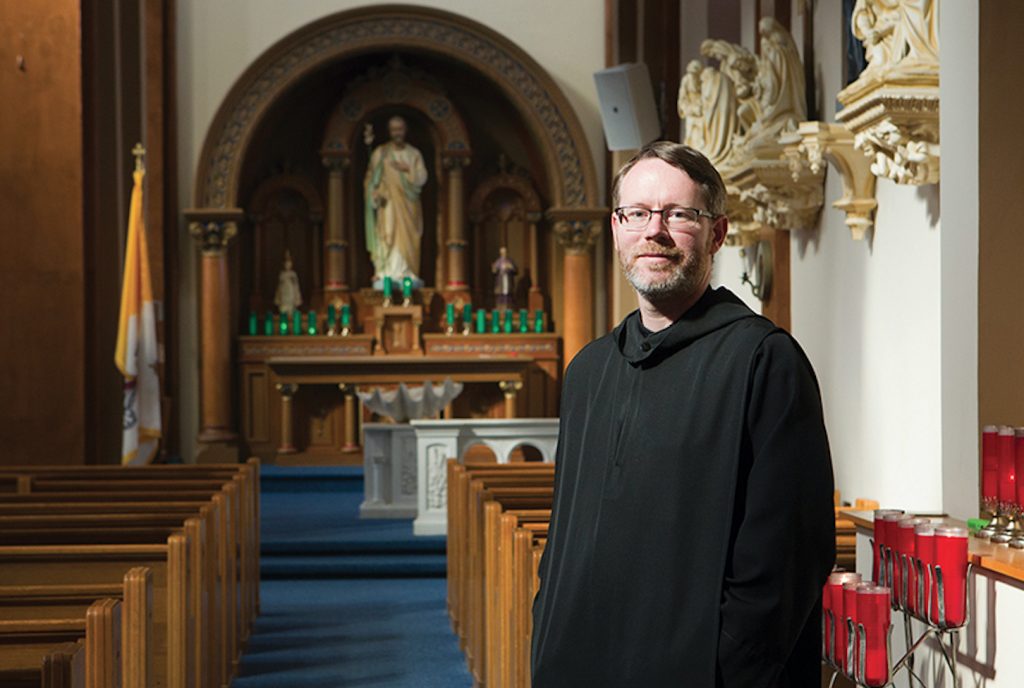 Father Jeremy Heppler, OSB
Age: 42
Parish: Pastor of St. Benedict Parish, Atchison
Occupation: Monk of St. Benedict's Abbey; pastor
What's in your toolkit? A wide diversity of ministry experiences within the monastery and the Atchison Catholic community.
What is your Catholic superpower? You mean, besides the graces that come with ordination and monastic profession? Finding Christ in the encounters with others and in the occurrences of today
Before the convocation
As pastor of St. Benedict Parish, Father Jeremy was charged with selecting the parish team that would attend the convocation.
"When I selected the team, I looked at choosing people with different talents and skills, especially those with a heart for evangelization," said Father Jeremy.
"I feel like there's a blessing of wealth here in Atchison," he added. "I could have doubled or tripled the size of this group easily with people who are just on fire for evangelization."
He is looking forward to learning how he and the parish can become better at intentionally evangelizing.
"One of our greatest challenges right now [is that] we have so many great ideas. How do we not overwork ourselves and focus on what is actually doable at this moment?" said Father Jeremy.
And the change the convocation inevitably will bring is something Father Jeremy is looking forward to.
"Change is something that happens every day — whether we want it or not," he said. "So, we're all agents of change each and every day.
"It's just our willingness to do it — to realize that we have done it before and [that] we can continue to help with that change in both the larger and the smaller daily ways."
After the convocation
After experiencing the convocation, what does it mean to you to be a missionary disciple?
Ultimately, it is to live out the greatest and second- greatest commandments: to love God with all our heart and to love our neighbor as ourselves. To do so, I see a need to remain in a deep personal relationship with God and also to have the courage to be authentically present to others, sharing with them the love of God.