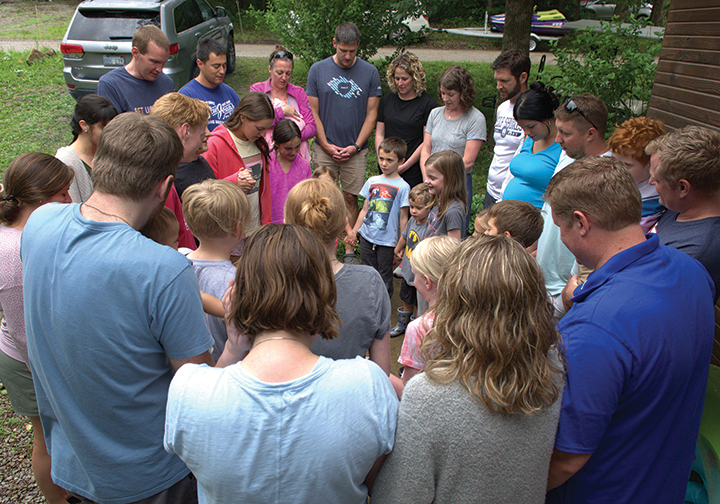 by Jill Ragar Esfeld
jill.esfeld@theleaven.org
BUCYRUS — "Pastors are always trying to get small faith groups going," said Deacon Tom Rothermich of Queen of the Holy Rosary Parish in Wea. And it can be hard.
"The Christian Family Movement program is easy. It's so nonthreatening; everything is laid out for you.
"It's a simple format to follow."
The Christian Family Movement (CFM) is a national support organization for faith groups throughout the country. Available to anyone interested in growing a faith community, CFM materials are Catholic-based.
"They have a whole library of lesson books and they come in a variety of topics," said Deacon Rothermich. "Some of them are focused on young families and raising children. Some are focused on elderly parents or how to deal with being an empty nester — so, different stages of life."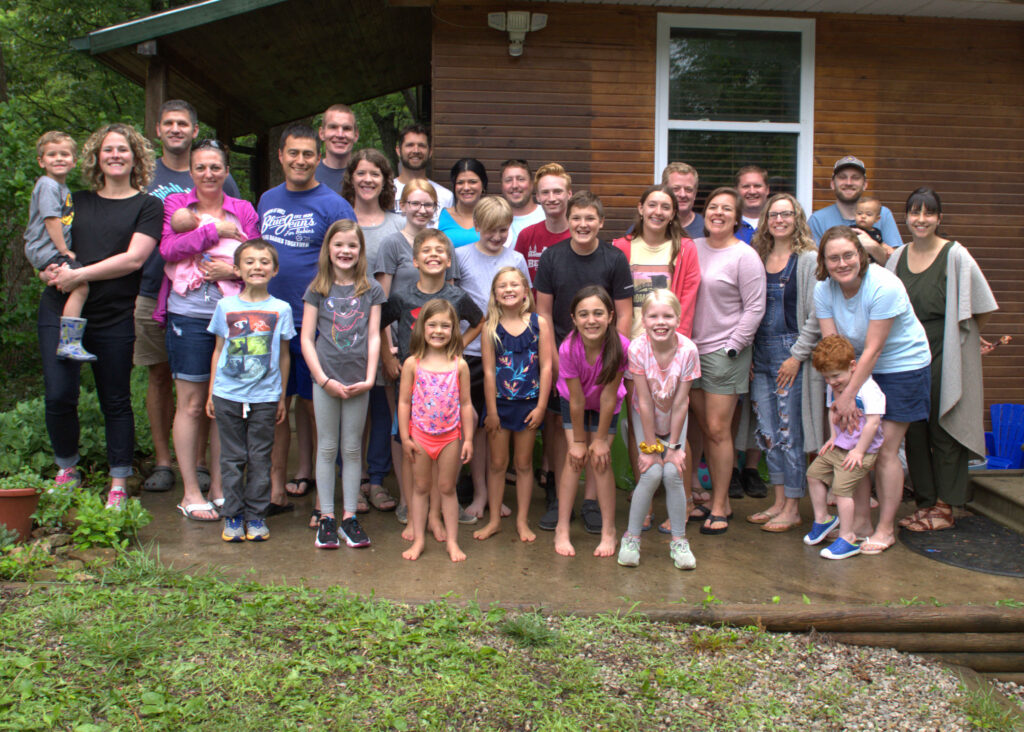 Deacon Rothermich and his wife Kathy were in a CFM faith group in their St. Louis parish for many years.
When they relocated to this area eight years ago, they brought their love for CFM with them, introducing it to their new parish.
"We talked to some people and got it started and it kind of took off," said Deacon Rothermich.
The Rothermiches have been in a CFM group now for 25 years.
"We raised our kids with other people in CFM while they were raising their kids," said Deacon Rothermich. "We've taken this through various stages of our lives.
"It's just been terrific for us."
When Queen parishioners Diana and Adam Roth started a young family group several years ago, they wanted to connect with other families, but they struggled with the task of planning meetings.
"Deacon Tom came to one of our meetings just to introduce CFM as an option," said Diana. "We actually ended up loving it.
"It's such a great way to introduce a little bit of structure."
The Roths' group grew. Now, in addition to the Rothermiches' group for older adults, there are three CFM groups for families with young children in the parish.
"Every year, we determine what book seems of interest, and everybody in the group will purchase the book," said Deacon Rothermich. "Then we'll use that as our guide through the year."
Groups may use different guidebooks based on where they are in life's journey. But the CFM goal is at the heart of every discussion — to develop personal relationships through prayer, friendship and action to serve others.
"You can cater your conversation to whatever is relevant to your friends and your group," said Diana. "It has Scripture and reflection and action items. It gently leads the conversation.
"It provides a little bit of structure but isn't overwhelming."
National CFM presidents Brian and Mary Ann Thelan say the draw of the program is its ability to facilitate connectivity.
"This is really a way to make the parish life come alive," said Brian. "It's more than Sundays — to be connected and grow in our faith with one another really takes our Christian community to another level.
"It's an opportunity for people to share and learn from one another."
The Roths find being connected through CFM is vital to raising a Christian family in a secular society.
"Having this helps you understand everyone is going through the same struggles," said Adam. "And there's a community with you so you're not alone."
CFM groups meet at least once a month. Some groups meet in parish facilities and others take turns hosting in their homes. Often, there is a second monthly meeting for socializing or doing a service project.
Refreshments are always involved, and though the meetings can last as little as 90 minutes, they usually go longer.
"We're very social," said Diana. "They usually wrap up in about three or four hours."
The advantage of the CFM model is structure that facilitates informal discussion in a social atmosphere.
"What you want is for people to be able to gather together fairly easily without a lot of requirements for materials and organization," said Brian. "We do have a book but it's meant to draw people out about a particular topic.
"We always say everybody's got tremendous gifts and unique talents and insights they've gained.
"And what we need to do is have an opportunity to get together and share those with one another."
Queen parishioners have found that the CFM program is the perfect way to achieve that.
"When you meet and get together," said Diane, "you make each other better."
Join the Christian Family Movement
Founded in 1948, The Christian Family Movement (CFM) is a national network of parish family groups who meet to discuss relevant issues through the use of guidebooks provided by the CFM USA Office.
Groups explore a variety of themes addressing all stages of life using the Jocist Method of social inquiry (observe, judge, act) instituted by Cardinal Joseph Cardijn:
• Observe what is happening around a chosen topic.
• Judge the circumstances in the light of the Gospel.
• Act as the Holy Spirit guides us to transform the situation.
The national office has mentors that can guide you through the process of becoming part of the Christian Family Movement and starting your own group.
To contact the national office or learn more about CFM, go online to: www.cfm.org.