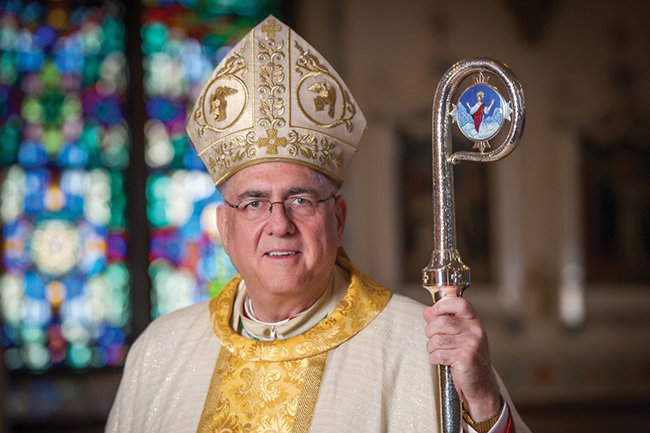 by Archbishop Joseph F. Naumann
My brother and I shared a room while we were both in elementary school.
For most of those years, sitting atop the chest of drawers was a statue of St. Martin de Porres. I won the statue as part of a classroom competition.
The statue has a couple of chips from being collateral damage in a wrestling battle with my brother. I still have the statue today.
For most of my elementary school years, the cause for the sainthood of Martin de Porres was being promoted. On May 6, 1962, when I was a seventh-grader, Pope John XXIII declared Martin de Porres a saint.
Martin de Porres Velazquez was born on Dec. 9, 1579, in Lima, Peru. He was the illegitimate son of a Spanish nobleman, Don Juan de Porres, and of a freed Panamanian slave, Ana Velazquez, who was of African and possibly part Native American descent.
His parents never married. When Martin was only 2 years old, shortly after the birth of his sister Juana, Martin's father deserted the family.
His mother took seriously her responsibility of forming her children in the Catholic faith. Martin as a child and a youth developed a strong prayer life. He grew up in poverty. His mother supported the family by taking in laundry. At a young age, Martin was apprenticed to a barber/surgeon where he learned the medical arts.
Under Peruvian law, descendants of Africans and Native Americans were not permitted to become full members of religious communities.
Martin, therefore, petitioned to serve as a volunteer performing menial tasks in Holy Rosary Dominican Priory in Lima, where he was allowed to wear the habit and reside.
Martin labored in the kitchen and laundry. After eight years of outstanding service to the community, the prior chose to ignore the legal prohibitions and allowed Martin to profess vows. In so doing, Martin became a Third Order Dominican.
Sadly, even in religious life, Martin experienced racial bigotry. While others might have become embittered and angry because of the hardships of racial discrimination, Martin was known instead for his prayer life and his remarkable compassion for others, especially the sick and the poor.
In the homily at St. Martin's canonization, Pope John XXIII observed: "He (Martin) did not blame others for their shortcomings."
Certain he deserved more severe punishment for his sins than others did, he would overlook their worst offenses. He was tireless in his efforts to reform the criminal, and he would sit up with the sick to bring them comfort.
For the poor, he would provide food, clothing and medicine. He did all he could to care for poor farm hands, blacks and mulattoes who were looked down upon as slaves, the dregs of society in their time. Common people responded by calling him "Martin the Charitable."
The canonization of Martin de Porres occurred at the same time when the civil rights movement in the United States was bringing about significant legal and cultural reforms.
Some have called racism the original sin of the United States. During my lifetime, there have been enormous changes in law and society. Yet, the vestiges of racism have not been completely eliminated, as evidenced in recent years by racial strife in many cities.
I write this column before the beginning of the meeting of the U.S. Conference of Catholic Bishops in Baltimore. Obviously, the issue that will dominate our meetings is our response as bishops to the recent scandals of clergy misconduct.
We will address the accountability of bishops and how to improve our response to victims of clergy misconduct, no matter how long ago the abuse occurred.
At the same time, our agenda will include a few other urgent matters that the conference has been working on for some time. One of these will be the adoption of a pastoral letter against racism.
Racial bigotry and discrimination are grave injustices and serious abuses of the God-given dignity of every human being. Our letter will acknowledge the historical reality of the sins of racism committed by Catholic clergy and laity. It will challenge us not to grow complacent with the progress that has been made, but to continue the important efforts to eradicate racism from the church, society and, most importantly, ourselves.
St. Martin de Porres, pray for us!