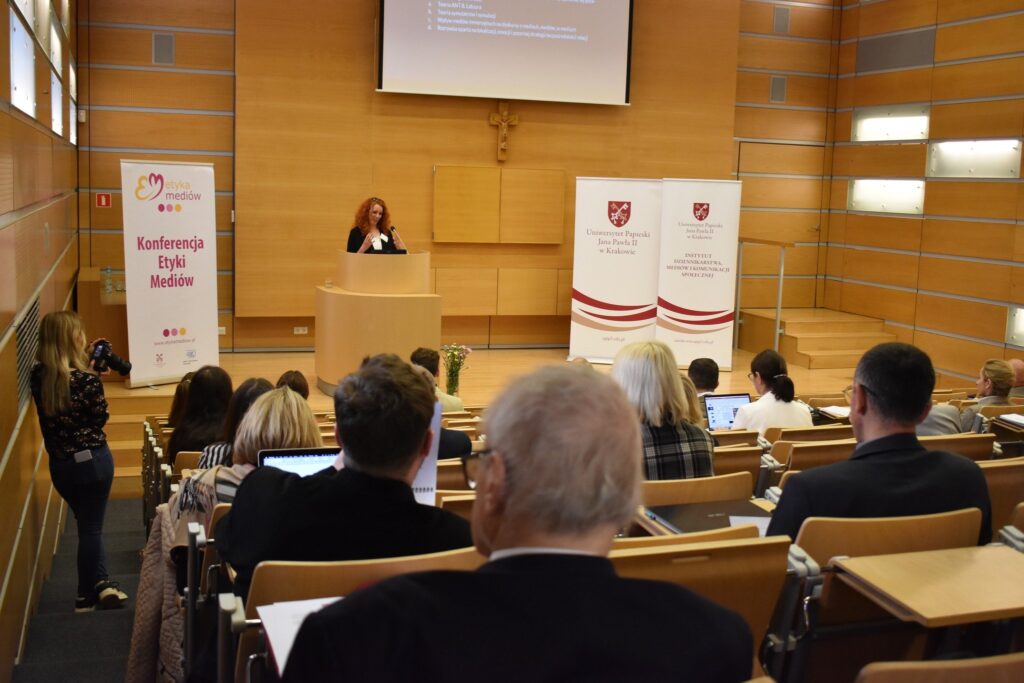 by Paulina Guzik
KRAKOW, Poland (OSV News) — For 17 years, the media ethics conference at the Pontifical University of John Paul II in Krakow has gathered media researchers from all over the country. This year it attracted a record number of academics. The reason? The main topic was the ethics of using AI in the media space.
"The theme is gaining momentum," Father Michal Drozdz, dean of the university's social sciences department, told OSV News at the opening of the conference, which took place in Krakow in southern Poland May 17-18.
"So far we're in the stage of having fun with ChatGPT, we're treating it as an adventure. But we see more and more that this is an issue of human ethical security, and we start our reflections from this point at the conference," he said.
What is at stake, Father Drozdz said, is a threat of the objectification of man and empowerment of machines. "Man is at the center of everything that surrounds us, that should be the starting point of any discussion, and all machines, all applications, algorithms, should serve mankind, and already serve us to a large extent."
"Technical progress is most praiseworthy, in line with the teaching of the church," Father Drozdz said, "but man should not lose control so that at some point he does not feel threatened by the machine. Security means that we will feel safer as recipients of media content, but also as creators of it."
Many researchers gathered at the conference proved AI-generated content is already flooding the media space — whether in journalism, public relations or marketing.
AI-generated anchors host shows on entertainment and technology innovation on Chinese TV; Sophia, a humanoid robot was granted citizenship in Saudi Arabia in 2017; and ads at bus stops are being generated entirely by AI that is reading human needs.
"More and more often we see we're not in charge of the situation any more, and often, not only in media but in life, when we feel the situation is getting out of control, we turn to ethics, we look for firm foundations and we find them in values, so often despised in the past," Katarzyna Drag, professor of communications at the Pontifical University of John Paul II in Krakow and organizer of the conference, told OSV News.
Since the university's biggest institute is communications and media, many students asked whether their profession will become extinct due to AI-generated content.
"So far I stick to the conviction that a human being is, after all, irreplaceable. Because technology will never have the feelings, sensitivity and emotional intelligence of a human. And I can only hope the future proves this," Drag said.
Drag said Catholic journalism has a role to play in AI-revolution "by showing that values matter, that we can't only follow persuasive communications, achieving the goal of clickbait at any cost. The dignity of a human being has the biggest value and by communicating it; we lay the fundamentals of good communications based on respect and truth."
Father Drozdz added that the responsibility lies on the shoulders of journalists themselves, as they are the ones who should fact check what the computer data is suggesting, but they also should not be afraid to use technology to make their work more efficient.
"We can use the help of the machines, which I believe is most reasonable and appropriate," the priest said. "Why should we take everything on ourselves when some things can be helped by a machine, applications and algorithms, something we generally call artificial intelligence?"
But, Father Drozdz stressed, "Reliability, honesty and truthfulness of the message will always be on the side of man."
Marcin Makowski of iTechArt Group told OSV News that AI "will always be faster because it is trained to look for correlations, patterns and to average the sets of information it has been given." But it's only a human being who can "anticipate and get facts right. If you feed AI with 'facts' that the Earth is flat and a man never landed on the Moon, it is going to 'believe it'."
More and more often however, tech giants' executives call for regulation of AI. On May 16, the chief executive of the California start-up OpenAI, Sam Altman, urged government to regulate the increasingly powerful technology in testimony before members of a Senate subcommittee.
"Heads of technology giants see the danger that the tool they created may at some point get out of people's control," Father Drozdz said.
Many participants of the Krakow conference agreed that regulation is one challenge. The other is the education of society.
"We can't stop technology, but we have to educate," Natalia Hatalaska —author of "The Age of Paradoxes. Is Technology Going to Save Us?" — said at the panel closing the conference. "When we build a hotel, it's clear and regulated where the plugs are going to be located."
But all the regulations are useless, she argued, if "I don't teach my child that putting his fingers inside a plug or using a hair dryer in the bathtub is dangerous."