by Maria Blong
Special to The Leaven
ATCHISON — After a longtime career in education, Benedictine Sister Paula Howard settled into retirement at Mount St. Scholastica here, intending to fill her free time painting landscapes. Instead, she stumbled onto a different type of painting altogether — and has been making up for lost time ever since.
Sister Paula discovered her unexpected talent for iconography at an icon retreat hosted at the Mount's Sophia Center in 2000. (Icons are "written" rather than painted. The word "iconography" in Greek translates to "writer of pictures.")
"They said at the end of the week you would understand icons and produce one," said Sister Paula. "I agreed to go in and do it, although I had been interested in [more traditional] painting."
Despite her self-proclaimed title as a doodler with no formal art classes, her artistic flair blossomed as the week unfolded — grabbing the attention of her teacher, Sister Mary Charles McGough, OSB.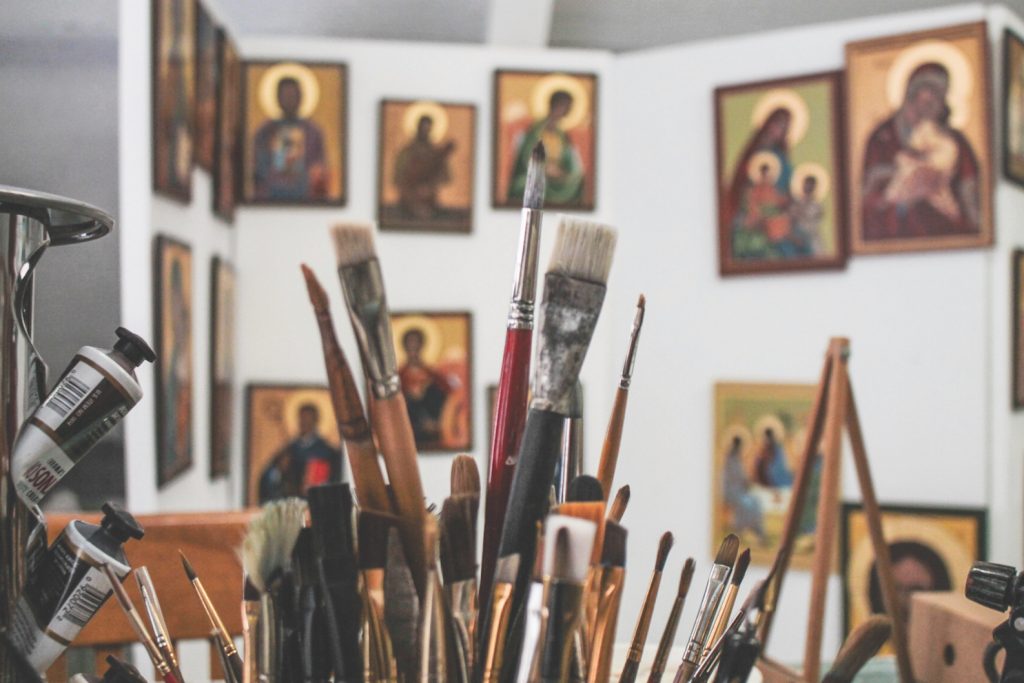 After the retreat, Sister Mary Charles urged Sister Paula to continue writing icons outside of the retreat.
This encouragement motivated Sister Paula to draft another icon, and then travel to Duluth, Minnesota, for Sister Mary Charles to critique it in a different workshop three months later.
Her artwork flourished from there.
"I really got hooked on icons," said Sister Paula.
Her first impression of iconography was quite contrary to her current love for them, however.
She was initially introduced to iconography while teaching in Palestine — or "icon country," as she calls it — during her eight and a half years at Bethlehem University.
"People had them in their homes, and they treated them like a sacrament," recalled Sister Paula. "They baptized them and anointed them. It was part of a prayer center in their homes. All the churches had icons in them; so many, it was almost gaudy."
"To tell you the truth, I didn't link with them very well," she added. "I thought they looked austere."
It was not until the workshop in which Sister Paula went through the process of crafting one herself that she gained an appreciation for the craft behind each icon. Afterward, she began learning about the creation and message behind icons, as well as how to pray with them.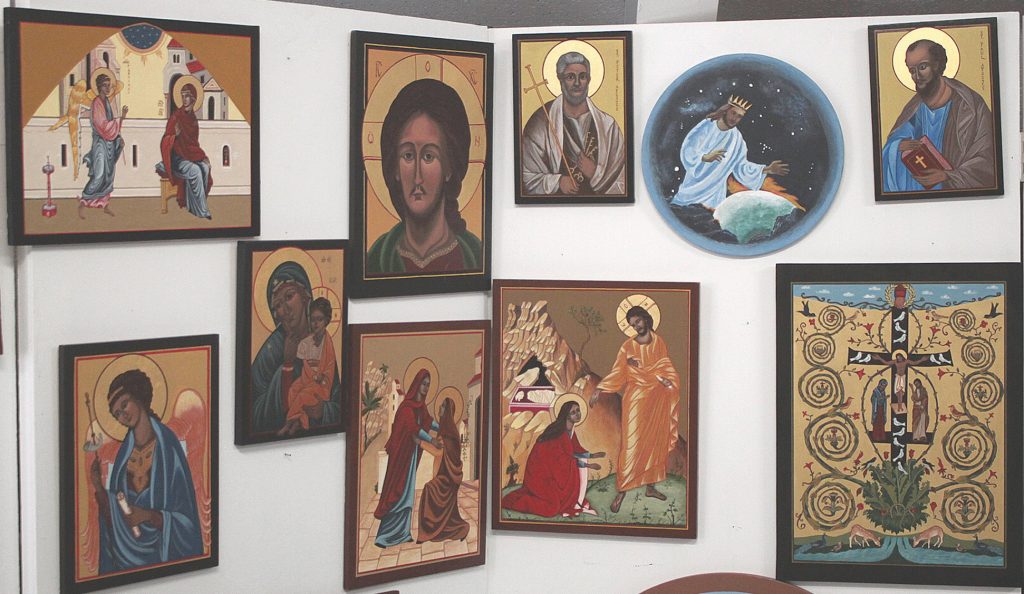 Centuries ago, icons were used for teaching the Gospel to others. Every aspect of an icon, from the colors to the style of the figures on the wood surface, informs the icon's story.
Icons featuring Jesus Christ and the Virgin Mary adorn those holy figures in garments of blue and red — colors that represent royalty. While other figures, like peasants, are depicted in brown or tan.
The facial features also characterized important religious attitudes. A small mouth indicated a contemplative nature, and large eyes acted, as the saying goes, as windows to the soul.
"When I went with the icon for Sister Mary Charles to critique, she was amazed at the face I had made," said Sister Paula. "She said the eyes talked to you, and well, I guess they did. Everybody says the eyes are important."
The creation of each icon requires the iconographer to enter into a prayerful act, like giving something up or meditating on a Scripture passage. Sister Paula found this process to be quite peaceful.
"I could spend hours — and as a matter of fact, I did spend hours," she said. "Not in recent years . . . I'm getting older. I started when I was 78, and right now I'm 97."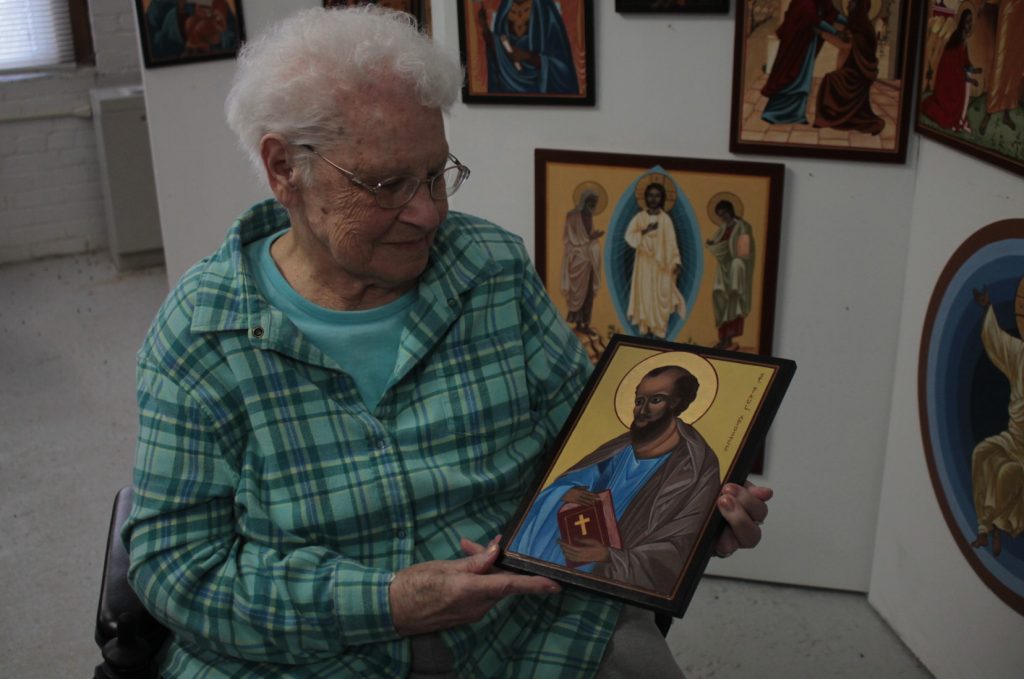 During those numerous hours, Sister Paula has completed an icon for each major feast day — with the exception of All Saints' Day and one of the apostles, St. Matthias.
She jokes that she doesn't foresee creating an icon for All Saints' Day — there would be too many faces to include! — but hopes to finish St. Matthias after she recovers from a recent health setback.
In the 20 years since she took up iconography, Sister Paula said, she has crafted 250 icons, two-thirds of which she has sold.
And although her discovery of icons put an end to her plans for a retirement spent painting landscapes, she's not complaining.
Sister Paula has found that writing the scenery of heaven has its own rewards.