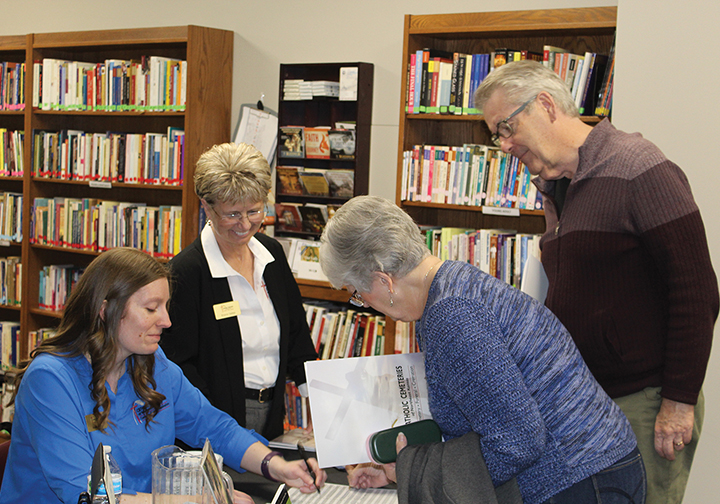 by Therese Horvat
Special to The Leaven
OVERLAND PARK — The 60 guests attending the April 26 session on end-of-life planning at Church of the Ascension here walked away with a wealth of information and invaluable resources. In addition, each couple and individual left with a gift voucher for at least $200 toward services of Catholic Cemeteries of Northeast Kansas, which hosted the event. 
"We were thrilled with the turnout at Church of the Ascension," said Sharon Vallejo, Catholic Cemeteries president and CEO. "We continue to reach out to other parishes for the opportunity to offer similar events to help parishioners understand the many steps involved in planning funeral and cemetery services. Bryan Alonzo, our director of sales and marketing, does a very thorough job with his presentation and his responses to questions from attendees."
Sharon Weems, pastoral associate for administration and outreach at Church of the Ascension, found the session very helpful.
"Bryan explained what people need to consider as they begin to think about end-of-life arrangements," she said. "I learned the difference between Catholic cemeteries and Catholic sections in other cemeteries, and that there are many options for interment."
Ann Short, Church of the Ascension parishioner, described the presentation as excellent and well-organized. The concept of a Catholic cemetery as holy ground resonated with her. The session also reminded Short of the importance of preplanning. She recalled that her parents had made pre-arrangements and how beneficial this was as the family worked to fulfill her father's wishes following his death.
"Preplanning our arrangements is something we want to do for the benefit of our children," she said.
Alonzo's presentation encompassed reasons to choose a Catholic cemetery; the Catholic Church's perspective on cremation; the "Catholic Circle of Protection"; funeral and cemetery services offered by Catholic Cemeteries; Catholic funeral rites; and the advantages of preplanning arrangements. He covered topics ranging from cremation niches and personalized monuments to interest-free payment plans and new features under development at Resurrection Cemetery, Lenexa.
The program began with a complimentary lunch following the noon Mass at Church of the Ascension. Attendees had the opportunity to ask questions throughout Alonzo's presentation and to visit with Catholic Cemeteries family service advisers at the event.
"The questions people asked and the insights they shared were great," Alonzo said. "Their inquiries and observations allowed us to help enhance their understanding of what's involved in end-of-life planning and the funeral and cemetery services available through Catholic Cemeteries, a ministry of the Archdiocese of Kansas City in Kansas."
"We hope that more parishes will agree to schedule these free events in conjunction with their adult faith formation or funeral ministry programs," he added. "This enables us to emphasize our shared membership in the Catholic community and the communion of saints."
To contact Alonzo for more information about the free lunch-and-learn information sessions or services of Catholic Cemeteries, call (913) 371-4040 or send an email to: balonzo@cathcemks.org.