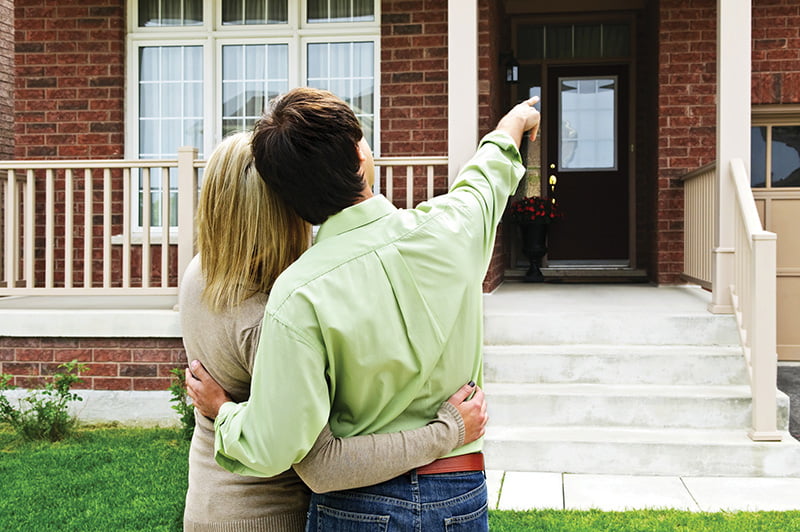 by Marc and Julie Anderson
mjanderson@theleaven.org
KANSAS CITY, Kan. – Go to any hardware store, turn on HGTV or pass by a newsstand and you will find countless products, shows and magazines ..dedicated to building a dream home.
Of course, not everyone can afford to build their dream home. Or can they?
According to Deacon Tony Zimmerman, lead consultant of the archdiocesan office of marriage and family life, all married couples can: without spending one penny.
As part of his 10-year mutually shared vision, Archbishop Joseph F. Naumann is encouraging every married couple in the archdiocese to participate in marriage enrichment. To that end, the office of marriage and family life will officially launch The Joyful Marriage Project in all parishes the weekend of Feb. 11-12.
"One of the key initiatives for the 10-year pastoral vision," said the archbishop, "is to strengthen marriage and family life. The Joyful Marriage Project offers couples practical ways by which they can renew and reinvigorate their marriage."
For Archbishop Naumann, the importance of joyful marriages cannot be overstated.
"Our communities, our nation and our church all depend on strong families. The foundation of the family is marriage. I hope The Joyful Marriage Project communicates to couples how important their marriage is to our church.
"And I want to invite and motivate couples to invest in making their marriage stronger and more vibrant."
Like the archbishop, Deacon Zimmerman and project organizers Brad and Libby DuPont believe The Joyful Marriage Project can have a tremendous impact not only on couples themselves, but also on society overall.
"We want more joyful marriages," Brad DuPont said. "We change the culture when we change our marriage."
Libby DuPont agreed.
"Joy needs to be cultivated," she said, adding that the project is an invitation to help couples discover ways to live their marriages with purpose.
"Like anything of value," said Archbishop Naumann, "great marriages do not just happen. Excellent marriages are the result of both husband and wife making their relationship a priority. Couples have to be intentional in not allowing their marriage to grow stagnant. Joy is not something that can be manufactured. Joy is the fruit of living a life of love, of making the good and the happiness of your spouse a higher priority than satisfying your own wants and desires."
For the past several months, Deacon Zimmerman and the DuPonts held focus groups with couples from across the archdiocese. They heard couples share how the busyness of daily life does not allow much time for them as couples.
Deacon Zimmerman heard many couples recount how their children are involved in countless activities. Add to that their careers and the demands of running a household, he said, and couples sometimes communicate only superficially. They get up, run from one activity to the next, and then finally fall into bed, only to do the same the next day.
Sometimes, parents think their children should be their highest priority, added Deacon Zimmerman. The reality, he said, is parents should take care of their marriage first. When a marriage is strong, he said, the family is strong.
"You cannot give what you don't have," he added.
Archbishop Naumann agreed.
"From my observation, married couples thrive when they keep God in the center of their lives and they make their relationship a priority," he said. "Praying for the gift to love your spouse passionately should be a part of a married person's prayer.
"And both husband and wife need to be committed to making sure that they have quality time together each day. Finding fresh and new ways to communicate and demonstrate your love helps to keep marriages vibrant."
Finally, said the archbishop, "praying together as a couple has the power to strengthen and deepen relationships."
In their focus groups, Deacon Zimmerman and the DuPonts said they found that many couples believe they're doing OK in their marriages. But the trio wants to join the archbishop in challenging couples to live the fullness of Christ's vision for marriage as a glimpse of heaven.
"Do you really want to be doing just OK?" asked Deacon Zimmerman, adding that The Joyful Marriage Project can provide every couple tools to enrich their marriage, their dream home.
The concept for the project started last summer. In talking about family and home, one thought kept coming to mind. So many people watch HGTV and long for a dream home, but why?
The DuPonts and Deacon Zimmerman said everyone yearns for a place of peace, rest and joy.
"We all have that longing in our hearts. It makes sense," Libby DuPont said. "If your marriage is joyful, you will have that dream home."
Building a strong foundation
The first step in building your dream home, they said, is to build a strong foundation of prayer. Without a strong foundation, just like a physical home, a marriage can crumble.
But with everyone living such busy lives, how are couples supposed to make time for prayer? One suggestion the DuPonts practice within their own marriage is praying for each other at a specific time each day.
"Imagine if every married couple in the archdiocese prayed for each other at the same time every day," Brad DuPont said. "What a statement that would make about how much marriage is valued and how much we, as Catholics, want to impact the culture positively."
"It's a real simple thing," he added.
That one simple thing is something that David and Dianne Mallari of Topeka's Most Pure Heart of Mary Parish practice. Parents of four, they pause, even if only for a few seconds each day at 3 p.m., the hour of Christ's passion and death, to pray for their marriage. They also pray together every day before David heads to the office.
"We make time for each other. We make time for that prayer," he said.
The Mallaris also attend Mass as a family every week. And if either one of them is struggling, they remind each other to pray for divine assistance.
Creating a solid structure
In addition to having a strong foundation of prayer, Deacon Zimmerman and the DuPonts said, a solid structure supports the home and signifies a separation between the family and the world. The "walls" prioritize what's important inside the home.
Prioritizing marriage, the trio said, is important. Marriage must be valued above everything else outside the home.
"The 'walls' help to build a basic structure of marriage priority," Libby DuPont said. That's why The Joyful Marriage Project will feature enrichment activities to help couples strengthen those walls by prioritizing their marriage. The activities include a 30-day email retreat featuring papal teachings about marriage, a meditation and an action step.
One way the Mallaris have created a solid structure is through communication. A stay-at-home mom, Dianne home schools their children and said she constantly builds up her husband to their children by saying things like, "Isn't it a blessing that Daddy can provide so well for us?"
She also greets her husband with a hug and kiss each day when he comes through the door.
"It's a choice that we really live," she said.
Dianne said sometimes after having been at home all day with children ranging in age from 10 months to 7, she wants to talk immediately, but realizes David needs time to decompress. Instead, they wait until they've eaten dinner and gotten the kids off to bed before they sit down to really talk.
The Mallaris also shared that, for them, building that solid structure means always looking for what the other has done right. If something hasn't gone well, the two of them are likely to look at themselves first and examine their own conscience.
Stormproofing your home
Just as you need a strong foundation and a solid structure, the DuPonts and Deacon Zimmerman said a home also needs a roof to protect the family from outside elements.
"When the storms of life come, and they will come," Brad DuPont said, a roof will provide "a consistent way of life" to weather them.
Storms can range from losing a job to becoming a caregiver for an elderly parent to burying a child. Practicing a consistent way of life, however, will ensure couples are not overwhelmed and will draw closer to each other.
For the Mallaris, stormproofing their marriage means they went into their marriage knowing divorce was not an option. For them, it has also meant regularly availing themselves of the sacraments, especially the Eucharist and reconciliation. It also means practicing the skills of reconciliation within their own marriage by never being afraid to apologize or extend forgiveness to each other.
They also have chosen to deliberately participate in marriage retreats such as "Living in Love" and "Living in Love Everyday," and they've surrounded themselves with other like-minded couples. In fact, their youngest daughter Sienna has godparents from among their circle of married friends gained from their retreat experiences.
The Mallaris also choose to focus on what attracted them to each other in their first place: their shared values and beliefs and their unique brand of humor. Keeping all of that at the forefront of their minds helped them through one stormy period.
Several years ago, they opened a chiropractic office in Texas around the same time they welcomed their first child. The stress of setting up a business and transitioning from a couple to a family of three was difficult, they said, but doable because they had chosen to intentionally live a life of faith and joy.
Hosting an open house
Once someone builds a dream home, the DuPonts and Deacon Zimmerman said, it's natural to want to host an open house and share it with the world.
One way to share your marriage, the three suggested, is to get involved in a ministry together, such as marriage preparation. Whatever you do, though, they suggest it be done together. Too often in today's world, one spouse gets so involved in volunteering that there's no time left for the spouse. Besides, they said, ministering together is a good way to witness to the world about the importance of the building block of society — marriage, one of the seven sacraments.
"We sometimes forget that we're a sacrament to each other," Libby DuPont said. While priests, through the gift of their celibacy, she said, witness to the breadth of God's love in the world, marriages, through their procreative aspect, witness to the depth of it.
Similarly, Brad DuPont said, "The love of a married couple makes God tangible and real. . . . We've got to share that."
As just one way of sharing their marriage, the Mallaris have served as the marriage prep coordinators for the Topeka Region and regularly mentor engaged couples as part of that shared ministry.
Both said that if married couples live their marriages joyfully, intentionally and with purpose, pretty soon people want to know their secret.
"They'll say, 'I want what they have,'" David Mallari said.
Dianne Mallari agreed.
"Stronger marriages make [for a] stronger faith," she said. "A stronger faith makes for a stronger church."