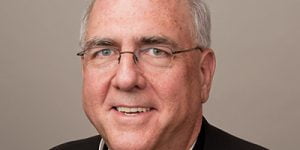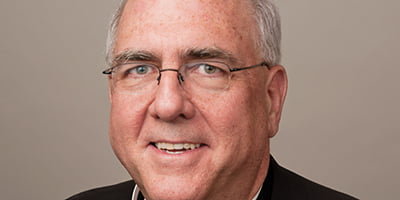 by Archbishop Joseph F. Naumann
With much fear and trepidation, I want to make a public confession. I hope you will continue to accept me and not lose confidence in me. I have found the northeast Kansas Catholic community to be very understanding, so I am hopeful you will not reject me after I reveal this dark secret. I am — dare I even write it — a St. Louis Cardinals fan! Before you go into catatonic state of shock, let me state unequivocally I am also a true-blue Royals fan.
Being a Cardinals and Royals fan is not a contradiction, though it can present some minor challenges during interleague play. It could become a bit more difficult if we should ever have another I-70 World Series. However, this possibility does not appear to be something to lose sleep over. What are the chances?
This Cardinals fever I suffer from is part hereditary and part the result of early socialization experiences. My Father was a professional baseball player. He played several years in the Cardinals' minor league system and went to spring training with them in the late 1930s.
My Dad was a catcher. He was a contemporary of Stan Musial. Musial, like Babe Ruth, was originally a pitcher. My Father caught Musial when they played together on the same minor league team. Fortunately for the Cardinals, someone in the organization eventually realized that Musial was more valuable as a hitter and everyday player than as a pitcher. Musial went on to an illustrious baseball career and in St. Louis is known as "Stan the Man."
My Father, on the other hand, was drafted into the army and served in the Pacific Theater. He married my Mother shortly before being shipped overseas. Though many of his comrades did not return, fortunately for me, my Father survived the war. Once honorably discharged, he never resumed his baseball career, though he continued playing amateur baseball in St. Louis.
My Father was a serious Cardinals fan. He attended a public high school in St. Louis. In those days, even in public schools students were required to take Latin. In the fall of his senior year, the Cardinals were in the World Series. His Latin teacher warned the class that anyone who skipped to go to the World Series, no matter what they did the rest of the semester, would flunk. My Father did not believe her. Consequently, he attended high school for an extra semester.
My Dad was killed in December of 1948. I was born in June of 1949. In part, as a way of honoring the memory of my Father, my Mother made certain that my brother and I developed a love for baseball.
A woman in my home parish, because she was a secretary in the Cardinals' front office, received complimentary tickets to every home game. She and her husband had no children. Her husband would often take my brother and me to the Cardinals' game. Some years we attended almost half of the home games.
This season, I had given up on the Cardinals several times. They appeared to be going nowhere. They had flashes of brilliance, but then would lose several in a row. During parts of the season, it was too painful even to check the box scores.
In late August, the Cardinals caught fire. Aided by a couple midseason trades that strengthened the team and by the collapse of the Atlanta Braves, the Cardinals made it into the playoffs as the wild-card entry. Despite being underdogs throughout the playoffs, a week ago, against all odds, they won the World Series.
Incredible comebacks are part of the reason many of us enjoy sports. We like to see the improbable happen. It gives us hope witnessing someone else overcome seemingly impossible odds that we can triumph over the struggles of our lives.
The sixth game of this World Series is already being touted as a classic. The Cardinals faced elimination with a loss. Both in the ninth and the tenth innings, the Cardinals were within one out — actually one strike — of losing. Both times, they rallied to tie the game, eventually going on to win in the 11th.
Even more improbable than the Cardinals winning the World Series, was the most valuable player for the series, David Freese. With all the stars on both rosters, no sports pundit predicted Freese would win the MVP. A native of St. Louis, who, because of injuries, had never played a whole season in the Cardinals starting lineup, hit a triple to right field, tying the game in the 9th inning, and then hit the walk-off home run to win the game in the 11th. If someone had written a movie script with this plot, it would have been rejected as too improbable.
In a postgame interview, Freese was crediting all those who had helped him succeed as a baseball player. He acknowledged his father as being his first coach who taught him, because he was small for his age, to hit to the opposite field — right field.
Great hitters are reputed to be able to recognize the spin on the ball and adjust their swing to the ball's movement. Being able to hit a pitch that is bobbing and weaving while thrown at more than 90 miles per hour is incomprehensible for most mortals. However, being able to hit that pitch when the pressure of the whole season is riding on this one swing is even more amazing. We admire athletes not just for their physical talent, but more for their ability to control their emotions, remaining focused under incredible pressure.
In 1997, my Father was inducted into the St. Louis Amateur Baseball Hall of Fame. It was a thrill to attend the induction ceremony, but even more to witness the affection and respect my Father's former teammates manifested for my Dad almost 50 years after his death.
I was an unexceptional athlete, and baseball was not my best sport. However, it remains my favorite sport. It is not just because of all the drama that I just described. It is my favorite sport because it was my Father's sport. It connects me with The Man, whom I never knew in this life, but long to meet in heaven.
For me, he is truly The Man! He was part of the Greatest Generation, who sacrificed everything to defend our nation's freedom. He gave me life. He chose for me the most incredible Mother. From all I know of him from others, he provided me with an extraordinary example of what it means to be a Catholic and a man.
This month of November is a special month in the church to remember those who have died. Actually, we do much more than remember them. Our lives and their lives continue to intersect through prayer. We assist with our prayers those souls, who are in the midst of being purified by God's merciful love, to enjoy the fullness of life that is heaven. We ask those already in heaven to intercede for us so that we can successfully negotiate the pilgrimage of this life to join them someday in our true homeland.
In my prayer on All Saints Day and All Souls Day, I thanked my Dad for choosing my Mom, for giving me life, for making me a Cardinals fan, and for giving me the gift of my Catholic faith.
P.S. And congratulations to the Kansas City Chiefs on their Monday night miracle!