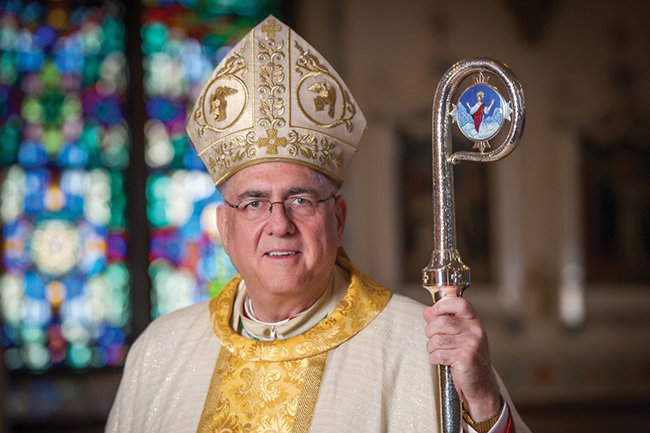 by Archbishop Joseph F. Naumann
Recently, I was invited to participate in the monthly date night sponsored by the School of Love.
The School of Love is an archdiocesan-approved ministry that seeks to strengthen the spiritual lives of married couples while simultaneously strengthening their marital and family life. I am 66 years old and I had never been on a date night!
The founders of the School of Love are Mike and Kristi Dennihan, who are a 30-something couple and proud parents of three young children. Mike has a master's degree in biblical studies from the Augustine Institute. Kristi has a master's degree from the John Paul II Pontifical Institute for Studies on Marriage and Family. Mike and Kristi have dedicated their lives to helping foster vibrant marriages and families that are deeply rooted in Catholic marital spirituality.
The Dennihans invited me to give a brief talk to a group of couples, who gather once a month to renew and deepen their love for each other and to equip themselves to live better their marital vows. The main theme of my presentation was to attempt to impress upon these couples how important their marriage is — not only to them and their children, but to the church, our community and the nation.
Truly, the fate of our nation and culture rests with the strength of family life. Strong families are built upon vibrant marriages. In the 10-year vision for the archdiocese that was recently promulgated, one of the three key Initiatives is: strengthen the vocation of marriage and family life. One of the goals for this particular initiative is to invite every married couple to participate in a minimum of one marriage enrichment activity by February 2017.
There are many marriage enrichment opportunities that are offered in the archdiocese, e.g., "Living in Love" retreats, Marriage Encounter weekends, Dr. Laurie Heap's "Prescription for a Long and Happy Life," Teams of Our Lady groups, and School of Love events and resources. A unique feature of the School of Love is that it offers marriage and family life enrichment resources online, so that couples can use them at a time that best fits their schedule.
While preparing my talk for date night, I read the most recent post at the Princess Prayer blog authored by Emily and Caroline Thompson. Emily and Caroline are 20-something single women who write a weekly blog about living their Catholic faith in the midst of contemporary American culture.
Emily's topic for the week was the ongoing conversion that is necessary for every serious disciple of Jesus. She compared the dynamics of conversion to those of dating. Emily shared that she often found dating more stressful than fun. Caroline gave her sister a different way to look at dating that helped to release some of the self-imposed pressure. Caroline suggested "that dating is just getting to know someone's story."
I thought about Caroline's observation and its application to the couples participating in the School of Love date night. One of the great gifts that married couples bring to each other is their continued desire to know each other's story.
Some of the couples at date night were recently married, but some had already celebrated their silver anniversary. In one sense, they already knew well each other's story. Yet, our stories continue to be written each day. There are always new sentences, new paragraphs and new chapters to the story.
In vibrant marriages, husbands and wives continue to care about the unfolding stories of each other's lives. They want to know about the events and occurrences of their spouse's day. In fact, the interest of their spouse makes a husband or a wife more attune both to the difficulties and experiences of beauty that are part of everyday life.
In marriages that are vibrant, spouses are eager to share with each other the highs and lows — as well as the ordinary moments — of their days. They want to keep discovering one another's story. They cannot wait to read the next chapter!
I told the couples at date night I was happy to spend my ordination anniversary with them. At my ordination as a bishop 18 years ago, I received a ring that, in part, symbolized my espousal to the people entrusted into my pastoral care.
On my anniversary, I had the opportunity to spend time with some of those to whom I am espoused. I had the opportunity to learn a little about what was going on in their lives and to share with them how important their striving to live their marital vows of love is to me and the entire church.
I confess that I enjoy the summer months, when I take a sabbatical from writing these columns. However, at the same time, I miss the opportunity to share with you some of the beautiful experiences of my life, as well as to reflect upon some of the challenges that we face living our Catholic faith in 21st-  century America.
These weekly columns are a vehicle for me to share from my heart to your heart what I consider to be most important as we strive together to live our faith with integrity and fidelity. Many people have expressed to me that they enjoy reading these weekly columns. Thank you for reading these articles and for caring to know what is in my heart. I feel blessed with the spouse Our Lord has provided for me. I look forward to resuming these weekly visits.
P.S. If you are married, I encourage you to check out the School of Love website at: schooloflovekc.com. Take advantage of this great resource to help make good marriages even better!