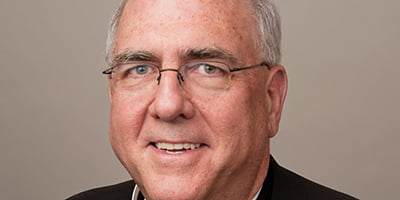 by Archbishop Joseph F. Naumann
This summer I had the opportunity to read "A Life with Karol: My FortyYear Friendship with the Man Who Became Pope."
It is a memoir by Cardinal Stanislaw Dziwisz, who served first as the secretary for Archbishop Karol Wojtyla. When Cardinal Wojtyla was elected pope in October 1979, Father Dziwisz came to Rome to continue as his secretary for the almost 27 years of the papacy of John Paul II. The memoir is in the form of an interview with Polish journalist, Gian Franco Svidercoschi.
Cardinal Dziwisz relates his experience of the fateful day — May 13, 1981, — when John Paul II was shot in St. Peter's Square in Rome. He writes that the second shot was still echoing in his ears "when the Holy Father went limp on one side and then collapsed into my arms. Instinctively, I glanced in the direction where the shots had come from, although I would see it all again in the photographs and on television. In the midst of the tumult, a young man with dark features was trying to break loose from the crowd. Only later would I find out that it was the pope's Turkish would-be assassin, Mehmet Ali Agca."
After his recovery, the pope went to the prison to meet the man who attempted to kill him. Svidercoschi recounts the events of that historic meeting:
"The pope had decided to meet face to face with the man who tried to kill him. He wanted to repeat his words of forgiveness to his would-be killer in person. And he also wanted to give some meaning — a meaning Ali Agca could understand — to the gesture of Christian love he was performing. The first thing he said was, 'Today we meet as men. No, as brothers.'
"But as he sat next to Ali Agca in a bare cell in the Rebibbia prison, inclining his head to hear the prisoner better, the pope was surprised to hear the question: 'So why aren't you dead?'
"Perhaps Karol Wojtyla was also hoping that this meeting would help him understand why the man sitting next to him had tried to kill him. What he got instead was this strange question: 'I know I aimed right. I know the bullet was a killer. So why aren't you dead?'"
Cardinal Dziwisz recalled: "But my impression, or I suppose I should say my interpretation, is that Ali Agca was terrified by the fact that there were forces bigger than he was. The fact is that he aimed well, and yet his victim was still alive. And so there were forces beyond his control, and he was terrified by them. Plus, he had found out that there wasn't just one Fatima — Mohammed's daughter — but another one, whom he called the goddess of Fatima. And he himself said he was afraid that this powerful goddess would avenge herself on him and get rid of him.
"The whole meeting ended up revolving around that. And the Holy Father — as he himself would often recall with deep concern — never once heard the words, 'Forgive me.'"
The assassination attempt took place on the feast of Our Lady of Fatima. Cardinal Dziwisz recalled how the Holy Father came to understand Mary's role in preserving his life:
"Truth be told, John Paul II didn't think about Fatima at all in the days immediately following the assassination attempt. It was only later, after he had recovered and was getting back some of his old strength, that he started reflecting on what was, to say the least, an extraordinary coincidence. Two thirteenths of May! One in 1917, when the Virgin of Fatima appeared for the first time, and one in 1981, when they tried to kill him.
"After pondering it for a while, the pope finally requested to see the Third Secret. The Third Secret, which Mary had revealed to the three children when she appeared at Fatima, was kept in the archives of the Congregation for the Doctrine of the Faith.
"It was there in the hospital, that the Holy Father read the secret. When he was finished, all his remaining doubts were gone. In Sister Lucia's vision, he recognized his own destiny. He became convinced that his life had been saved — no, given back to him anew — thanks to Our Lady's intervention and protection.
"One hand shot, and another guided the bullet, was how the Holy Father put it.
"And today that bullet, made forever harmless, lies encased with the crown on Our Lady's statue in Fatima."
Today, Oct. 7, is the feast of Our Lady of the Rosary. October is a special month in which we venerate Mary, particularly by praying the rosary. One of the beautiful aspects of our Catholic faith is our devotion to Mary, the Mother of Jesus, thus the Mother of God.
Many people ask me to pray for particular intentions, which I am honored and delighted to do. We quite naturally ask people, who we believe are close to God or have a special friendship with God, to pray for us and our intentions. Who is closer to Jesus? Who better to ask to pray for us? Who better to bring us and our intentions to her son, than his mother, Mary?
I encourage you during this month of October to make a special effort to pray the rosary individually or, better still, as a family. Through the rosary, draw close to Mary, who always draws us close to her son, Jesus!