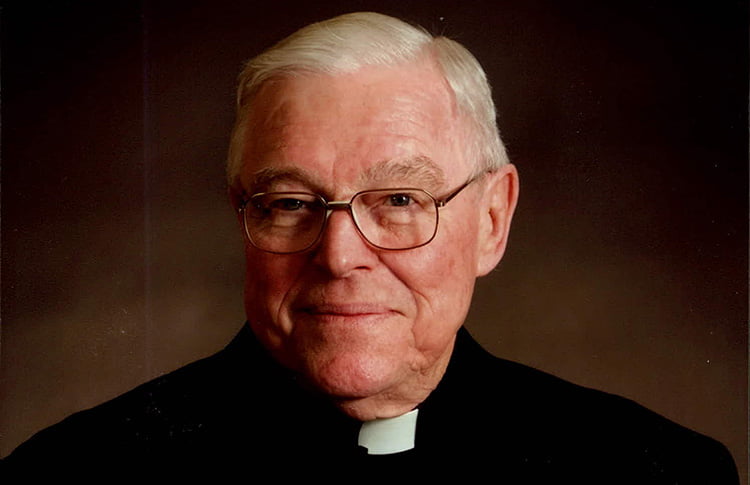 by Joe Bollig
joe.bollig@theleaven.org
[symple_column size="three-fourth" position="first" fade_in="false"]
KANSAS CITY, Kan. — If you're going to be a missionary, you've got to have a sense of adventure — and a willingness to take on the strange, the new and the difficult.
Father Thomas Francis Cawley, a native son of St. John the Evangelist Parish in Lawrence, was a missionary with the Congregation of Mission (the Vincentians) for 36 years before taking a tip from Dorothy Gale that "there's no place like home."
He returned to Kansas in 1993 and served faithfully until his failing health forced him into hospice this year.
"He loved the Mass," said a sibling, Marie Ice. "Even though he could barely get out of bed, he still celebrated daily Mass until five days before he died."
More than anything else, he loved being a pastor, said Father Pete O'Sullivan, pastor of Queen of the Holy Rosary in Overland Park.
"Tom as very dedicated, very happy to be a priest," said Father O'Sullivan. "He found being a priest and pastor to be very fulfilling."
Father Thomas' brother married Father O'Sullivan's sister, so the two clerics occasionally traded notes over the years.
"He was very fluent in Mandarin and other languages," said Father O'Sullivan. "He spent 30 years on mission in Taiwan, and I think he really enjoyed those years of being a missionary and a Vincentian."
Not unlike the circuit-riding priests of pioneer Kansas on horseback, Father Thomas would navigate the byways of impoverished Taiwanese neighborhoods on his trusty bicycle.
Father Thomas, 83, died on Oct. 18 at the Vincentian Parish Home Mission Residence in Independence, Mo., from throat cancer.
Father Thomas was born on Jan. 14, 1930, the eldest child of Thomas and Frances (Seifner) Cawley. He and his seven siblings were raised on the family farm, which was located in far southwest Leavenworth County, three miles east of Lawrence, overlooking the Kansas River. The family attended St. John the Evangelist Parish in Lawrence.
He attended first grade at Immaculate Conception Parish in Valley Falls, and then the Mackey Rural School. The teaching Sisters at Immaculate Conception may have been the first to encourage his vocation to the priesthood.
"He always said he wanted to be a priest from eight years old on, and it may have been one of the Sisters [at Immaculate Conception] who influenced him," said sibling Phyllis Forchee.
He became acquainted with the Congregation of the Mission (Vincentian) religious order when he entered St. John Preparatory Seminary in Kansas City, Mo., which was operated by the Vincentians.
He graduated from St. John in 1948 and entered the novitiate of the Vincentian Fathers at St. Mary of the Barrens Seminary in Perryville, Mo., and pronounced his vows in 1950.
He graduated with a bachelor of arts in philosophy in 1953. That year, he continued his studies at Southeast Missouri State Teacher's College in Cape Girardeau, Mo., and then returned to Perryville to study theology for four years. During the summers from 1954 to 1956, he studied for a master's degree in Latin at St. Louis University.
Father Thomas was ordained to the priesthood on June 2, 1957, in the seminary chapel, by Archbishop Joseph E. Ritter of the Archdiocese of St. Louis. He celebrated his first Mass at his home parish, St. John the Evangelist in Lawrence, and spent time with family before taking his first mission assignment.
Father Thomas was respected by his brother priests, not only for his 36 years of mission experience spanning the world from Asia to Europe and America, but also for his service to his home archdiocese.
"I very much appreciated his priesthood, both as a Vincentian working so many years in the Orient, and here," said Msgr. Robert Bergman, pastor of Immaculate Conception Parish in Louisburg.
"He brought a great deal of experience and wisdom to serving the church at St. Joseph Parish in Shawnee," Msgr. Bergman continued. "And he had a good sense of humor, and I appreciated that very much, and a very good sense of prayer."
Father Thomas was preceded in death by his parents and a sister, Evelyn N. (Cawley) Desch. He is survived by siblings Marie Ice of Lawrence; Robert Cawley of Eudora; Galen Cawley of Coloma, Mich.; Dennis Cawley of Shawnee; and in-laws, nephews and nieces.
Arrangements were by the Porter Funeral Homes and Crematory of Lenexa. A Mass of Christian Burial was celebrated on Oct. 22 at St. John the Evangelist Parish in Lawrence. Burial was at Mount Calvary Cemetery in Lawrence. The family suggests memorial contributions to the Vincentian Parish Mission Center in Independence, Mo., or Catholic Community Hospice.
[/symple_column]
Assignments

• 1957 – Chinese language study in Hong Kong
• 1958 – Assigned to Vincentian mission in Kaohsiung, Taiwan
• 1961 – Returned to the United States for medical treatment, temporary assignment to a high school seminary in Lemont, Ill., and then Central Catholic High School in Beaumont, Texas. Returned to Taiwan.
• 1962 – Appointed pastor of St. Vincent de Paul Mission in the Lin TeKuan District of Kaohsiung
• 1968 – Appointed pastor of St. Mary Mission in Kaohsiung; assigned civilian chaplain to Military Assistance and Advisory Group
• 1972 – Assigned to become Congregation of the Mission (Vincentian) mission procurator for Asia in Hong Kong; assisted St. Anne mission parish in Stanley (Ckek Chu Village) on Hong Kong Island, later assigned parish administrator; also served as civilian chaplain to British Armed Forces at Stanley Fort
• 1988 – Assigned to become Econome General of the Congregation of the Mission (Vincentians) in Rome
• 1993 – Returned to the United States for sabbatical at Santa Barbara, Calif.
• 1994 – Assisted at Church of the Nativity Parish in Leawood; later named pastor of St. Joseph Parish in Nortonville and St. Mary Parish in Valley Falls
• 2001 – Assigned chaplain for the Daughters of Charity at their retirement home in Evansville, Ind.
• 2003 – Appointed senior associate at St. Joseph Parish in Shawnee
• 2004 – Retired to Vincentian Parish Home Mission Residence in Independence, Mo.; assisted at numerous parishes in the Greater Kansas City metropolitan area