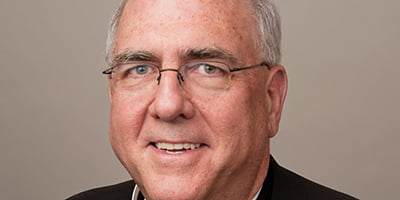 by Archbishop Joseph F. Naumann
This Tuesday, Nov. 6, is Election Day. Many encourage everyone to vote.
It may shock you, but I do not encourage everyone to vote. I encourage you to vote only if you are knowledgeable about the critical issues facing our nation, as well as the positions of candidates.
Casting an uninformed vote is worse than not voting. As Catholics, we have a responsibility to be active and involved citizens. Voting is a moral act. The choices you make in the voting booth should be informed by the teachings and principles of our Catholic faith. Remember: No one will know how you vote, except you and God.
While enjoying bacon and eggs for breakfast, you perhaps have heard the joke that the chicken was involved in providing your breakfast but the pig was fully committed. This weekend, you will be asked to make a personal commitment for the Year of Faith — to make a pledge between yourself and God of how you have decided prayerfully to observe this special year of grace.
Again, I exhort you to commit yourself to do something significant, something that will require a true sacrifice on your part, in deepening your prayer life, growing in your knowledge and understanding of our Catholic faith, and living your faith with greater passion and intensity! While I am asking you to make a sacrifice, I am confident that whatever you choose to give to God during this Year of Faith that Our Lord will bless you a hundredfold.
What could you do to deepen your friendship with the Lord? Consider participating in a retreat or mission, providing yourself the opportunity to spend several days focused on your relationship with God. During such an experience, Our Lord has the opportunity to touch our hearts in beautiful and powerful ways, motivating us to pray more frequently. There are many opportunities in our parishes and in the archdiocese to have a beautiful encounter with God, e.g., Christ Renews His Parish retreats, Light of the World retreats, Cursillo weekends, Apostles of the Interior Life missions, parish missions, etc.
This past weekend, I just blessed the renovated Christ Peace House of Prayer located near Easton. It is a beautiful place where individuals can come and spend a day or several days in prayer. Christ Peace House of Prayer offers a perfect environment to listen to God speak to our hearts. The staff members at Christ Peace House of Prayer are available for spiritual direction and/or for instruction on how to deepen your life of prayer.
In terms of learning our Catholic faith better, I am delighted that more than 2,000 members of the Archdiocese have registered and most are already participating in the School of Faith classes that are a walk through the Catechism of the Catholic Church. Another round of these classes is just beginning. It is not too late to take advantage of this extraordinary opportunity to understand more completely what we believe as Catholics and, more importantly, why we believe. You can receive more information and register online at: archkck.org by clicking on the Year of Faith logo.
Also at our archdiocesan website, you will find information about many other excellent opportunities for adult faith formation, e.g., the Catholicism Project, Great Adventure Bible Timeline, etc. Many of our parishes offer additional opportunities for Bible studies or other adult education programs.
In terms of living our Catholic faith, I encourage married couples to do something this year to strengthen your marriage. Our archdiocesan family life office is offering Living in Love weekends that provide an extraordinary opportunity to renew and deepen your love for your spouse. If you have never made a Marriage Encounter weekend, this is the moment to do so. Some parishes offer special "date nights" that afford couples the opportunity to enjoy a dinner together as well as some suggestions on how to make their marriage even more vibrant. Another way for married couples to live their faith is to consider becoming a "lead couple," assisting engaged couples to prepare for marriage.
For married couples who have not been living the church's teaching regarding contraception, I urge you to participate in Prescription for a Long and Happy Life conducted by Dr. Laurie Heap. The next one is scheduled for Nov. 30 at St. Patrick Parish in Kansas City, Kan. Enjoy a date night while exploring an intellectually honest, research-based method of family planning that benefits the health of women and relationships! The evening includes wine, appetizers, dessert and plenty of food for thought.
You can live your faith by becoming involved as a volunteer for Catholic Charities, your parish social concerns committee, pro-life committee and/ or stewardship committee. There are hundreds of ways that each one of us can encourage and support others in living their Catholic faith and innumerable ways that we can share our faith in our families, in the workplace and in our neighborhoods.
I encourage you to be at least involved with your participation in the Year of Faith, or even better, be committed to taking advantage of some of the many opportunities offered by the archdiocesan initiative — "Faith: Love It, Learn It, Live It."