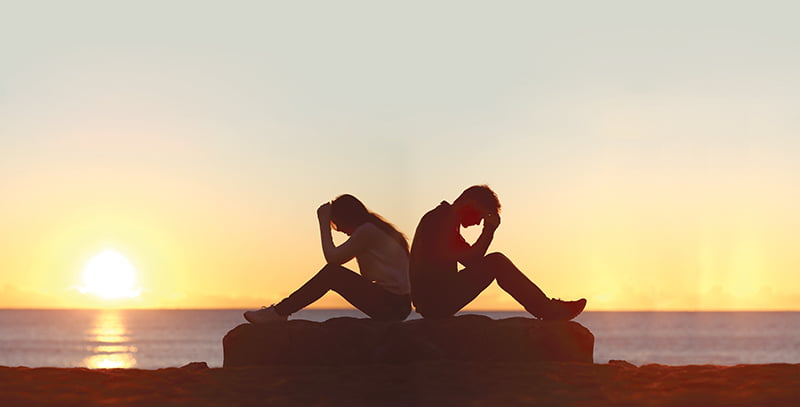 by Marc and Julie Anderson
mjanderson@theleaven.org
Easy.
That is how James (not his real name) described his experience of giving $300 to a college girlfriend for an abortion roughly 12 years ago.
Nowadays, the guilt of that "easy decision" weighs heavily on his heart.
"I paid $300 to some phony doctor to kill my kid," he said.
And that wasn't the first abortion with which he'd been involved. Although he didn't know it at the time, one of his high school girlfriends aborted their child.
Recounting his story, James said he ultimately found some healing through Project Joseph, the companion ministry for men to Project Rachel.
Project Rachel was founded in 1984 in Milwaukee by Vicki Thorn, in response to a friend's suffering. Project Rachel has since spread to more than 150 dioceses across the nation, including the Archdiocese of Kansas City in Kansas. It aims "to provide care for those suffering in the aftermath of abortion" by offering "pastoral counseling, support groups, retreats and referrals to licensed mental health professionals."
Within the archdiocese, Ann Marie Alvey is only the second coordinator of the ministry, having accepted the position this past July. She replaced Pat Klausner, who had served as the ministry's coordinator for more than 30 years.
Thus far, Alvey has seen only a few clients, although she has received inquiries from others. Most the inquiries come directly from women who have aborted their children or from concerned family members and friends.
Grace
Such was the case with Grace, again not the client's actual name due to the confidential nature of Project Rachel/Project Joseph.
"After my abortion, I was still trying to sort things out, still trying to live out my senior year [in college]," she said. "It was fairly good, but there was always something in the background. There was always this background of sadness. I was still very angry. I wasn't myself. I would just start crying for no reason.
"My mom actually helped me find support through Project Rachel."
Last November, Grace finally texted Alvey and began meeting with her on a regular basis. The two worked through what is similar to a Bible study, each lesson focusing on a different aspect of abortion's lasting trauma.
"I had my abortion in 2017," said Grace. "In talking with Ann Marie, she said a lot of women tend to hold off longer [on getting help] than I did. So, that kind of surprised me. It was just too much to handle."
At first, Grace was unsure if she wanted to meet with Alvey, but decided to give it a try.
"I was a little hesitant because of the religious aspect," Grace admitted.
Raised Catholic, she attended public schools until after high school graduation, when she enrolled in a Catholic college. But the shame she was experiencing made her feel somewhat unwelcome at church.
Alvey said she's not surprised Grace struggled with making that initial contact.
First, there's the religious aspect of the ministry — a cross is featured even in the ministry's logo. Research has shown millennials do not necessarily respond well to things which are obviously religious in nature.
"The Vitae Foundation, which Archbishop Naumann helped to found, has done a lot of studies and has found that women don't respond to religious imagery," said Alvey. "They respond more if it doesn't have it overtly there, and we're trying to reach the younger crowd. I think by and large we do get a lot of Catholics, but we want to reach people outside the church if we can."
Another reason Alvey said women do not typically contact the ministry is because in this matter, women (and men, too) usually just suffer in silence.
"Women keep it a secret. They don't talk about it," she said. "There's so much shame and suffering around it; you may be sitting in the pew next to someone who is post-abortive and not even know it. . . . That's part of the suffering. It's such a silent suffering."
But there have been at least 61 million abortions since abortion was legalized nationwide in 1973, said Alvey. That's resulted in a lot of victims — not just the babies themselves, but also the mothers, the fathers, the siblings, the grandparents and more.
"We have the walking wounded all around us," Alvey said.
But there is hope.
"The church offers healing to the suffering and the wounded," she said, "and I don't think enough people know that. I don't know if people see that it's a place of healing."
A final reason why women (and men, too) are often hesitant to come forward and ask for help after an abortion, said Alvey, is that, at first, they don't make the connection between their suffering and the abortion.
"I've read the literature, and from what I understand, women often wait 10, 20 and even 30 years before they come in," she said. "I was really encouraged to see these young women who are noticing or somebody in their family noticed [their pain]."
In the case of Grace, Alvey said she was encouraged someone noticed Grace's pain sooner rather than later, and even more encouraged Grace made the decision to start addressing her pain.
Grace said that Project Rachel has helped her more than she had anticipated it could.
Without Project Rachel, Grace said she would be in a very different place today.
"I would probably be a lot angrier," she said. "I feel like my relationships would have suffered more because of it.
"I . . . wish people realized the lasting impact abortion has on a woman's life."
There is not a day goes by, she added, that she does not think about it.
Looking back on her decision, Grace wishes she would have known more at the time she chose abortion.
"I wish someone had sat me down beforehand and told me how much this was going to impact me," she said. "I wish I would have known how complicated it is. I think I was extremely ignorant of women's experiences.
"There's a lot of psychological trauma that can come from having an abortion that people aren't necessarily aware of."
Grace is now even considering a return to her Catholic faith.
"I think Project Rachel has opened my mind to really thinking about getting back into the church," she said.
For the time being, as a result of working with some of the resources Alvey has offered her, Grace has learned meditation techniques and has spent much time reflecting on various Scripture passages, especially those focusing on God's love and mercy.
These passages provide her some measure of consolation on difficult days.
"The day I found out I was pregnant and my abortion date are difficult ones," she said. "Hopefully, this upcoming year won't be as difficult because Project Rachel has really taught me to forgive myself and forgive others for my abortion.
"That has probably been the most powerful thought for me."
Although she's hurting, Grace said she'd like to invite others who have chosen abortion to try Project Rachel.
"It will probably be difficult to begin the healing process," she noted, "but it will be worth it down the road. It will help you in all areas of your life."
James
James, too, wholeheartedly encourages others in his or Grace's situation to begin the healing process.
This past fall, he attended a Project Rachel/Project Joseph retreat that he called "very powerful."
"It was the first time I was able to share my story with others who have had abortions," he said, "and it was very powerful to have my story heard by someone who understands that suffering intimately.
"There's a trust there," he continued. "It's a very sorrowful thing, and you know they will understand your sorrow."
As someone who has experienced the pain of two abortions, James knows firsthand that abortion does not just affect one person, but rather a circle of victims, including the father. Often, James said, the father's rights and pain are ignored, as secular culture argues a woman should have the right to choose for herself.
"There's a lack of awareness because we say it's a women's issue. It's a woman's reproductive right to choose," he said. "By saying that, we forget the fact a man is the father of that child.
"So we make it even more difficult for men to be allowed to talk about it."
"If I told people about it, it's kind of like, 'Why is that your problem?'" he continued.
People have even suggested he should not be bothered by the fact his girlfriends chose abortion. He was not the one who carried out the decision.
Still, James said it was his own selfishness that led to those two abortions.
A product of Catholic grade and high schools, James said his family regularly attended Sunday Mass.
Nevertheless, he fell into a mindless pattern of premarital sex and recalled that even when he learned of the first abortion, he did not feel any sadness.
"I was in a place where even when I knew that she had had an abortion, it didn't really affect me. It didn't really change my approach or touch my heart. It didn't sadden me at all."
Fast-forward to his first semester in college. That's when he learned he was the father of a second child.
"Our relationship was a little more serious. But looking back on it now, I think there was a lot of fear on her part, not knowing if the relationship was going to work out and if this kid is going to be supported financially and emotionally.
"Then there was the fear and embarrassment. Her parents didn't know me. They hadn't even met me."
James remembers there wasn't much of a discussion about his unborn child. She had made up her mind. Still, he wonders if he had been a better man at the time, would the situation have resulted in a different outcome?
"I've reflected on this a lot," he said, "and I think, at the time, I didn't have a care or concern for how I lived my own life, so how could I then translate that to care and concern for the life of an unborn child or the life of this girl I was dating?
"So, there's that. And then there's also this level of selfishness — that's greatly going to interfere with my life and my plans, and it was such an easy decision because it was only $300.
"It was also an easy decision because [abortion] is so available, and nobody's going to know. She goes to the clinic. By two o'clock on a Saturday, it's all over."
Yet, "it" wasn't over, and according to James, will never be over.
Secular culture, James said, often celebrates and promotes abortion.
"There's a dominant thought in secular culture that it's not supposed to hurt," he said, "and you're not allowed to feel the hurt.
"So, what do you do about it? Well, you just kind of stuff it down and bury it and don't pay attention to it."
After the second abortion, James said his life began to spin out of control.
"I failed out of my classes," he said. "I got in legal trouble. My life just kind of fell apart."
Yet, James said, God showed him mercy.
That summer, one of his mentors encouraged him to return to confession. He was able to confess the abortions to a priest. By fall, he had enrolled in a Catholic college.
"It didn't take too long for me to start reflecting on those abortions and their impact," he said.
"It took a long time to get out of blaming myself" he continued. "I remember looking in the mirror and feeling the pain of losing two children and convicting myself as being a murderer."
While in college, James became involved with the pro-life movement, often praying outside abortion clinics, especially on days abortions were scheduled.
"Because I had this experience with abortions, I knew it was painful for those girls," he said.
He, along with several others, would hand out Project Rachel materials, telling the girls there was hope and healing available.
In large part, James said, it was due to the memory of watching the mother of his child in emotional anguish following her abortion that inspired him.
"I remember her lying on the floor crying, while we were all watching a movie," he said. "I don't want that to continue happening.
"Abortion is a tragic thing. It ruptures your relationship with God. It ruptures the relationship with yourself because this kid you were supposed to have, to put it bluntly, you killed.
"That's a part of you that's gone. You lose a sense of yourself when you willingly choose to end another person's life."
When he finally felt prepared to ask a woman to marry him, James said, the abortions brought another level of complexity. Prior to proposing, he told her about the abortions.
"I was very afraid to tell her because it's not only an admission I have two kids, but it's also an admission I've had sex with two other women," he said.
As it turned out, he added, he need not have worried. His wife has been the model of Christian discipleship.
"She didn't judge me for it, didn't hold it against me and doesn't hold it against me," he said. "She understands it's a painful thing. She understands that's it going to be a lifelong process of grieving and healing.
"We've got two in heaven. She thinks of them very much as her kids."
In fact, it was his wife's unconditional love and encouragement that led him to the Project Joseph retreat in the first place.
"The retreat, in a particular way, kind of brought more life to the relationship with my [aborted] children."
The retreat, however, is not meant to be the end of the journey, James said, but rather a beginning to a life well-lived in mercy and in constant relationship with God the Father.
And it is God's tender mercy, Alvey said, that is at the heart of the Project Rachel/Project Joseph ministry.
"That's what I see this ministry as," she said, "Jesus' hungering and thirsting for the wounded and broken to come to him and to know him personally so that he can heal them.
"And to me, that's the beauty of the Catholic Church. That is what it is all about, reaching the broken and bringing them to freedom and wholeness."