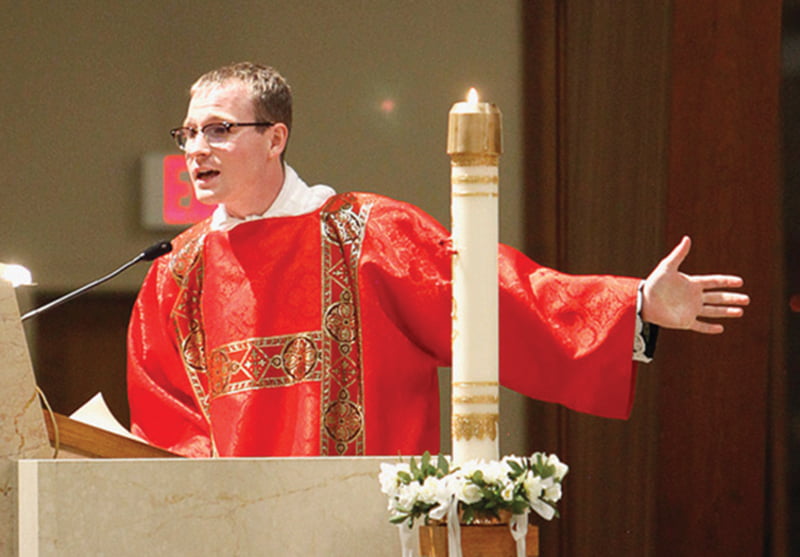 by Joe Bollig
joe.bollig@theleaven.org
KANSAS CITY, Kan. — A faithful family, a love for the Mass and a boyhood desire to become a priest are good indicators that a young man could be called to the priesthood — but it's no guarantee.
Such was the case for Deacon Nicholas Steven Ashmore.
As he discovered, discernment is a gradual process and requires making decisions between equally good choices. Deacon Ashmore, like all seminarians had to confront this question: What does my heart really desire?
Deacon Ashmore, who will be 26 years old when he is ordained, was born in Rochester, New York. He and his twin brother Robert were the third youngest of the nine children of Willard Ashmore and Katrina Gavala.
Due to his father's work as a nuclear operations expert, the family moved around a bit. Deacon Ashmore's family moved to Michigan when he was 6; to Burlington when he was 7; and then Mars, Pennsylvania (near Pittsburgh) when he was 14 years old.
His father was a cradle Catholic, and his mother converted to the Catholic faith in the early 1990s.
"My family was very strong in the faith," said Deacon Ashmore. "We prayed before all meals and went to Mass on Sunday. Dad had a great love for learning the truths of the Catholic faith, which he passed on to me."
His time in Kansas was particularly influential. Deacon Ashmore went to St. Joseph School in Olpie, and his mother cooked there, too.
"I was an altar boy from the age of 9 or 10 until I left high school," he said. "It was one of my main loves as a young boy. I loved serving Mass. I loved preparing for it, I always did. . . . That's where my vocation was really fostered."
An additional influence was to be found in his pastor, Father Michael Hawken.
"I had a wonderful example of a parish priest in Father Hawken, and I wanted to be like him," said Deacon Ashmore.
It was about the time he was an altar server that Deacon Ashmore met another great role model — through a book.
There was a book fair at St. Joseph School, and Deacon Ashmore — an avid reader — was eager to go.
"I didn't have any money because I was a little fourth-grader," he said. "I came across a book with the title 'Dominic Savio: Teenage Saint' [by Peter Lappin]. And I thought 'What? The saint was a teenager?' I didn't know that could happen."
He talked about the book with the friendly lady in charge. Sadly, he began to put it back.
When she found out he had no money, she gave it to him. Deacon Ashmore excitedly took it home, showed it to his parents and finished it that night in bed with a flashlight.
And he read it through three or four times again by next week.
"I've felt that, in a certain way, Saint Dominic Savio adopted me as a young boy," he said. "I'm very devoted to him."
Later, as a middle-schooler, he found a "home away from home" at Conception Seminary's Companion Camp, an event hosted by the seminary in Conception, Missouri, and focused on faith, fun and fellowship.
"I went there between eighth grade and when I was a senior in high school," said Deacon Ashmore, "when I came back as part of the staff."
In high school, he explored other avenues as well.
The desire to be a priest remained, but he developed an interest in music. He sang, played the French horn and participated in musical theater. He took voice lessons and his teacher encouraged him to pursue a career in classical voice.
He liked performance, the art of the stage. But he didn't crave applause, the glory of the stage. He felt empty when the applause faded.
"And, so, I realized that I wanted something that would last, something that wasn't based around me, something that was based around others," said Deacon Ashmore. "I realized that only in being a gift for the sake of the people of God could I be happy.
"And I realized, fundamentally, I wanted to pursue a relationship with Christ wholeheartedly. That was the only thing that could satisfy my heart. For me, to pursue a relationship with Jesus Christ with no bars held, meant I had to pursue the priesthood."
After graduating from high school in 2011, Deacon Ashmore went on to Conception Seminary College. Later, he went to Kenrick-Glennon Seminary in St. Louis. Every year since then, he has evaluated his call, and every year has received affirmation.
He was ordained a deacon by Archbishop Joseph F. Naumann on May 19, 2018, at Holy Trinity Parish in Lenexa. He will be ordained a priest by Archbishop Naumann on May 25 at Church of the Ascension in Overland Park.
What advice would he give to men discerning the priesthood?
"Don't try to 'figure out' your vocation," he said. "Rather, put your heart in Jesus' hands, and trust that he will guide you wherever you go.
"Only by growing in the confidence that God will not abandon you wherever he brings you will you find the trust to continue following him wherever he calls you."
Name:Deacon Nicholas Steven Ashmore
Age:26 (at ordination)
Born: Rochester, New York
Parents:Willard Ashmore and Katrina Gavala
Siblings:Andrea, Danielle, Samantha, Salina, Davina, Fabian, Robert and Will
Home parish:St. Francis Xavier, Burlington
Education:
• Mars Area High School, 2011
• Conception Seminary College, Conception, Missouri, Bachelor of Arts in Philosophy, 2015
• Kenrick-Glennon Seminary, St. Louis; Master of Divinity, Master of Arts in Theology, Sacred Theology Bachelor degree
Tech I can't live without: Life without my MacBook would certainly demand some sacrifices.
Favorite musical style/band/performer: Frank Sinatra
Most inspirational Christian(s) I've ever met:Several cloistered Sisters, especially the Benedictine Sisters in Gower, Missouri, and the Carmelite Sisters in Avila, Spain
Favorite saint:Don Bosco, for his fatherly care and devotion, an example for my own ministry
Favorite devotion:The rosary. My father passed down a deep devotion to the Blessed Mother through this beautiful prayer. I have only grown to love it more in my time in formation.
Book to recommend:"The Confessions of St. Augustine," by St. Augustine of Hippo. I read it every year. It has everything: love, friendship, intrigue, heartbreak and that mystical yearning we have deep within for the eternal and loving God.
Favorite food:Gazpacho.
Least favorite food: This will be controversial: lasagna. Never have I grown a taste for it.
Favorite childhood toy:Beyblades (although my brothers always beat me)
Favorite place: Avila, Spain
Dream vacation:A combination of relaxation, sightseeing and spending time with friends.
Worst job:Snow shoveling at Conception Seminary
Best job: My parish assignments
Hobbies/Things I like to do: Reading, cooking and singing
Guilty pleasure:Ice cream
My hidden talent/party trick:I have above-average control of both eyebrows.
My Final Four saints: St. Don Bosco, St. Teresa of Avila, St. John of the Cross and St. Thomas Aquinas
Best advice I've received seeking my vocation:Discernment is a process of trust; it does not happen overnight.