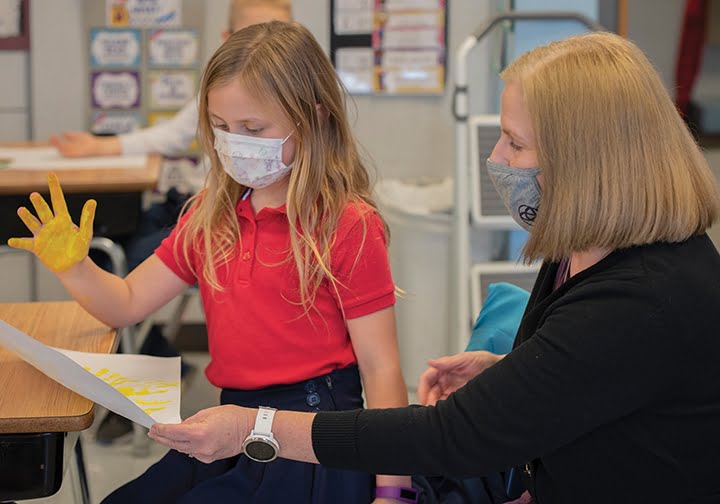 by Joe Bollig
joe.bollig@theleaven.org
KANSAS CITY, Kan. — When it comes to dealing with the COVID-19 pandemic, Catholic schools can borrow a bit of wisdom from professional baseball great Yogi Berra, who famously uttered, "It ain't over till it's over."
No, the pandemic isn't over. For almost a year, Catholic schools — like all other institutions — have had to deal with the unexpected challenges created by the virus.
One of those challenges was the pressure the pandemic placed on Catholic schools' budgets. Unlike public schools, which rely on taxes, Catholic schools depend on parish subsidies, tuition payments from parents, gifts, donations and fundraising. All those took a hit to one extent or another.
In response, the School Advancement Program of the archdiocesan school office organized and conducted a two-hour virtual event, "School Budgeting During Pandemic Times," yet another "Train the Trainer" session organized by Michael and Patty Morrissey, co-managers of the School Advancement Program.
The virtual event, held on Jan. 28, was attended by approximately 54 individuals representing some 32 schools and other entities. The participants included pastors, high school presidents, principals, school board members, enrollment managers and others.
Seven presenters covered six topics, which included budgeting philosophy, budget correlation and best practices, school budget importance, enrollment management (retention and recruiting), format and specific line items, and stakeholder deliverables.
"There will be some tough decisions I think that you have to make in the future," said Vince Cascone, superintendent of archdiocesan schools, in his welcoming remarks. "But I'll say this experience with COVID-19 has shown us that those schools and parishes that have had solid budget processes in place were better able to address the needs and challenges that they were faced with, and some that maybe didn't have some of those in place struggled even more so."
Participants found the presentation contained information beneficial for budgeting at any time — not just during a pandemic.
"Of course, COVID and pandemic times put a different lens on everything, but I think the principles they brought up could be useful any year," said Liz Minks, principal of St. Ann School in Prairie Village.
Her school felt the pandemic impact in different ways.
"We had a higher interest this year from [families] that might not typically be interested [in Catholic education] because we [had instruction] in person," Minks said. "We acquired several students from the public schools and ended up having to put a cap on [their enrollment] to help with social distancing."
"But, also, without having Mass in person, that affected the overall amount of contributions we usually get," she continued. "But at the same time, I'm really grateful we received more than we thought we would through the Sunday collection plate. And, we've had such an amazing response to our fundraisers virtually. I'm shocked how people were still able to provide during these times, and I'm really grateful to this community. I know that's not the case everywhere."
A pandemic imposes some unique pressures on a school budget, said Bill Schafer, St. Ann Parish and School business manager.
"You might have to provide for more cleaning costs . . . maybe put caps on classroom sizes," said Schafer. "You might have some unique things you have to consider. We made quite an investment in the facility to make things as safe as we possibly could — water bottle fillers, touchless faucets in bathrooms, air purifications in all our HVAC units."
It was above and beyond what they had originally budgeted and there was a lot of uncertainty. But the influx of students from the public schools helped enrollment, because they paid the full nonparish enrollment rate.
"It gave us the opportunity to show them what a Catholic education is like," he said. "We could do a little bit of evangelization in the process. As far as I know, the families have been pretty happy. I haven't heard of any yet that are not coming back in the fall."
Andy Tylicki, president of St. James Academy in Lenexa, found something useful in all the presentations. Like other school administrators, any information that will help his school be a better steward of money and resources, and more effectively manage enrollment, is very beneficial.
"What I think is important [for parishioners] to understand is that our parishes and schools are really great stewards of their money they give to us," said Tylicki. "I just know what I deal with on a daily basis — that there can be struggles for families who want to remain in our schools."
"We work to the nth degree to make sure they can stay. I know all of our schools do that," he concluded. "We're all working to make sure we take good care of our families and our budgets, and to be a part of that process as leaders of our schools."