by Moira Cullings
moira.cullings@theleaven.org
KANSAS CITY, Kan. — Their odds could not have been worse.
Frances and Gilbert Smith, parishioners of Our Lady & St. Rose Church in Kansas City, Kansas, are both in their 80s. Both have pacemakers and take medication daily. Gilbert has type 2 diabetes and has had a quadruple bypass and back surgeries.
So when both tested positive for coronavirus, their daughter Marilyn Baker was terrified.
"The anxiety was just so real," she said.
Surviving coronavirus would take a miracle.
And yet, both Frances and Gilbert overcame the virus, and now live to tell their story of faith, hope and God's everlasting love.
"He has always seen me through," said Frances, "and I will be still and trust in him."
The ripple effect of coronavirus
Marilyn works at the home of Archbishop Joseph F. Naumann and Msgr. Stuart Swetland, taking care of many of their residential needs.
She lives with Frances and Gilbert, her mom and stepdad.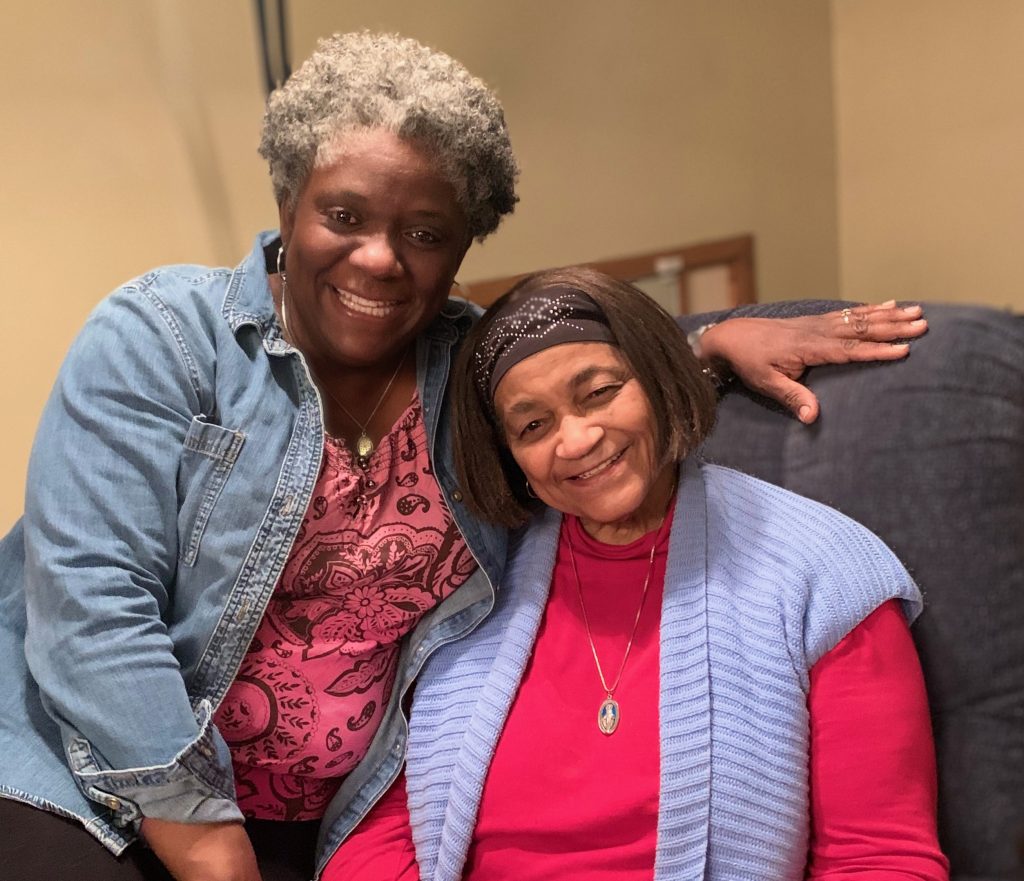 So when Gilbert began complaining of a stomachache, which was eventually accompanied by a cough and low-grade fever, Marilyn became distraught.
"About the time that he finally decided to go to the hospital, I had a feeling he had coronavirus," said Marilyn.
Before Gilbert was admitted to the hospital on March 20, Marilyn had already started making preparations at the archbishop's home.
"I sanitized everything in his residence," she said. "I made sure I bought 14 days of the foods that they would need, just in case.
"I remember coming into work after my stepdad had gotten hospitalized and telling [the] archbishop, 'I don't know what's going on. They're going to test him for the virus. I pray that it's not that. But if it is, we all have to quarantine.'"
Gilbert was tested and received the positive result two days after he was hospitalized. Frances went to a local testing site and received the positive result on March 24.
She had already been hospitalized the day before, after feeling weak and developing a low-grade fever.
Marilyn was deeply concerned not only for her family, but also for the archbishop, whom she could have infected without knowing it.
"I realized the impact of working there, and that he would have to quarantine," she said. "Not only that, but because of his age, he's in the high-risk category for coronavirus."
Both Archbishop Naumann and Msgr. Swetland remained healthy, however, and, after being quarantined for more than 14 days, Marilyn was finally able to return to work.
Her return date just so happened to fall on Holy Thursday, which, according to the archbishop, who had prayed for Marilyn and her family every evening, was "just in time."
'Love for another is the key to overcome'
After six days in the hospital, Frances overcame coronavirus and returned home on March 29. Gilbert was transferred to rehab on April 6 and was released on April 21 after also testing negative. The results were remarkable.
But, when Frances returned home first, it was difficult to be happy as she worried for her husband.
"I noticed she was getting depressed," said Marilyn. "I think it was being away from Gilbert and not having that person to care for."
Normally, Frances wakes up each morning and makes Gilbert breakfast in bed, lights a candle and says her prayers.
"I noticed that she wasn't lighting her candle," said Marilyn, "and that kind of scared me because I know she always does that.
"And so that's when I started to realize I need to help her get back to her prayer life."
Marilyn began lighting Frances' candle for her. She tuned in to Archbishop Naumann's daily Masses on Facebook Live while making breakfast for her mom.
"My mom would come in and sit and watch the Mass," said Marilyn. "That really helped her."
Frances and Marilyn also began praying the Divine Mercy chaplet every afternoon, and the rosary every evening with Mike Scherschligt and the Holy Family School of Faith.
"I really think those three things made all the difference," said Marilyn.
Between the Catholic resources and care from her children and grandchildren, Frances' spirits lifted and the realization that she and her husband survived such a deadly illness set in.
"It was as though God had sent a band of angels to me," she said. "I praised God daily for blessing me to pull through.
"Focusing on the good things God has given me over the years and praying daily for those who are suffering with this virus has helped me to realize God still has work for me [on earth]."
For Marilyn, support from friends and family has helped ease the anxiety coronavirus has caused her and her loved ones.
Two calls — one from fellow parishioner and 101-year old Willie Etta Jennings and the other from Troy Hinkel, vice president and co-founder of Holy Family School of Faith — were particularly impactful.
Both people were unaware of the couple's health conditions but simply wanted to check in on Marilyn during this time.
"That gave me a sense of hope," she said.
Frances believes prayers from the Catholic community were a key part in her and Gilbert's survival, and she continues to pray daily for those who are ill and those who have no one to pray for them.
"It's so important for us to show our love for one another during this pandemic," she said.
"So many people were praying for me as I also prayed for those suffering with this virus," she added. "Love for another is the key to overcome."