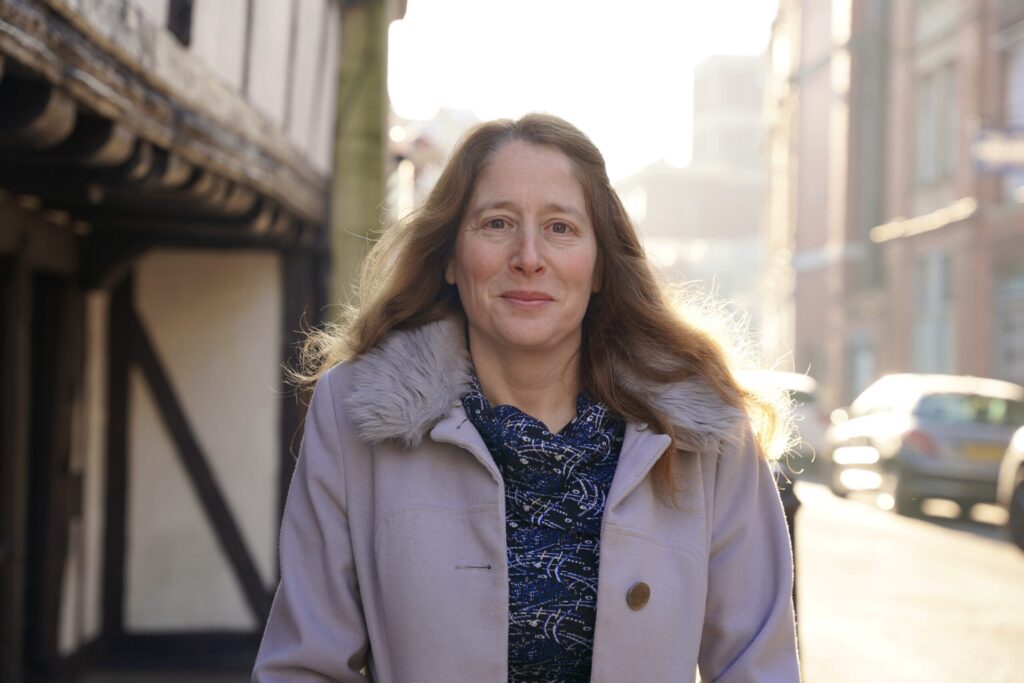 By Simon Caldwell, OSV News
LIVERPOOL, England (OSV News) — Police in England have apologized to a Catholic woman six months after she was arrested for praying silently outside an abortion facility.
Isabel Vaughan-Spruce was arrested in March outside a British Pregnancy Advisory Services clinic in Birmingham by two uniformed officers from West Midlands Police and has finally received notification that she will not be prosecuted.
In a video of the arrest, an officer is heard telling Vaughan-Spruce: "You've said you've been engaging in prayer, which is the offense."
According to a Sept. 22 media statement by ADF UK, the legal organization that supported her defense, the police apologized for the length of time taken to reach their decision.
They said in a letter that "there will be no further investigation into the alleged matter, and there will be no further action taken."
It was the second time since December that Vaughan-Spruce was arrested outside the facility, where in September 2022 Birmingham City Council imposed a 150-meter (490-feet) exclusion zone forbidding all protest and counseling, as well as prayer.
A judge in Birmingham dismissed the first case against her in February along with that of Father Sean Gough, a Wolverhampton priest also arrested for praying silently outside the same abortion facility.
Vaughan-Spruce was arrested again within weeks when she returned to the site and prayed silently in her mind.
The decision to drop the latest case comes within two weeks of Suella Braverman, the British government's secretary of state for the Home Department, writing to every police force in England and Wales to tell them that silent prayer was not a criminal offense.
In her letter to the police, Braverman said that "silent prayer, within itself, is not unlawful" and that "holding lawful opinions, even if those opinions may offend others, is not a criminal offense."
In a Sept. 22 statement, Vaughan-Spruce said: "This isn't 1984, but 2023 — I should never have been arrested or investigated simply for the thoughts I held in my own mind. Silent prayer is never criminal."
"I welcome West Midland Police's decision to end their investigation and their apology for the time it took to do so, but it's important to highlight the extremely harmful implications of this ordeal not just for myself, but for everyone concerned with fundamental freedoms in the UK," she said.
"What happened to me signals to others that they too could face arrest, interrogation, investigation, and potential prosecution if caught exercising their basic freedom of thought," she continued.
"Now that authorities have twice settled on the conclusion that silent prayer is not a crime — a conclusion also reached by the Home Secretary last week — I am thankful to resume my practice of praying silently for women in crisis pregnancies," Vaughan-Spruce said.
The Public Order Act, which completed its passage into law in May, prohibits "influence" in an area of 150 meters (490 feet) around all abortion facilities in England and Wales.
Free speech advocates have raised concerns that such vague terminology will criminalize not only harassment, but peaceful conversations, leafleting and prayer.
Jeremiah Igunnubole, legal counsel for ADF UK, said the behavior of the police revealed that "fundamental freedoms are vulnerable in the UK."
"There is now an urgent need for legal changes," he said in a Sept. 22 statement to the media.
"We hope the decision from West Midlands Police that they will not prosecute free thought, alongside the Home Secretary's public commitment to protecting silent prayer, will be reflected in legislation, guidance, and practice," he added.
Vaughan-Spruce is considering whether to sue the police for wrongful arrest and to seek compensation for the ordeal inflicted upon her.
Meanwhile, Adam Smith-Connor, a father and Afghanistan war veteran, is due to appear before magistrates in Bournemouth, on the south coast of England, in November after he was arrested for praying inside an abortion clinic exclusion zone in the town.