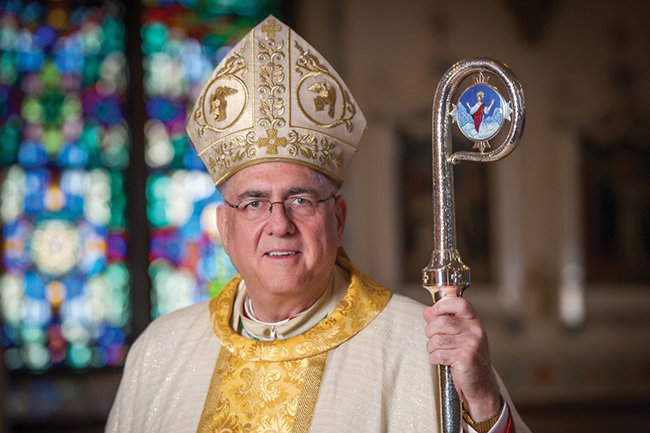 by Archbishop Joseph F. Naumann
The following are excerpts from a letter I received this past September from an eighth-grade boy who wrote to share his experience at Camp Tekakwitha, our summer camp at Prairie Star Ranch, Williamsburg.
"I am writing to tell you my fantastic time down at Tekakwitha. . . . I am also writing to you in the hope that more people can be aware of this great experience. All the people in my cabin were awesome, my counselor was awesome and I will likely see some of these kids in CYO activities this year.
"At Tekakwitha, we do a variety of activities, including horseback riding, high ropes, low ropes, climbing tower, swimming, archery, power pole and much more. But all of these activities somehow tied back into our faith, and I thought the staff did a great job of that.
"My experience down there with my friends was awesome. We all had a blast doing all the activities, and we even had fun when someone flipped our canoe. It was awesome for 30 seconds, until we had to haul back to shore.
"The staff and everyone there had so much joy. I say, not happiness, because joy is happiness regardless of circumstance. Everyone was always happy, no matter if we were cleaning the bathrooms, swimming in the lake or waiting for lunch.
"Also, at Tekakwitha, we had spiritual activities like morning prayer, adoration, Bible studies, Mass and pretty much every physical activity. Everything started with a prayer and ended with a prayer. I think that Tekakwitha helped me grow spiritually in my faith and look at life in a different way. At camp, the theme was the transcendentals — truth, beauty and goodness — three ways that God appears in our daily lives.
"During camp, we notice beauty in all the wonderful sunsets, sunrises and the beautiful landscape around us. I guess before camp I didn't really pay attention to how God was truly everywhere around me.
"After camp, I still notice God in the transcendentals, and it fills me with great joy and confidence.
"Camp Tekakwitha was a great experience that helped me go into this school year with a great mindset. With this mindset, I am inclined to believe that my last year [in elementary school] will be great.
"But it wouldn't be as great if not for the lessons taught to me at Tekakwitha. I feel that these lessons have impacted my life and faith life greatly.
"In conclusion, Tekakwitha is a time to grow closer to friends, to meet new people and to grow closer to God. Tekakwitha is a great experience for everyone; I always come back filled with happiness. We learned [so] much and it has strengthened my friendships.
"Now, during this school year, I try and take what I learned from Tekakwitha and apply it to my life, because I know I'll be happier if I do. Tekakwitha has provided me with the tools for a great 8th-grade year."
I receive many similar communications (usually verbal) each year from youth and parents about the impact camp has had upon their lives and their families.
Prairie Star Ranch provides such a conducive environment that young people, while experiencing the beauty of the natural world, are moved to open their hearts to God.
Many young people begin at camp to develop a much deeper prayer life. Many of our campers experience for the first time what it means to have friendship with Jesus and how the church's sacramental life helps to facilitate deepening that friendship.
Each year, Deacon Dana and Debbie Nearmyer ask me for input on the camp's theme for the year. I must confess I could never have told you in eighth grade about the transcendentals, much less recognize how God was revealing himself to me through them in my everyday life.
What an important distinction this eighth-grader makes between the difference of joy and happiness!
I encourage parents and grandparents to give your children and grandchildren a great gift by providing them with the opportunity to participate in camp this summer. I do not want money to be an obstacle for any family that wants their children to attend camp. Financial aid is available to make camp affordable for every child who wants to participate.
Do not be surprised if your son or daughter returns from camp wanting to go to Mass, eucharistic adoration and confession. Do not be surprised if they encourage you as a family to read and pray over the Sunday readings and/or to pray the rosary together.
When I visit the camp each summer and ask the young people what they enjoyed most about the camp, many of them share eucharistic adoration, the celebration of the Eucharist or receiving the sacrament of reconciliation/penance as the highlights of their experience.
Some families in the archdiocese send children to Protestant summer camps. While these camps may provide many of the same activities and help young people to love the Bible and develop their prayer life, they do not offer the sacraments, adoration, praying with the communion of saints and other aspects of our rich Catholic spiritual heritage.
In a culture where there is so much to pull young people away from Jesus and his church, our summer camp programs provide parents with an extraordinary tool to assist them with the spiritual formation of their children.
Give your children the gift of participating in a summer camp at Prairie Star Ranch. It could help them know the difference between fleeting happiness and enduring joy. It will help give them the opportunity to begin to experience an authentic joy that can sustain them for a lifetime.