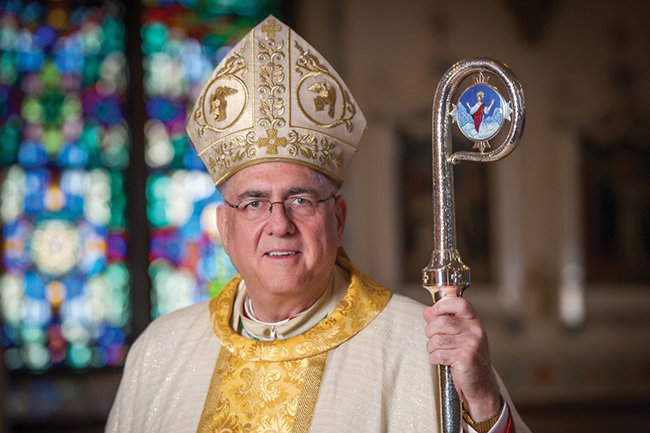 by Archbishop Joseph F. Naumann
Recently, I received in the mail a copy of a beautiful letter sent by a penitent to one of our priests. The following are excerpts from that letter.
"As a lifelong Catholic, I've been to confession many times. So many times, that it becomes a get-out-of-jail-free card. Previously, I certainly left the confessional with a feeling of peace and mission accomplished, renewed to fight again. However, this visit was different and has left a major impact on my life.
"I can't sufficiently explain it. After voicing my litany of sins, and of how I was in a slump, your compassion was overwhelming. But this alone wasn't it. I've been to compassionate priests, friendly priests and spiritually uplifting priests. Although going to confession is always anxiety-provoking, it's not a fear of priests. It's the personal guilt that makes it hard. This experience was different. I've been searching for an adequate way to express it.
"It seemed like I touched the hem of his garment. That Christ was truly present, through you; in persona Christi. I left the confessional with a 'wow — what just happened?' thought and a different feeling of peace I've never experienced. I know my faith isn't grounded in feelings, but I absolutely encountered an overwhelming love from Jesus' forgiveness and mercy. An indescribable power from above. It was, indeed, a shower of grace which fell on me. In fact, now several weeks later, the thought still brings moist eyes and a heart of joy, that me, a sinner, was at that moment truly reconciled and loved by God . . . despite my repeated sins and continuing struggles."
Wow! What a beautiful description of the beauty and the power of the sacrament of reconciliation. The most important thing that any of us can do to prepare ourselves spiritually for Christmas is to make a sincere, sacramental confession.
In our Advent readings, we receive a description of the people of Judea traveling to the Jordan River to hear the preaching of John the Baptist and to experience his baptism. John's message of repentance of sin was direct, simple and fearless. He called out the Pharisees and Sadducees for their hypocrisy. They came to check out the cause for the people's excitement about this eccentric, desert preacher, but they did not think his message applied to them. They were blind to their sin and their need for God's mercy.
This fall, I was riding in a cab in Washington, D.C. The cab driver had his radio tuned to a Christian channel. Alveda King, the niece of Dr. Martin Luther King, a former member of the Georgia Legislature and a pro-life advocate, was being interviewed about her reaction to then-candidate Donald Trump's coarse remarks about women that unbeknown to him were recorded. By the time of the King interview, Trump had apologized and expressed regret for his vulgar comments of 10 years ago.
King acknowledged how she herself had been the recipient of God's mercy. As a young woman, she had two abortions that she now deeply regrets. She was grateful for God's mercy in her life and was disposed to accept Trump's contrition as sincere and authentic.
King recalled how earlier in the presidential campaign, Trump had shared he did not feel a need to ask God's forgiveness. In early 2016, Trump said that he tried to live a good life and not do bad things. Thus, he did not see the necessity for asking forgiveness from God.
King said that she thought God was smiling when Trump claimed that he did not really need God's forgiveness. She thought Trump might answer that question differently now. Popes, presidents, bishops — we all need God's mercy and grace in our lives.
The throngs of people in the New Testament who went to the Jordan to receive John's baptism were seeking God's mercy in their lives. With the sacrament of reconciliation, we have something much more powerful than John's baptism.
Jesus, for whom John was a precursor, empowered the apostles to continue his ministry of mercy. He gave them the authority to forgive sins immediately after Our Lord had forgiven them for abandoning him during his passion and crucifixion. We have the assurance of Jesus himself that, if we sincerely ask for his mercy, he will grant our request through the ministry of his church.
To prepare yourself for the sacrament, it is necessary to make a good examination of conscience. You can find helpful examinations of conscience on our archdiocesan website. Just search for the jubilee Year of Mercy page at the bottom and you will find several examinations of conscience — one based on the Ten Commandments, another on the writings of St. Paul, another specifically for married couples and another for youth.
If you are looking for a simple but very effective tool to examine your conscience, I suggest just focusing on the First Commandment. Ask yourself the question: Is there anything or anyone that I value more than my relationship with God? In other words, do you have false gods, idols in your life, that are more important to you than spending time with God and seeking to do his will? Do you value money or nice clothes or the latest technological device or professional recognition more than cultivating your relationship with God? Is God truly the center of your life?
A related question might be: Is the Sunday Eucharist the most important event of your week? Is football or basketball or a concert or hanging out with friends or sleeping in more important to you than Mass and prayer?
An honest reflection on these questions will help identify the presence of sin in your life. The sacrament of reconciliation is an opportunity not only to experience God's mercy but to receive his power to more faithfully follow Jesus.
Confession is powerful because it is so personal. If we open our heart sincerely to God in this sacrament, then we allow Our Lord to enter into our lives in a new, beautiful and powerful way. Just like the person whose letter I quoted, Our Lord wants to shower you with his grace and to give you a heart of joy.