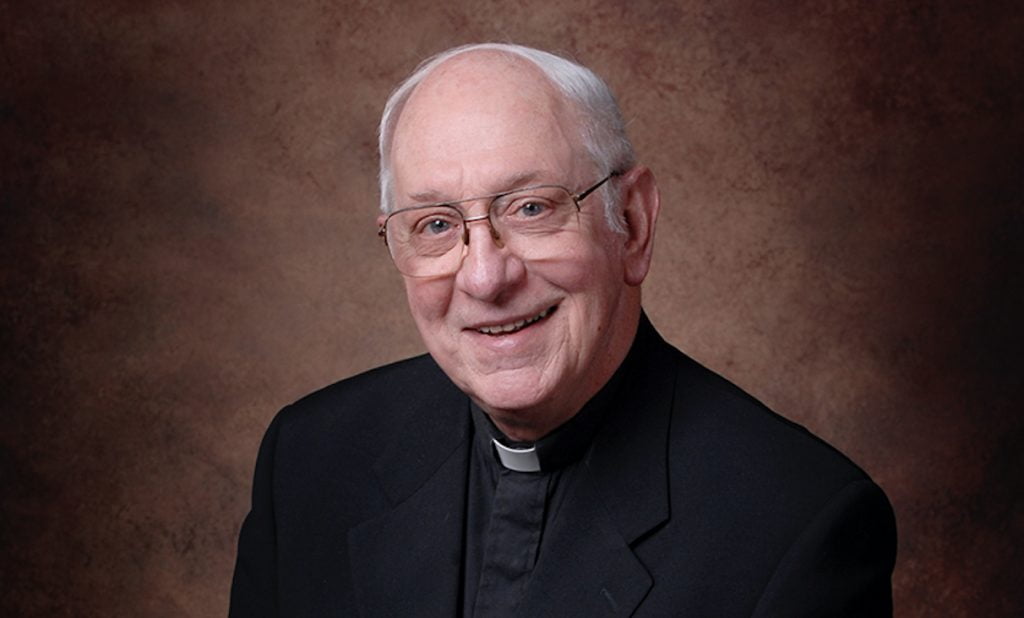 by Joe Bollig
joe.bollig@theleaven.org
ATCHISON — The monks of St. Benedict's Abbey here take three vows: obedience, conversion and stability.
The last one — stability — means a monk is committed to live in one community only, his spiritual home as long as he lives.
As a monk Father Albert Hauser, OSB, took those vows and kept them, but with a caveat. Because he accepted pastoral assignments, he hadn't lived at the monastery for nearly 50 years, although he remained a monk of the abbey.
"He talked a lot about the vow of stability," said Kathy Buessing, an organist at St. Michael Parish in Axtell. "He said, 'I'm the most unstable of stable monks. Stability has not been a part of my life all these years.'"
Father Albert, 85, returned to St. Benedict's Abbey to spend the remaining days of his life, dying peacefully on May 19. It was his final act of stability.
He began life as Robert Anthony Hauser, born on Oct. 26, 1933, one of the five children of Joseph and Bernice (Krabbe) Hauser of Burlington, Iowa. The family belonged to St. John the Baptist Parish, and the pastors were Benedictine monks from Atchison.
He attended St. John Grade School and graduated from Burlington Catholic High School in May 1951. The Benedictine influence led him to enroll in St. Benedict's College (now Benedictine College) in Atchison.
After two years of studies, he entered the novitiate of the abbey in 1953, and took the monastic name of Albert. He professed his first vows on July 11, 1954, and graduated with a bachelor's degree in philosophy in May 1957. Brother Albert professed his solemn vows on July 11, 1957.
He was ordained to the priesthood on May 26, 1960, by Archbishop Edward Hunkeler at the Cathedral of St. Peter in Kansas City, Kansas, then continued his studies at Conception Seminary in Conception, Missouri, during the summers of 1960 and 1961.
Father Albert served as vocation director of the abbey from 1960 to 1964. He worked in the admissions office of St. Benedict's College in 1964, then was registrar from 1964 to 1968. Additionally, he was the college admissions office director from 1965 to 1970.
In 1970, Father Albert accepted his first parish assignment as pastor of Sacred Heart Parish in Atchison, and became the "most unstable of stable monks."
Other parish assignments followed for the next 49 years.
Father Blaine Schultz, OSB, remembered how he and Father Albert went to college, entered the monastery, studied theology and were ordained together.
"He was wonderful, fun-loving," said Father Blaine. "I never heard a bad thing out of his mouth by way of criticism. He enjoyed sports and was a good athlete . . .  the best athlete on the team."
Once Father Albert began taking parish assignments, they didn't see much of each other, but Father Albert would occasionally return to the abbey and spend a couple of days.
"Whatever parish he went, after being there a while, people just loved him," said Father Blaine. "He was that kind of guy. He was a wonderful confessor. . . . I think his greatest accomplishment was being a top-notch pastor."
Father James Shaughnessy, current pastor of St. Michael Parish in Axtell, got to know Father Albert well.
"He was my model of a pastoral priest," said Father Shaughnessy. "He was really concerned and compassionate for his people. One of the monks said at his funeral that he was the kindest monk of the monastery."
When Father Shaughnessy was assigned to St. Gregory Church in Marysville, he would sometimes refer his parishioners to Father Albert for spiritual direction. As a younger pastor, he would sometimes tap the older pastor's wisdom and experience.
"It was really a blessing to have him here and to follow in his footsteps," said Father Shaughnessy. "People respected [succeeding pastors] because of him, the trust they had in him."
Buessing remembered how he listened to people.
"I really think that when he listened to you, you were the only person who mattered at that time," she said. "He gave 100 percent."
He was a good confessor, always involved and present at parish activities, and was very patient with the children. He was excellent at comforting people at funerals. His work ethic was tremendous, and he "never had a day off." In 2010, he oversaw the renovation of St. Michael Church.
He also oversaw the closing of the little parish school, and it pained him tremendously.
It was just before Easter in 2017, that Buessing and her husband found Father Albert seriously ill from diabetes. His left leg was amputated and he moved to Life Care Center of Seneca.
He could no longer be pastor in Axtell, so it seemed his pastoral ministry had come to an end.
But it hadn't. After he was fitted with a prosthesis and his health improved, he asked Abbot James Albers, OSB, of the abbey for permission to stay at Life Care and be chaplain.
"He offered Mass regularly, he heard many confessions and visited with many who wanted to talk, and he administered the sacrament of the anointing of the sick," said Abbot James. "His last two years at Life Care was a continuation of his ministry."
Sandy Koch, social service director at Life Care and a member of St. Michael Parish, noted that Father Albert celebrated Mass every Sunday for the residents . . . and even non-Catholics attended. Residents, staff and former parishioners came to him for the sacrament of reconciliation. There are between 40 to 45 Catholic residents there and they were thrilled to have a priest living among them.
"For everything he was going through, he had a good sense of humor and was always happy," she said. "He was just content and happy to be here."
Father Albert returned to the abbey on May 16, just three days before he died, surrounded by his brother monks.
Father Albert was preceded in death by his parents and brothers Bernard and Joseph. He is survived by sisters Mary Lewis, of Chatham, Illinois, and Roberta Amenell, of Burlington, Iowa; 13 nieces and nephews; and his brother monks of the abbey.
A Mass of Christian burial was celebrated at St. Benedict's Abbey on May 25, with burial afterward in the abbey cemetery.
Memorials in honor of Father Albert may be sent to St. Benedict's Abbey, 1020 N. Second St., Atchison, KS 66002.