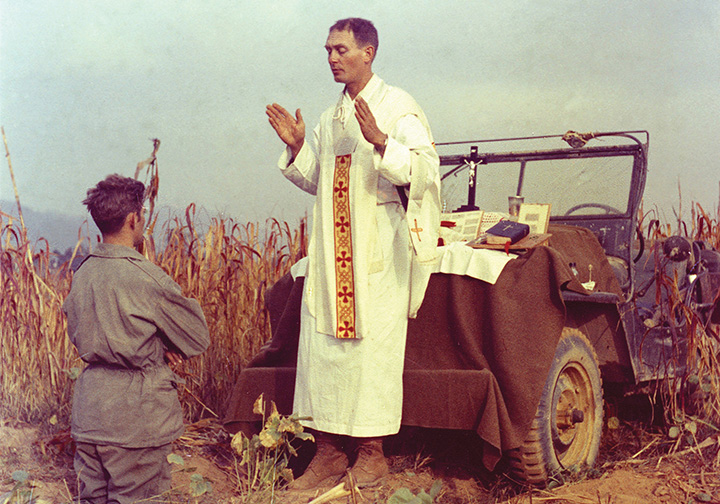 by Therese Park
Special to The Leaven
KANSAS CITY, Kan. — Recent news that Father Emil Kapaun's remains were identified in Hawaii stunned all those who had heard of him, including veteran and Catholic communities worldwide, as well as the Vatican where Father Kapaun received the title "Servant of God" by Pope John Paul II in 1993. He served as the Catholic chaplain in the 3rd Battalion, 8th Cavalry Regiment, 1st Cavalry Division, during the Korean War (1950-1953). He died in POW Camp Five in North Korea on May 23, 1951. He was 35 years old.
It was previously believed that Father Kapaun had been buried in an unmarked grave by the Yalu River in North Korea, along with thousands of others deemed "unaccounted for."
But according to the Defense POW/MIA Accounting Agency, who contacted Ray Kapaun (Father Kapaun's nephew), his remains had been buried in the National Cemetery of the Pacific in Hawaii for decades. Thanks to modern medical technology, Chaplain Kapaun's dental records and DNA (provided by Ray's father Eugene, the younger brother of Father Kapaun) matched those of his uncle's remains.
Many Americans first heard of Father Kapaun when President Barack Obama awarded him the Congressional Medal of Honor on April 23, 2013, for the gallantry and bravery he showed to his comrades in combat, during what's known as the Battle of Unsan (Nov. 1-2, 1950). Ray Kapaun received the award for his uncle at the White House. The medal citation reads: "Chaplain Kapaun calmly walked through withering enemy fire in order to provide comfort and medical aid to his comrades and rescue [the] wounded from No-Man's Land."
In September 1953, 60 years before Ray Kapaun received the award for his uncle, Father Kapaun's extraordinary courage and compassion for his comrades reverberated throughout the world as the result of a prisoner exchange in Panmunjom along the 38th Parallel after the war ended.
A Jewish man named Gerald Fink, who had never met Chaplain Kapaun, was so touched by what he heard about the late chaplain that he crossed the Bridge of No Return clutching a 4-foot-tall crucifix in his arms, which he himself had carved to honor and remember the chaplain. Today, this crucifix hangs on a wall at St. John Nepomucene Church in Pilsen, where Father Kapaun served as an altar boy, and later as a priest — three years as an associate pastor and a year as the pastor.
Local Korean War Veterans Association Chapter 181 honored Father Kapaun by dedicating one of the red granite panels in the memorial at Lowell and 119th St. in Overland Park to him. The memorial bears the names of 415 sons of Kansas who never returned from that war.
The unveiling of the panel took place on Veteran's Day 2013. The guest speaker was Abbot Gregory Polan of Conception Seminary College in Conception, Missouri, where Father Kapaun studied for four years, preparing for the priesthood. Abbot Polan spoke eloquently about the "humble priest" who not only cared for his injured fellow Americans during the battle and in the North Korean POW camp, but also managed to show compassion to his captors.
Abbot Polan said that Father Kapaun spent seven long months at POW Camp Five near the Yalu River, where the conditions were so terrible that 1,700 American soldiers died in the first six months. Yet Father Kapaun "displayed perseverance through prayer and dedication to his fellow inmates" and conducted prayer services, all the while disobeying the prison's rules. He talked about the chaplain's nightly visits to the shack where "his boys" were locked in, encouraging them and praying with them.
He volunteered for burial duties, Abbot Polan said, so he could remove the clothes from the deceased prisoners, wash them and give them to his fellow prisoners in need.
Two years later, in the summer of 2016, Father Kapaun was honored again in his home state, this time by recreating the "Jeep Mass" that Father Kapaun had celebrated 66 years earlier in Korea. On Aug. 1, 2016, Father Peter Jaramillo, then pastor of St. John the Baptist, Holy Family and St. Mary-St. Anthony parishes in Kansas City, Kansas, who had served as an Army chaplain during the Iraq War, celebrated Mass on the hood of a jeep at Prairie Star Ranch in Williamsburg during an archdiocesan summer youth camp.
Over 1,000 local residents were in attendance and reflected on the saintly priest's services to mankind.
The news regarding Father Kapaun's remains will again spread his message to the world: "Love your brothers as Jesus has loved us!"
Park, a retired cellist from the Kansas City Symphony, is Korean-American and has lived in the United States for 54 years. She has written extensively about the Korean War, and Father Kapaun in particular, and is a member of Curé of Ars Parish in Leawood.