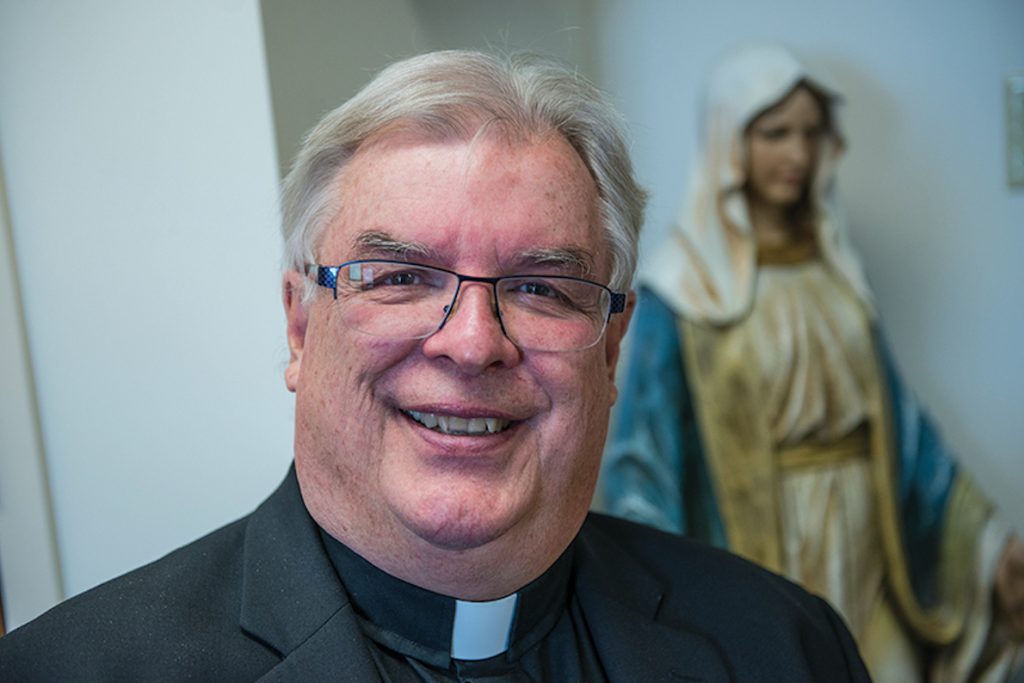 by Joe Bollig
joe.bollig@theleaven.org
KANSAS CITY, Kan. — This fall, Father Harry Schneider had the privilege of ministering at one of the greatest of Marian apparition sites: the Sanctuary of Our Lady of Lourdes in France.
Considering his history, it seems inevitable that he would someday go to Lourdes.
Often simply referred to as "Lourdes," the once-obscure village near the Pyrenees Mountains has been the focus of Catholic devotion — and site of miraculous cures — for more than 150 years.
Many have a special devotion to Our Lady of Lourdes, although they have never made it there. Such was the case for Rosie Schneider, the mother of Father Schneider.
"Lourdes has always been a special devotion in our family," said Father Schneider. "My mother had a devotion to Our Lady of Lourdes . . . a devotion she developed early on in her teenage years."
Rosie had a difficult pregnancy with Father Schneider, so she petitioned Our Lady of Lourdes in prayer to protect herself and the child.
And she was heard. She safely delivered her healthy baby boy on Feb. 11, 1948 — the 90th anniversary of the first apparition at Lourdes on Feb. 11, 1858.
So, it's hardly surprising that Father Schneider would visit Lourdes.
In fact, Father Schneider has been to Lourdes four times: in 1988, 2008, 2010 and 2019. He celebrated his 60th birthday at Lourdes on the 150th anniversary of the apparition in 2008.
His first pilgrimage to Lourdes in 1988 was a profound experience.
"I thanked Mary for my life," he said. "[My mother] had a difficult pregnancy, but she survived and I survived. It's always been very special to me because of that unique experience in my life."
On his third pilgrimage to Lourdes, Father Schneider met an American priest from Philadelphia, who told him how retired priests can volunteer to be confessors for brief periods of time in Lourdes.
Last year, knowing he was about to retire, Father Schneider contacted the shrine and applied to become a confessor. He was eagerly accepted and scheduled for September 2019, because there was a shortage of English-language confessors for that month.
So, Father Schneider and Msgr. Bernie Schmitz, a friend from the Archdiocese of Denver who also volunteered, arrived in Lourdes on Aug. 30. They ministered in Lourdes from Aug. 30 to Sept. 30.
Most of the volunteer confessors were Italian and French, with a few Spanish and German. He also met priests from Sri Lanka.
There were only five English-language priests — four Americans and one Canadian. They ministered in at least two of three shifts, but sometimes all three: 10-11:30 a.m., 2:30-4 p.m., and 4-6 p.m.
Father Schneider heard confessions from four to six hours a day, on average. And the schedule was the same every day, Sundays or weekdays.
The confessors would have breakfast at 7 a.m., celebrate Mass at 9 a.m., hear confessions with a break for lunch, hear more confessions, eat dinner at 7:30 p.m. and then bedtime.
The accommodations at "Maison de Chapelains" were spartan but, this being France, the food was fantastic. He had three days off and spent them visiting nearby villages and the Pyrenees.
One thing that impressed him was the need for people just to be heard, said Father Schneider. Another was a sense of the universal church.
"I've been in papal audiences and those kinds of things before with people from all over the world, but this was dealing with people personally from all over the world," he said.
He heard confessions of people from Ireland, New Zealand, Singapore, Malaysia, South Africa, India and other places. There were also large pilgrimage groups.
"I was surprised by the number of Filipino pilgrims and groups from the Philippines," he said. "One Irish group was 1,800 people, so I heard a lot of Irish confessions."
There were also several individual Americans and even a pilgrimage group from the Diocese of Salina, the members of which were particularly glad to meet him.
Lourdes is famous for its healing waters, but physical cures were not mentioned by Our Lady during the 18 apparitions. Nevertheless, miraculous cures were associated with bathing in or drinking from the new spring almost from the beginning.
Father Schneider met some pilgrims, especially those returning to the shrine to give thanks, who claimed a physical healing. More often, people talked about receiving emotional, psychological and spiritual healings.
One time a lady in a wheelchair motioned for him to come sit beside here. She told him that she'd come to Lourdes after many years seeking a cure for serious health problems. She had not received a physical healing and was going home the next day, but was not discouraged.
"[Her] main phrase that stuck with me is that she was 'going home healed' — being able to accept her illness in the context of faith — and she was at peace for the first time in many years," said Father Schneider. "That's something people mentioned a lot."
Father Schneider didn't go to Lourdes for a healing, but he received something, nevertheless.
"I had many deep experiences of prayer and my own relationships with Jesus and Mary," he said. "I received a sense of affirmation. . . . I had a sense that it wasn't just my desire to be there, but there was a reason for me to be there — for others and myself."