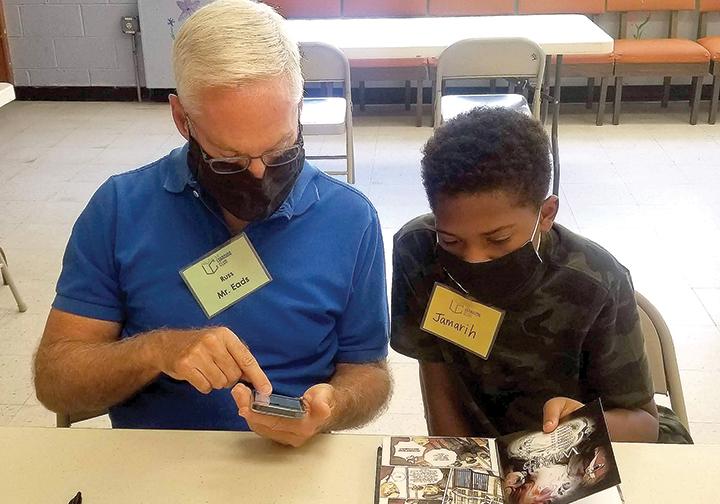 by Jill Ragar Esfeld
jill.esfeld@theleaven.org
KANSAS CITY, Kan. – "It is so simple," said Laura Swan, director of operations at the Learning Club. "You literally just show up and read with a kid."
Swan is talking about the Learning Club's in-school reading program that is so effective, it's in need of more volunteers to help more children.
The reading program is currently at New Chelsea Elementary School and starting up at Banneker Elementary School, both in Kansas City, Kansas — and perhaps more schools as volunteers respond.
"If a person can read to a child at bedtime," said Swan, "they can do the in-school reading program.
"It really is just reading with the child for the love of reading."
Reading "buddies" go to a specific grade school and read with three students for about 20 minutes each.
"The kids love it," said Swan. "They get to know their tutors and their names.
"It really is the most bang for our buck."
That's because the reading program, though simple in concept, has resulted in remarkable improvement in students' school performance.
In a classroom of 20 to 30 students, if a child can have some personal reading time with a volunteer each week, it makes a world of difference.
"There are really clear results," said Swan. "The teachers have ended up each semester asking if we can switch out kids so more of their kids can get the benefit.
"That's because [students] are reaching their reading goals so much faster if they're working with volunteers."
Though the reading program is a newer offering of the Learning Club, its traditional after-school tutoring program is still going strong at many locations throughout the inner city of Kansas City, Kansas.
"Our 20th year anniversary was January 28," said volunteer coordinator Sharan Nagra. "So this year, we're really scaling things up."
The tutoring program is expanding to Douglas Heights, a public housing community in Kansas City, Kansas.
"We're opening a new after-school tutoring site there," said Nagra. "And we're still working to get volunteers."
The Learning Club assures volunteers they don't have to be scholastic superstars to tutor.
"It really is not that hard," said Swan. "What these kids need is not another teacher; they need a support person.
"They need somebody who is in their corner, who shows them that when things are hard, you keep trying."
Volunteering with the Learning Club is a rewarding experience, proven by the fact that volunteers keep returning year after year.
"We've had volunteers with us for 15 years," said Swan. "And they keep coming back."
Volunteers get to know their kids and are rewarded by seeing them shine as they accomplish small goals in a supportive environment.
"I like to think that's because it's well-run and structured," said Swan. "So volunteers have the freedom to build those relationships with families and kids."