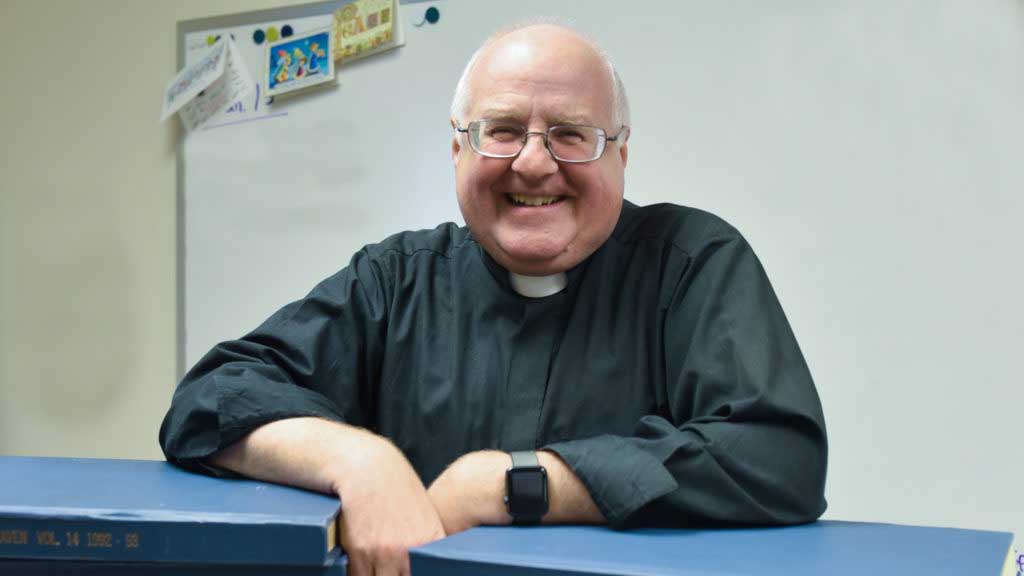 by Father Mark Goldasich
Who woulda thunk? That's the feeling I had this past Monday . . . and it all began with a tornado and a story from Catholic News Service.
But let me digress for a moment and tell another story:
Many years ago, there was an old man who had one son and a horse. One day, the horse broke out of the corral and fled to the freedom of the hills.
"Your horse got out?" said the neighbors. "What bad luck!"
The old man replied, "Bad luck? Good luck? Who knows?"
Sure enough, the next evening the horse came back to its familiar corral for its usual feeding and watering, leading 12 wild horses with him. The farmer's son saw the horses in the corral, slipped out a side door of the house and locked the gate. Suddenly, the farmer and his son had 13 horses instead of none.
The neighbors heard the good news and rushed to the farmer saying, "Thirteen horses! What good luck you have!"
The old man replied, "Good luck? Bad luck? Who knows?"
Some days later, the man's son was trying to ride one of the wild horses, only to be thrown off and break a leg. The neighbors came back that night and said, "Your poor son broke his leg! What bad luck!"
Again, the old man replied, "Bad luck? Good luck? Who knows?"
Sure enough, a few days later, a warlord came through the town and conscripted every able-bodied young man, taking them off to war, never to return to their homes again.
But the old man's son was spared because of his broken leg. (Story found in Father Brian Cavanaugh's "More Sower's Seeds: Second Planting.")
Good luck? Bad luck? Who knows? I'd suggest there's one person who knows: God. While we humans see only a fraction of reality, it's God who sees the whole picture. And often, something good can emerge from something bad.
This past January, The Leaven ran a CNS story about the devastating December tornados that hit Kentucky, killing scores of people and causing some $3.5 billion in damages. One Catholic church was destroyed, according to the story, and its pastor was Father David Kennedy.
Long story short, that name rang a bell. I remembered a seminarian from Owensboro Diocese who was a year ahead of me at Savior of the World Seminary in the early 70s. After a quick internet search of that diocese's website, I got his email address and wrote, asking if he was indeed the guy I remembered. It was! (You can read a longer account of this in my Jan. 21 Leaven column.)
From that tragic event of the tornado, an old friendship was rekindled. Father Kennedy and I have traded emails over the past few months catching up. In that January column, I suggested that readers who perhaps had not contributed to the tornado relief effort at their parishes might want to send a check directly to Father Kennedy.
And respond they did, to the tune of over $8000! Father Kennedy was stunned and wanted to express his deep thanks and prayers for all who contributed to his rebuilding efforts.
But an email was not enough. This past Monday, Father Kennedy and a parishioner, Donnie Mills, drove to Kansas to deliver their thanks in person. It was a joyful and humbling reunion. Over a delicious barbecue lunch at Jousting Pigs in Kansas City, Kansas, both men told stories of all the help that poured into their parish and community. By the way, Father Kennedy's parish has been meeting in an outbuilding for Masses and gatherings since the tornado, made available by his traveling companion, Donnie.
Only God knows that from tragedy — bad luck — good and miraculous things can emerge: goodness, compassion, solidarity and generosity.
Incidentally, Father Kennedy's parish is called Resurrection, proving yet again that from apparent destruction, God will bring forth new and abundant life.