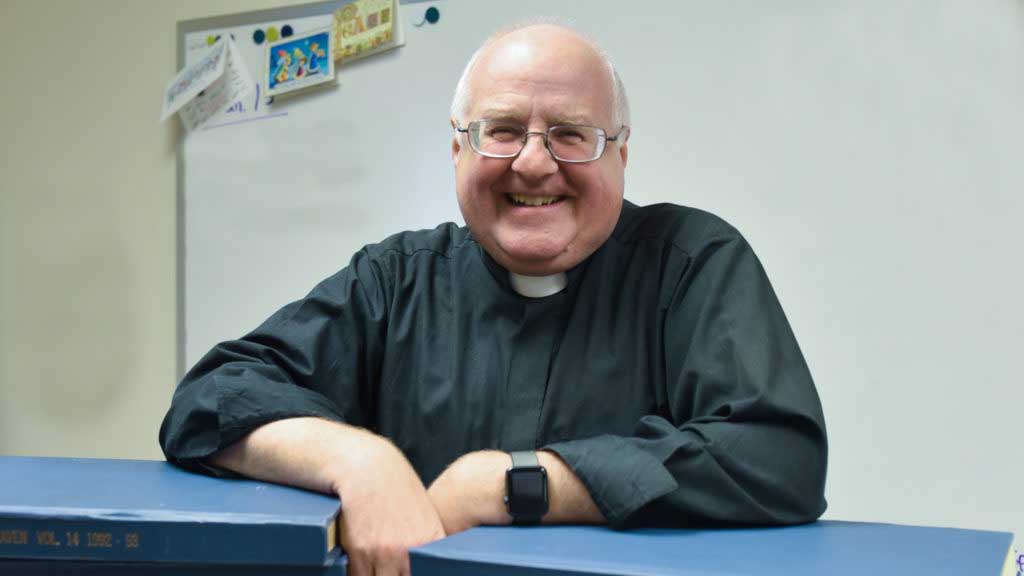 by Father Mark Goldasich
It was a trifecta day — 3-13-2013 — and not just because of its three 3s.
I remember that date so clearly because of three events. That day, The Leaven staff had lunch with Archbishop Naumann at the church offices. Little did we know when the lunch was scheduled that a conclave would be happening at the Vatican to elect a new pope after the surprise retirement of Pope Benedict XVI.
My mind was not totally present at that March 13th meal because of two things: my mom and my iPhone. The iPhone is easy to explain. It was sitting on my leg under the table during lunch, connected to a website with a camera trained on the Sistine Chapel chimney. I was waiting to see what color smoke would emerge after the conclave's second vote that day: white meant a new pope; black, no new pope.
My mom was on my mind because we were moving her that day into Vintage Park in Tonganoxie, an assisted living facility. I had family and friends all lined up for the transition later that afternoon. This was the second part of the trifecta.
What I didn't expect was the third trifecta part: that a new pope would be elected and that it would be Cardinal Jorge Mario Bergoglio. Who?!?
So much would change in the 10 years after that date. The details of our lunch with the archbishop would be forgotten. My mom would live at Vintage Park for the next four years and then another two at a nursing center until passing away in 2019. And Cardinal Bergoglio, now Pope Francis, would move from being an unknown to playing a major role in the church and in the world.
I liked him from the moment he chose the name Francis, in honor of that saint from Assisi. It was a surprising move, one of many more to come. Since Francis is my confirmation name and Assisi is one of my favorite places in Italy, this pope couldn't go wrong.
My respect and admiration for Pope Francis continues to grow. In keeping with the theme of this column, I offer the following trifecta of how he has touched my faith and my priesthood:
• He has the heart of a pastor. His call to priests to "have the smell of the sheep," to be close to the people they serve, is spot on. Pope Francis recognizes that life and faith can often be messy and there's no better gift we can give — not only as priests but as Catholics — than to accompany one another through joys and sorrows, light and darkness.
• He challenges us to listen to one another. His call to go to the peripheries and create a "culture of encounter" is a much-needed formula to build bridges rather than walls in a world that's often fractured.
• He speaks in a plain but challenging way. Pope Francis wants the church to embody what it preaches. He calls us to live a joyful faith, to not be "sourpusses" or engage in gossiping, "a habit of terrorism. . . . of how you can kill a person with your tongue." He asks us to abandon indifference to the wounds of the world and leave behind our "throwaway culture."
Although 86 years old, Pope Francis lives the message he once gave to young people: "Hagan lío," which means "Shake things up."
Happy 10th anniversary, Pope Francis, and never tire of surprising us!