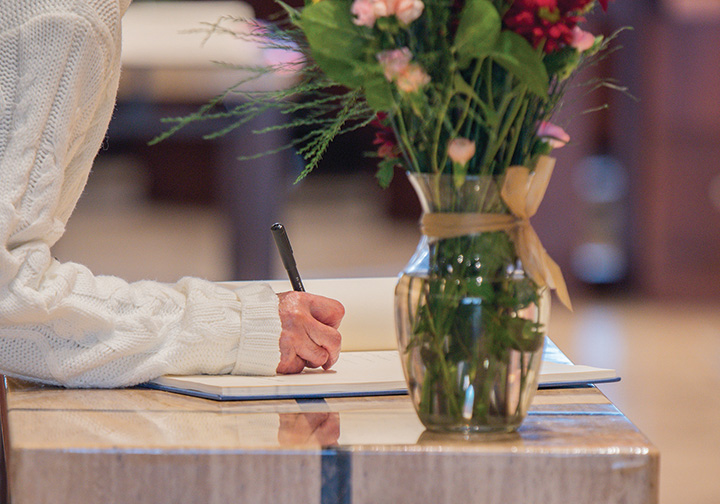 by Moira Cullings
moira.cullings@theleaven.org
OVERLAND PARK — When Deacon Michael Schreck and his wife Melanie lost their fifth child through miscarriage, the pain was deep.
"Not only losing a child, but also seeing your wife suffer," said Deacon Schreck of Holy Spirit Parish in Overland Park. "I know that our faith made a huge difference in helping [us deal] with this cross.
"It didn't lessen the pain or loss, but at least we knew that we could entrust our child to the loving arms of Jesus."
The couple took comfort in the Mass of Innocents, which they've attended many times over the nearly two decades since they lost their baby.
The annual Mass celebrated by Archbishop Joseph F. Naumann will take place this year on Oct. 15 at 1 p.m. at Holy Spirit.
"It commemorates the lives of children who died before or shortly after birth," said Libby DuPont, consultant for the archdiocesan office for marriage and family life.
For the first time, one of the readings will be proclaimed in Spanish, and the archbishop's homily will be translated into Spanish using headsets.
Everyone is invited to attend — even those who haven't experienced a miscarriage or infant loss, and those whose loss was long ago.
"We've got families that come every year," said DuPont. "There are families that it's part of their family tradition of keeping that sibling alive for the rest of the kids."
Deacon Schreck has noticed one group attending the Mass more and more frequently: grandparents who have lost a grandchild through miscarriage or infant loss.
"I can only imagine," he said, "not only their grief, but also the pain they must be experiencing in watching their child lose their child.
"In that sense, there is a double grief for the suffering of your child and for the loss of your grandchild."
DuPont and her husband Brad have experienced firsthand the impact this type of loss can have on the entire family.
Two of their children died in early infancy.
"Our parents suffered with a double grief — a grief of losing their grandchild and then the grief of watching their children suffer was really difficult for them," said DuPont.
Often, grandparents who lose their grandchild to miscarriage grieve alone.
"A lot of times if you're a grandparent, your friends don't necessarily know that you're grieving the loss of this child that you never got to hold or buy cute baby things for," she said.
Deacon Schreck agreed that they're uniquely impacted by the loss.
"It is so hard to see those we love suffer," he said, "perhaps much more than enduring suffering ourselves.
"That, too, is a great fruit of the Mass of Innocents. It provides an opportunity for us to not only pray for the children that we as a church family have lost, but also to pray for one another and to offer our love and support to one another."
During the Mass of Innocents, families who've experienced miscarriage or infant loss will receive a prayer card. They'll also have the opportunity to write the name of their child or children in a Book of Remembrance.
"[The] archbishop takes those books and keeps them in his chapel for the month of November when we commemorate the dead," said DuPont. "He prays with the names of those children for the month."
She encourages everyone to attend the Mass of Innocents as a way to observe Respect Life Month, held each October.
"We want people to know that everyone is welcome to come," she said. "You don't have to have experienced a loss. It doesn't have to be recent.
"The Mass really is open to everyone."