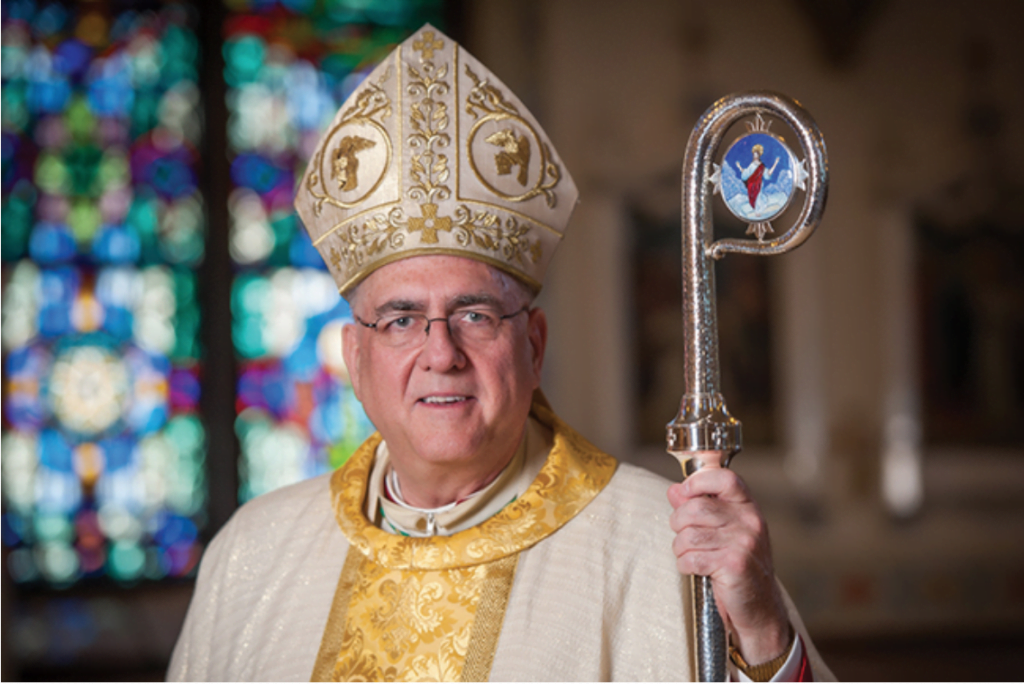 by Archbishop Joseph F. Naumann
As this week's Leaven reaches mailboxes in Kansas, I am in the final days of a Holy Land pilgrimage. With me are almost 100 pilgrims, the vast majority from the Archdiocese of Kansas City in Kansas.
This is my fifth pilgrimage to the land and places made sacred by Jesus. Making a pilgrimage to the Holy Land is often described as experiencing the "Fifth Gospel." Certainly, a Holy Land pilgrimage makes the words of the four evangelists come alive.
Why are the Holy Land and its current Christian community so important to every Catholic? The answer to that question is to be found in our belief in the incarnation of the Son of God, Jesus Christ.
It is our belief that the Word became flesh and dwelt among us. The Holy Land is important to us because it is intimately linked to our belief in the historical Jesus. Jesus is not just some mythical figure, the hero of an inspirational but fictional epic.
Preserving the Christian shrines in the Holy Land and keeping them accessible to Christian pilgrims is important because we believe that Jesus was a real person who walked the earth.
As Christians, we believe that the Lord of the universe, the one who designed not only this earth but thousands of galaxies, so loved us that he was conceived by the Holy Spirit in the womb of Mary.
We believe he was born as a helpless baby in the humble conditions of a stable in Bethlehem. We believe Jesus grew up in Nazareth under the care of Mary and Joseph.
We believe that he performed his first miracle during a wedding feast at Cana in Galilee. We believe that Jesus walked the roads of Galilee teaching in synagogues, on fishing boats, and on mounts. We believe that he fed the multitudes and healed many who were sick in body and spirit.
We believe that Jesus came to Jerusalem, taught in the temple precincts and drove the money changers out of the temple.
We believe that Our Lord gathered his apostles for the Passover meal and, in the context of his Last Supper, celebrated the first Eucharist and empowered — ordained — his apostles to do this in memory of him.
We believe that Our Lord asked Peter, James and John to watch and pray with him in the Garden of Gethsemane.
We believe that he was betrayed by Judas, abandoned by his apostles, brought to trial before the Jewish Sanhedrin and the Roman governor, Pilate.
We believe that Jesus carried the cross on the Via Dolorosa (the "path of sorrow"), was crucified on Calvary and placed in the tomb of Joseph of Arimathea.
We believe Jesus was born, lived, ministered and died in actual places that we can visit today. We believe that these places were sanctified by the one who was born, lived, walked, taught, suffered and died there.
We also believe that the story did not end on Calvary, but this same Jesus was raised from the tomb, handing death its ultimate defeat.
We believe that Jesus is not just like any other historical figure that made his mark on the world and about whom we can read and study.
Jesus is alive today still animating the lives of more than a billion people. Through prayer, we can speak to Jesus and — more importantly — he speaks and reveals himself to us.
We do not consider the Holy Land a religious theme park where we can visit interesting exhibits and sites. It is a unique place where we encounter the living Jesus in a profoundly personal way.
Sadly, today the Holy Land, because of the political tensions, is a difficult place for Christians to live and thrive. Preserving a vibrant Christian community is important for Catholics everywhere. One of the ways in which we support the Christians in the Holy Land is by making a pilgrimage.
Each visit to the Holy Land for me is unique because each time I discover something new. I see something that I did not notice on my previous visits.
Each visit is special also because it is a privilege and a joy to help introduce a new set of pilgrims to the wonders of the Holy Land for the first time. A pilgrimage is different from a vacation or a sightseeing tour. It is a spiritual journey in which Our Lord reveals himself to us in new and powerful ways.
Sometimes, people ask me what is my favorite place in the Holy Land. This is a difficult question to answer because each site commemorates events of cosmic significance, e.g., Nazareth, where Jesus was conceived by the Holy Spirit in the womb of Mary; Bethlehem, where Jesus was born; Capernaum, where Our Lord exercised much of his public ministry; the Sea of Galilee, where he walked on the water and promised Peter he would become a fisher of men; the Mount of the Beatitudes, where Jesus taught the crowds; the Upper Room where Jesus celebrated the first Eucharist; Calvary, where Jesus was crucified, giving his life for us; and the Holy Sepulcher, where Our Lord defeated death.
One of my favorite places is the Garden of Gethsemane, where the Church of the Nations is built over the place Jesus prepared himself for his passion. On some pilgrimages, our group was given the opportunity to celebrate a Holy Hour where Jesus asked his three closest disciples to watch and pray with him.
It is a beautiful place to pray and ask for the grace to be faithful in striving to do God's will in one's own life, no matter what cup of suffering it may require.
Please be assured that I carry all of you with me during these days of pilgrimage. I am begging Our Lord to reveal his love to you in the midst of whatever is going on in your life at this moment.
I am also praying that I will become more and more a shepherd after the example of Jesus — willing to lay down my life for the spiritual welfare for those entrusted to my pastoral care.