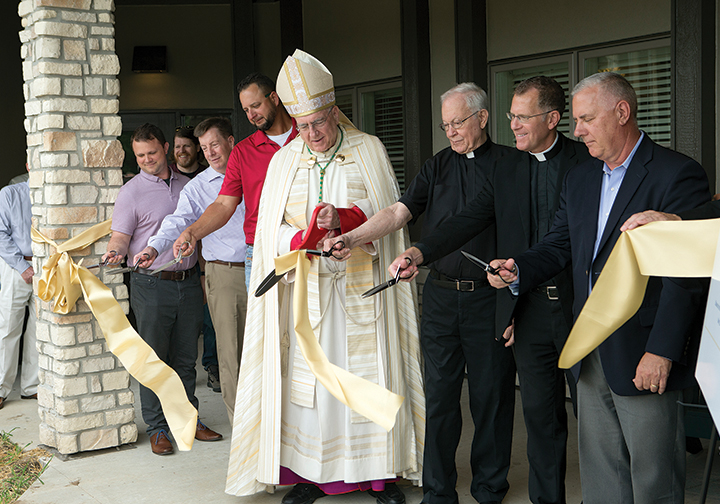 by Joe Bollig
joe.bollig@theleaven.org
OLATHE — Is Msgr. Raymond Burger ready to move into the new Vianney House here for retired priests?
Oh boy, is he ever. Just check out his apartment.
"I am moving into this place as soon as possible," said Msgr. Burger, while standing in the facility's common area. "My things have been here for almost three months, but I haven't been able to live here. And I'm looking forward to the day I can stay here all day."
He isn't alone. Five more retired archdiocesan priests are ready to move in once the occupancy permit is signed, which should happen in days.
Most of the retired priests — as well as friends, well-wishers, archdiocesan officials and those involved in its construction — were present for the blessing and grand opening of Vianney House on July 25.
"I think this place is really beautiful," said Archbishop Joseph F. Naumann during the open house. "Our priests will really enjoy it. It will be a great blessing for them to live in a place that is comfortable and have their brother priests around. I think it's fantastic, and I'm so grateful to the people of the archdiocese who made this possible."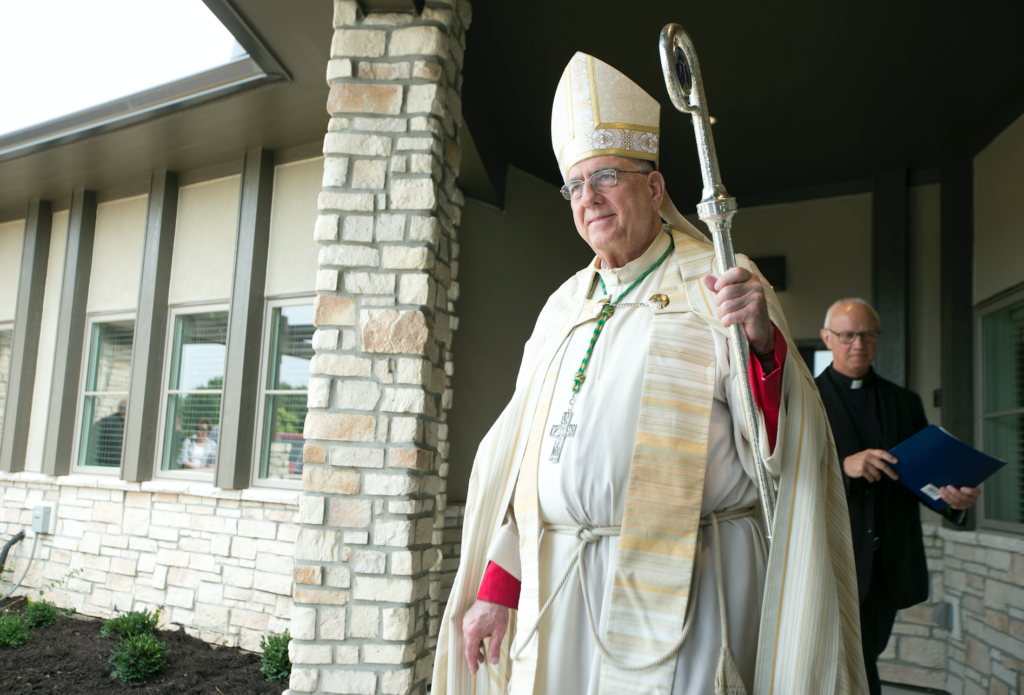 This day has been a long time coming. A check of the archives revealed that the archdiocese has been working on this since 1961, said Father Jerry Volz, a member of the building committee.
"I've been involved in finding a place for priests for [more than 30] years now," said Msgr. Burger.
"It goes back to Archbishop (Ignatius J.) Strecker," he continued, "who called Father (Robert) Pflumm and me into his office one day and asked us to look at some property that might be appropriate for a retired priests residence."
It was Archbishop Naumann who finally got the project moving and made its funding one of the priorities of the One Faith, One Family, One Future . . . in Christ capital campaign.
Built for community
Not only have archdiocesan parishioners generously contributed to the One Faith campaign to build the facility, but also to an endowment to fund Vianney House's operations for years to come, said Bill Maloney, archdiocesan executive director of stewardship and development.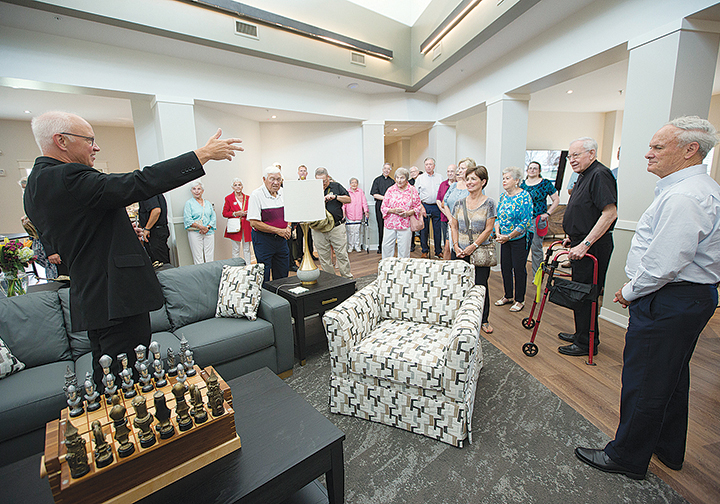 Msgr. Burger said at his last count there are 28 retired archdiocesan priests. Retired priests have multiple options — living at Vianney House, a parish rectory or on their own. One of the most attractive aspects of Vianney House is community.
"All of us [here] are looking for community," said Msgr. Burger. "We've been living alone, and as we age, we reflect more on the possibilities of the day and future. And we see a need to be in community. We need help from one another.
"That was a basic issue in establishing the residence. It was the need for community [and] when we need help more than what this particular community can provide. We live next to Santa Marta and the agreement is that we can move to Santa Marta for assisted living or care of some kind if we can't live here."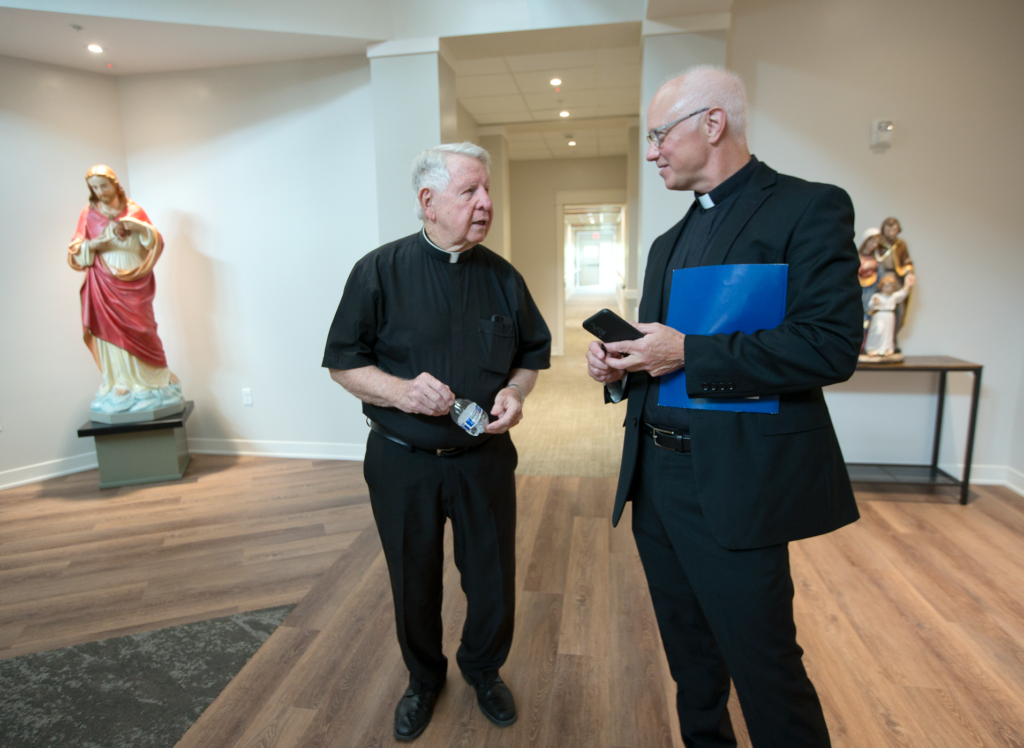 The retired priests have a certain amount of money they can spend for meals. They can go to Santa Marta for meals or have the meals sent to Vianney House. They may use Santa Marta's swimming pool, exercise facilities, bus service and other amenities, and can participate in activities happening at Santa Marta, said Msgr. Burger.
The retired priests follow the basic rules of Santa Marta, plus whatever they want for Vianney House. They may go to area parishes to assist if they want and are able to.
"We can be as independent or communal as we want to be," said Msgr. Burger.
Shovel ready
Construction began on Vianney House, located at 14050 W. 116th in Olathe, on March 1, 2022. The 18,500- square-foot complex sits on a 3.63- acre-site northwest of the Santa Marta senior living community.
The total project cost was $5.2 million. Originally, the plans called for a 12-apartment building, but it was scaled back to 10 units due to cost. Two more apartments could be added later.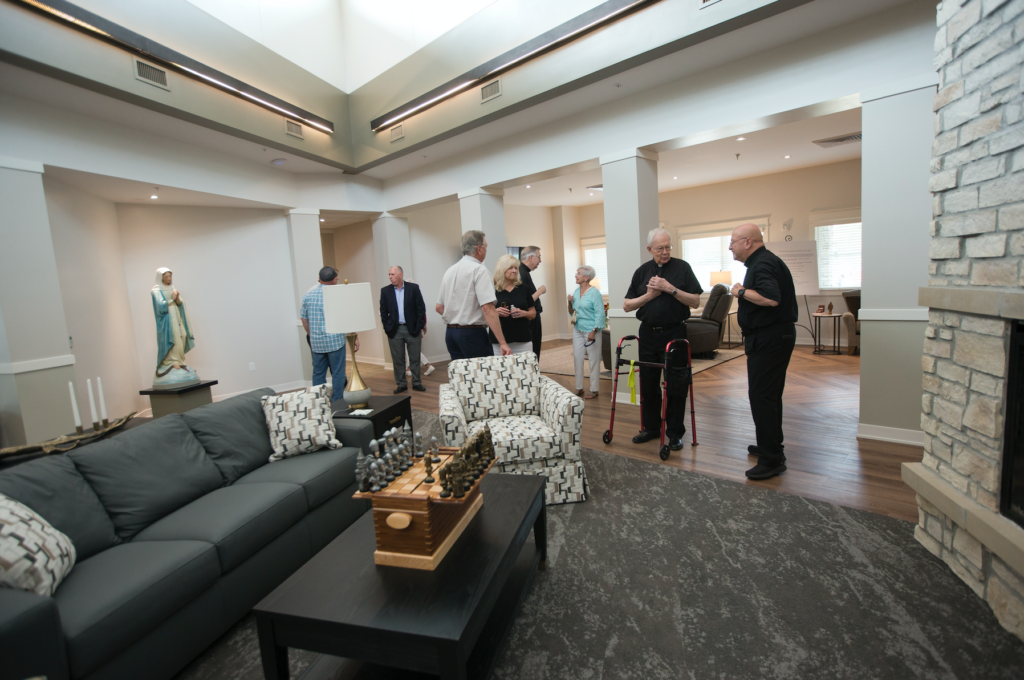 The general contractor was Excel Constructors and the architect was WSKF Architects. Also involved were Schlagel Engineers, Byrne Custom Woodworking, and Dan Himmelberg, archdiocesan director of real estate and construction.
The main entrance to Vianney House leads to an open floor plan common area with a lounge area and electric fireplace, television/library area with two lift chairs, dining area and serving kitchenette with no stove. Adjoining the common area is the chapel, which will receive permanent liturgical furnishings later.
The common area statues of Mary, Jesus and Joseph came from Sacred Heart Parish in Atchison, which closed in 2018. The Holy Family statue was bought for Vianney House.
There are two public restrooms, one of which contains the entrance to an above-ground storm shelter. The shelter has 10-inch concrete walls and ceilings, ventilation and an outside emergency exit. There is also one guest bedroom. The building is all-electric.
The apartments come in "A and B configurations," the only difference being layout, said Himmelberg,
The apartments have an open floor plan with kitchen, living room and dining area. There is a laundry room and guest bathroom, master suite with walk-in closet and private bathroom, garage and outside patio.
"The archdiocese is more or less the manager, but we've contracted services out to Santa Marta, and they're acting as property manager," said Father John Riley, archdiocesan vicar general, chancellor and member of the Vianney House building committee.
"The flat monthly cost for Vianney House residents was deliberately kept to the amount of the priests' monthly pension benefit," said Father Riley.
This was accomplished by efficient operational budgeting and by the subsidy for operations made possible by the endowment for operations and upkeep through the generosity of the donors to the One Faith campaign.