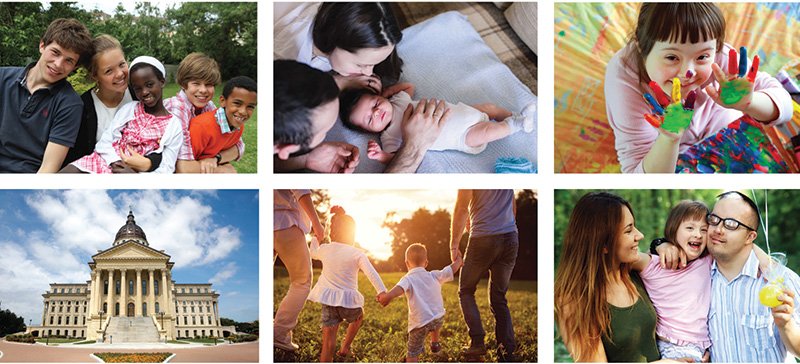 by Joe Bollig
joe.bollig@theleaven.org
TOPEKA — How close was it?
The Adoption Protection Act squeaked through the Kansas House by only one vote as the 2018 legislative session came to an end.
On May 3, the House passed the bill 63-58; on May 4, the Senate passed it 24-15.
"A bill must receive 63 votes in the 125-member Kansas House of Representatives to pass. So, if it had only received 62 votes, it would have failed," said Kansas Catholic Conference executive director Michael Schuttloffel. "It was that close."
Two identical bills, both known as the Adoption Protection Act, were introduced in February as HB 2687 and SB 401 in the House and Senate respectively.
In the course of running the legislative gauntlet, the language was placed in another bill.
"As part of the procedural maneuverings, the contents were put into SB 284, which includes some provisions beyond the Adoption Protection Act," said Schuttloffel.
This led to a change of language in part of the Adoption Protection Act, but it was done to clarify intent, and the core substance of the bill remained the same, he said.
The Catholic bishops of Kansas strongly supported the legislation. They did so because faith-based adoption agencies in the United States have increasingly come under attack for adopting according to their faith.
"This legislation was aimed at protecting religious-based agencies like Catholic Charities from being prevented from providing adoption and foster care services," said Archbishop Joseph F. Naumann in a May 4 column in The Leaven. The bill "simply guarantees religious adoption agencies can continue to place children in a manner consistent with their beliefs."
Passage of this legislation provides crucial protection to a vital ministry, according to Schuttloffel.
"The [just-passed] bill prevents the government from punishing faith-based adoption and foster care providers for operating according to their religious principles," he said.
"In Illinois, Washington, D.C., Massachusetts and elsewhere, Catholic Charities was forced to close its adoption ministry because government agencies insisted that they place children in a way that was contrary to the church's teaching," he added.
Thanks to this new law, the state government will not be able to shut down Catholic Charities adoption ministry because a future governor or bureaucrat disagrees with Catholic teaching.
"It also means that government agencies and contractors will not be able to discriminate against faith-based providers because they disagree with their religious beliefs," said Schuttloffel. "Finally, it protects these faith-based providers from being sued by the ACLU."
On May 4, Gov. Jeff Colyer said in a press release that he'd sign the bill.
"Catholic Charities and other adoption agencies are key to the fabric of our communities," he said. "I look forward to signing this bill because it increases the opportunities for needy children to find loving homes."