by Moira Cullings
moira.cullings@theleaven.org
LEAVENWORTH — Walking through Jackie Schmidt's home here is a treat.
Dozens of diamond paintings glisten throughout the house — from the mantle in the living room to the kitchen walls.
Each piece of art was created by Schmidt, and she hopes to sell them all — not for herself, but for St. Francis de Sales in Lansing, her home parish.
"The Lord has blessed me in so many ways," she said, "that I just feel that I owe it to the church.
"I will repay the church for all the good stuff the Lord has done for me."
Since starting her "Art of Diamonds" collection in June 2019, Schmidt has created around 100 print pieces and a handful of memo books.
The diamond paintings portray a variety of subjects — from an eagle flying in front of a mountain range to horses in a pasture to an elaborate Epiphany scene.
The spiritual ones tend to be the most popular, she said.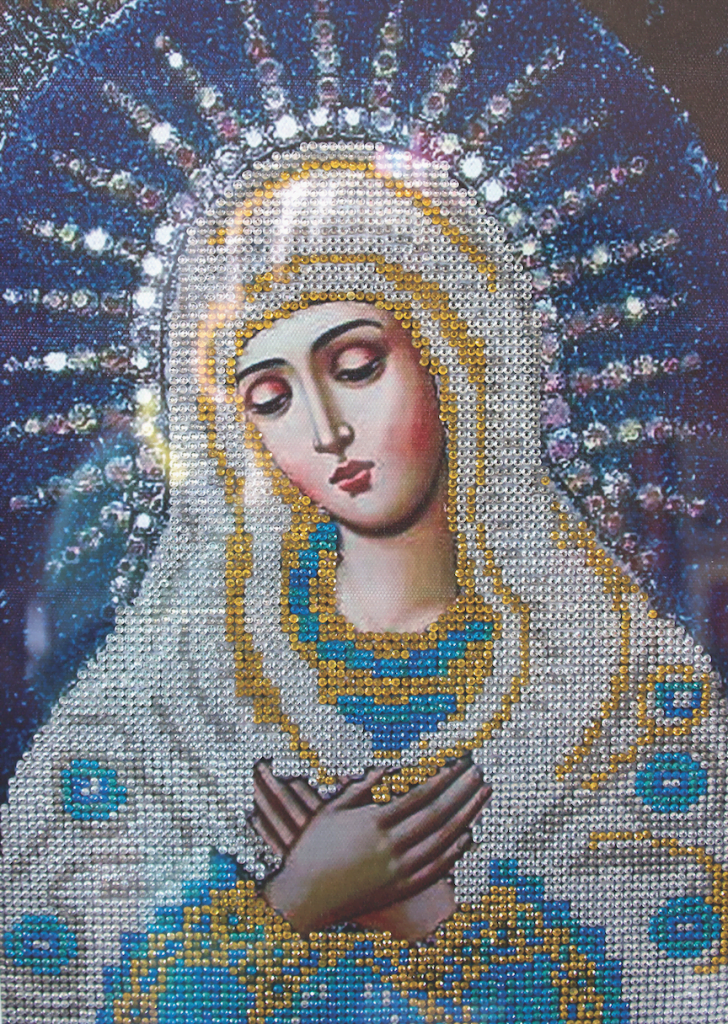 Schmidt's artistic process begins with ordering a diamond painting art print online — typically from Amazon, Bonanza or Paint with Diamonds.
Each print comes with the necessary supplies, including round or square diamond drills, pens and glue.
The prints are sticky and outlined with marked squares or circles, and the diamonds come in labeled bags that match the spots they're meant for.
Schmidt places each diamond in its correct place using the pen and glue, and when the piece is complete, she takes a rolling pin to it so that it sets in place.
The process can take days, with one of the largest diamond paintings taking her 150 hours to complete.
But the final product is a glimmering, colorful work of art that brightens up the room.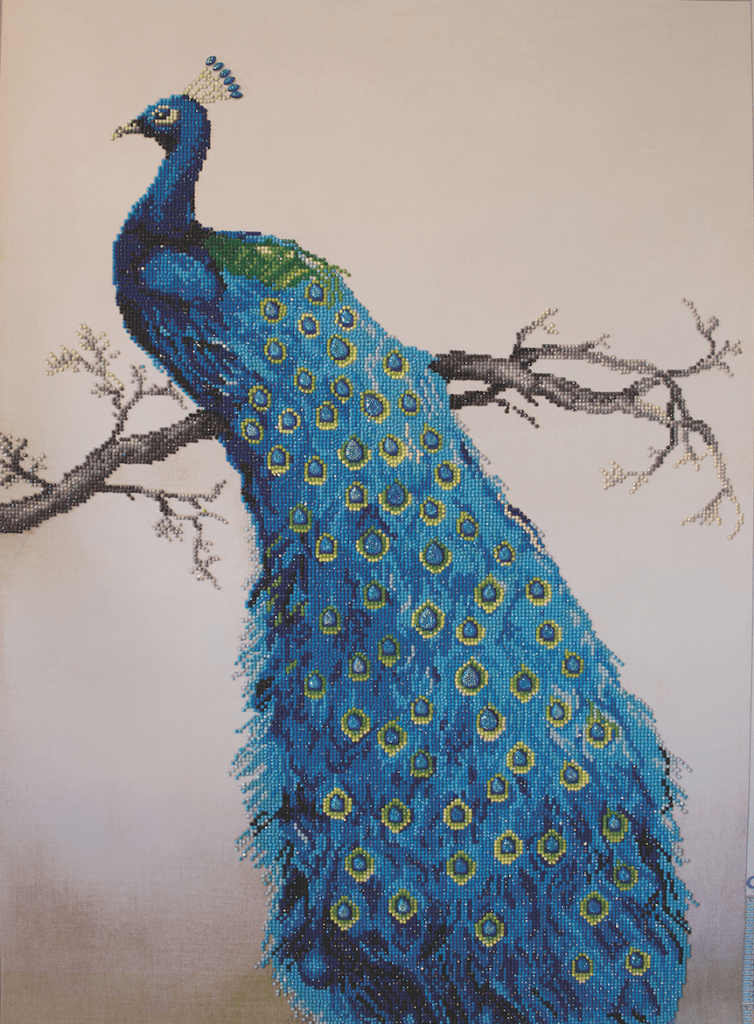 Father Bill McEvoy, pastor of St. Francis de Sales, has seen firsthand the value of Schmidt's handiwork.
Schmidt donated a diamond painting of Mary and the infant Jesus to the parish. It hangs in a religious education room, where pastoral council and finance council meetings take place.
"Jackie, like so many other members of the parish, uses her own unique talents and abilities to further our mission," said Father McEvoy.
"Her art is very uplifting," he added, "and the work is so meticulous, that they are done as acts of love.
"We're blessed for her art and her commitment to the parish, especially during these dark, pandemic days."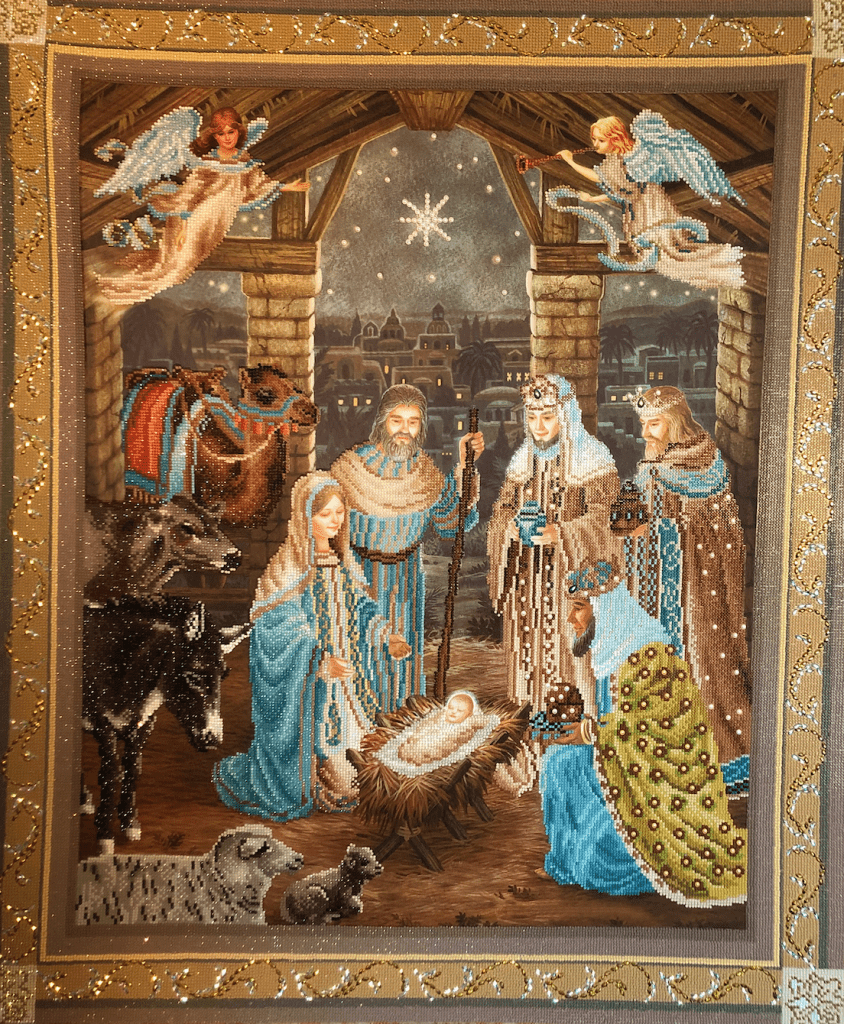 Although Schmidt's work is tedious, it's a gratifying way to pass the time, she said.
"I don't realize the hours that I put in," said Schmidt. "My husband [Gene] will be like, 'You've been at this for 16 hours.'
"I cannot wait to get up in the morning and start working."
Schmidt's favorite creation is an image of the Sacred Heart of Jesus.
"As long as I can remember, when I was just a little kid, my mother had that picture in her bedroom," she said. "She's 98. She probably had it for 67 years."
Her mom now lives in a nursing home in Canada, where Schmidt is from, but they haven't been able to see each other in a while because of COVID-19.
Schmidt hopes she'll be able to visit her mom soon, and that she can bring the diamond painting of Jesus with her as a gift.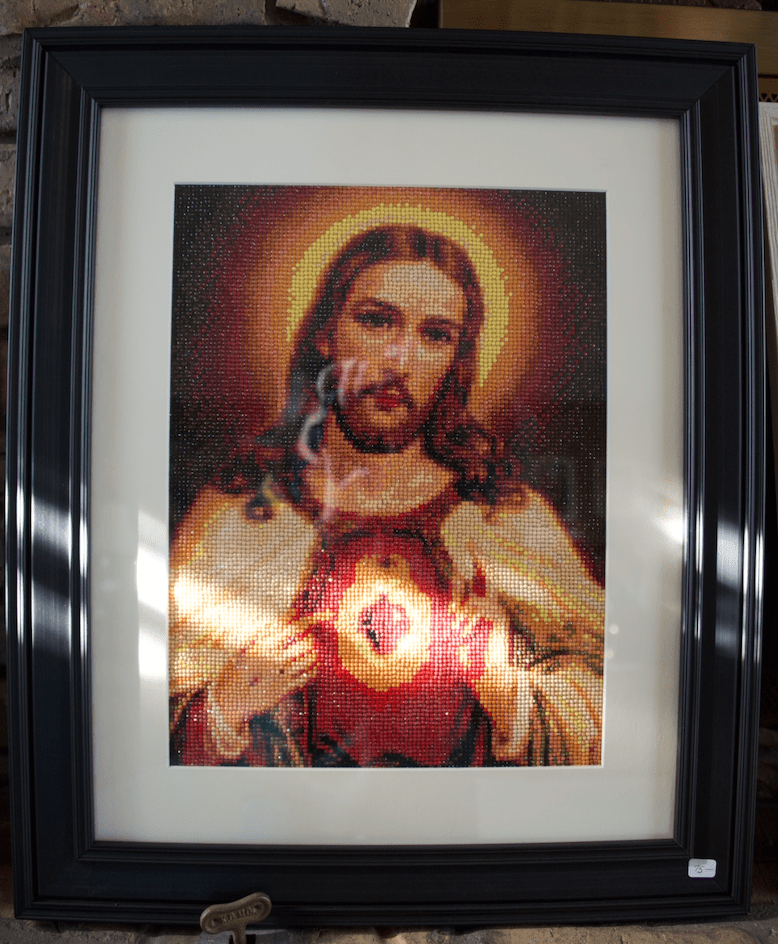 "If I do sell that one, I'll make her another one," she said. "Or even donate it to the nursing home she's at if something happens to her.
"It would be a memory of my mom."
Father McEvoy is grateful for parishioners like Schmidt who use their gifts in the aid of others, and he hopes her art will be a beacon of light.
"These days, we need reminders of hope," he said. "We need to be lifted up.
"Jackie's bright and colorful art reminds us that we're not alone, and that God is with us, and God will never let us down."
View the 'Art of Diamonds' collection
Jackie Schmidt invites you to view her artwork, two to three people at a time, with exceptions for families. She currently has around 63 pieces and a handful of memo books for sale. If you are interested in seeing the art collection or making a purchase, call or text her at (913) 683-1791. She accepts cash or checks, and all proceeds are currently going toward St. Francis de Sales Parish in Lansing. In the future, she plans on giving all proceeds from the sales to various charitable causes.