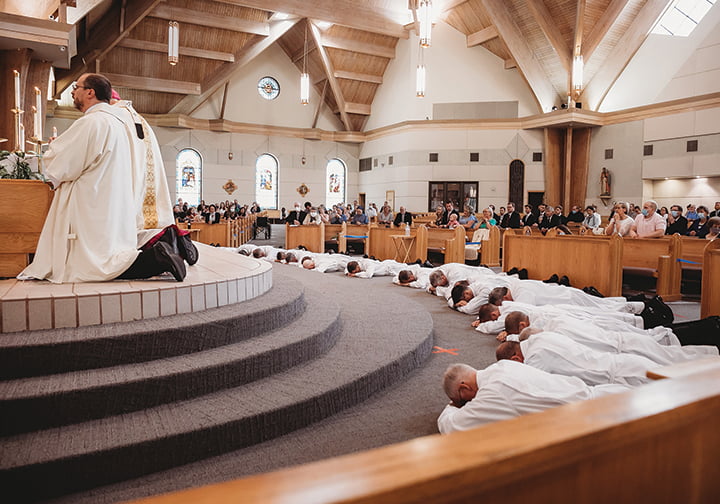 by Joe Bollig
joe.bollig@theleaven.org
LENEXA — Archbishop Joseph F. Naumann said he is hoping that with the ordination of the largest group of permanent deacons in the history of the archdiocese on June 20, there will be a little something in it for him.
A vacation!
"The first seven deacons were ordained so that the apostles could devote themselves to prayer and more to the ministry of the word," the archbishop said in his homily.
"So," he continued, "with the ordination of this third cohort of deacons for the archdiocese, I'm hoping I should be able to take a vacation now."
"Always remember," he added, "that one of the original purposes of the order of deacon was to make the life of the bishop easier.
"The people God are counting on my prayer life and my homilies improving because of your assistance."
The ordination Mass was held at Holy Trinity Church in Lenexa to permit as many people as possible to attend. Relaxed rules permitted each of the 20 men to have 10 invitees. There was also a larger group of priests to vest the new deacons.
The first-ever cohort, or group, was ordained for the archdiocese on April 9, 2011; the second, on June 2, 2017. The fourth cohort is scheduled for ordination in 2024.
Members of the third cohort benefited from the experience of the previous two cohorts, said Leon Suprenant, archdiocesan co-director of the office of the permanent diaconate. But they also faced the challenge of completing their formation as the COVID-19 pandemic continues.
"In my book, Leon Suprenant is a superstar," said Deacon Ken Billinger, a member of the Church of the Ascension Parish in Overland Park. "His knowledge and connections in the Catholic world are amazing.
"I've been told by people outside of our archdiocese we have one of the finest diaconate formation programs in the country, and a big part of that is credited to Leon, because he has done some amazing things. He's been very creative throughout the program, and when it came to [the pandemic], he figured out ways to make it work."
The youngest of the new permanent deacons is 37, and the oldest is 67. Most are in their 50s. They have widely varying professional and educational backgrounds. Five are converts to the Catholic faith.
One of those converts is Deacon Chris Allen, a member of Corpus Christi Parish in Lawrence. He became a Catholic in 2006, thanks to help from a neighbor who had converted to Catholicism.
"She asked me what issue I was struggling with," said Deacon Allen. "The last hurtle was the Blessed Virgin Mary. She walked me through that. She was the last step in that process."
Getting over that hump led him to the Rite of Christian Initiation of Adults, which led him to joining the parish RCIA team, which led to the RCIA leader asking him if he'd ever thought about becoming a deacon.
The educational experience of the men ranged from those who had no college to those who had doctorates.
Deacon Jody Madden has a religious studies degree from Benedictine College in Atchison, was in the Maryvale Institute Program and taught theology at Hayden High School in Topeka for 13 years.
"There were a couple of places [in the diaconate program] where I was helped out along the way because I had courses that were very similar to what we did," said Deacon Madden, director of faith formation at St. Bernard Parish in Wamego.
"But there were other things that more than humbled you when you realized we were covering this or that in formation, and I realized there was a gaping hole in what I grew up with," he added.
Family support was crucial, said Deacon Jason Imlay, a member of Prince of Peace Parish in Olathe.
"It was my wife Kristee's encouragement that got me to apply," said Deacon Imlay. "She was a big advocate for me. . . . A man can't do this program with kids at home if his wife isn't going to step up big time and take care of a lot of different things and free [the candidate] up for classes, study, ministry and prayer."
His three children were supportive, too, but his son was worried that the archbishop might assign Dad to ministry in Alaska.
"Once we took that off the table . . . he's been on board ever since," said Deacon Imlay.
What advice would he give to men who think they might want to be a permanent deacon?
The same advice he received from Father Gary Pennings, also co-director of the archdiocesan permanent diaconate program, said Deacon Kris Kuckelman, from the Church of the Ascension in Overland Park.
"It was what Father Gary Pennings said a little over five years ago," said Deacon Kuckelman.
"[He said] at that point you're not discerning to be a deacon, you're discerning only whether or not to apply to be an aspirant," he said. "And when you're an aspirant, you're discerning whether to continue and apply to be a candidate. And [during] all four years of candidacy, you continue to discern whether it's God's will for you to continue in formation."
It's about taking one step after another until you hear a clear "no" or "yes." For these 20 men, the answer was "yes."
For a full list of the new permanent deacon's assignments, see the June 19 issue of The Leaven.