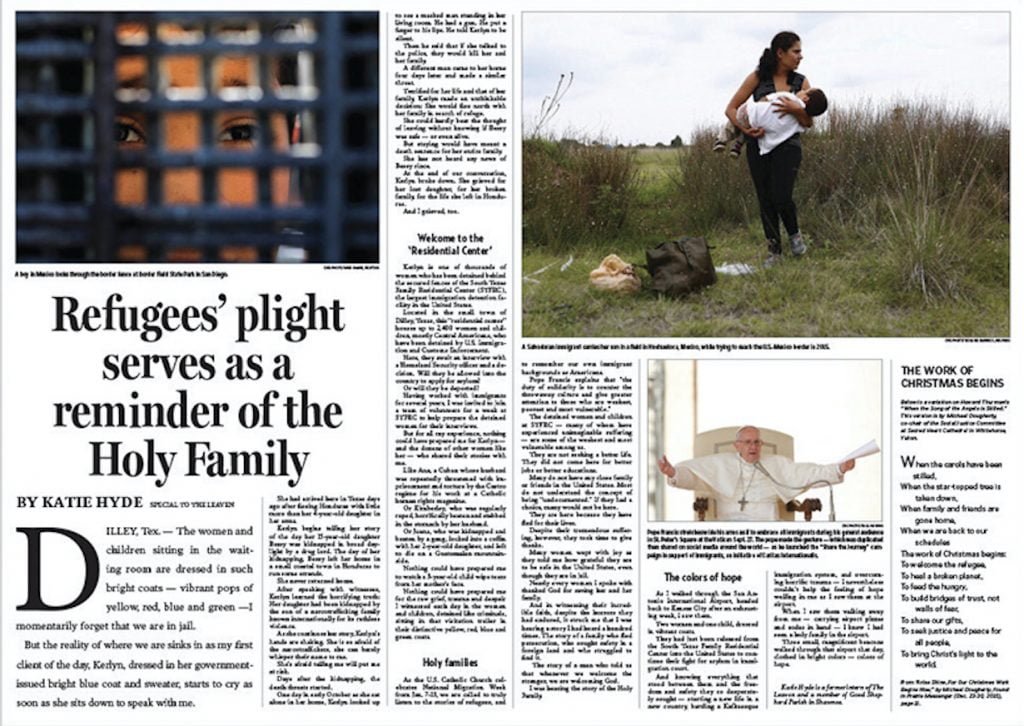 by Joe Bollig
joe.bollig@theleaven.org
KANSAS CITY, Kan. — If you want sunshine, the place to go in Florida is St. Petersburg. It's known as "Sunshine City," averaging 361 days of catching rays a year.
Recently, the Gulf Coast city was also "sunny" in another way for The Leaven. The newspaper of the Archdiocese of Kansas City in Kansas won 11 Catholic Press Association awards at the annual Catholic Media Conference, held June 18-21 in St. Petersburg.
For photography and writing, The Leaven brought back three first-place awards, three second-place awards, one third-place award, and four honorable mentions.
The diversity of the award winners is a story in itself, demonstrating how The Leaven draws from a variety of people to put together a publication that tells the stories of the life of the church in northeast Kansas. Those recognized included veterans and newcomers, staffers and freelancers, photographers and writers.
And besides winning the awards, the St. Petersburg conference was notable for one other thing. The Leaven's very own production manager, Todd Habiger, presented a workshop on design.
Garnering the gold of first place
Katie Hyde's first-place Best Writing on a National or International Event, titled "Refugees' plight serves as a reminder of the Holy Family," arose out of an invitation to join a team of volunteers at the South Texas Family Residential Center in Dilley, Texas.
"Usually, we at The Leaven serve up the phrase 'the gift that keeps on giving' with a hearty helping of sarcasm," said Anita McSorley, managing editor, "but former intern Katie Hyde is truly that gift.
"Katie has for several years now been working closely with asylum seekers and hopes to go to law school soon. When she was invited to help prepare detained asylum seekers held in Texas for their interviews, she called me first."
The result was a powerful story that is no less timely today than it was when it was written.
"I encourage everyone to read Katie's story," said McSorley.
The managing editor herself snagged a first-place award for Best Headline with "Habit-Forming: Ursuline Sister crafts miniature habits, accessories for dolls."
"Headlines are challenging — most of the time," said McSorley. "But this headline for the story on Sister Mildred Katzer, OSU, wrote itself. When paired with the charming photograph by freelance reporter Steve Buckner, it made a front page that still brings a smile to my face."
Sadly, Sister Mildred died on May 19 at age 100, as reported in The Leaven.
"I couldn't be happier that she is taking this one final bow from the pages of The Leaven," said McSorley.
Longtime freelance photographer Doug Hesse won a first-place Best Photo Story for his emotionally wrenching shot of the boys basketball team at Christ the King School in Kansas City, Kansas, presenting the retired jersey of a deceased teammate to his mother on the court. It accompanied the story "Gone but not forgotten."
"I've been photographing for The Leaven for over 25 years and it's always nice when I win something for the paper — everyone works so hard on it every week, and they do a great job of displaying my work," said Hesse.
"This assignment was difficult because the team and the mom were very emotional and sometimes in a situation like this people don't want you to intrude," he continued. "But being a [photojournalist] gives you skills to be present while not interrupting. . . . The trick was getting everything in the shot to make it what it is."
Seizing silver and bronze
Married freelancing duo Marc and Julie Anderson of Topeka used their enterprise to find a parish organist/pianist and write the second- place winning story and photograph for Best Personality Profile titled "Topeka pianist doesn't let injury define him."
"We were standing in . . . St. Patrick Church in Scranton after a Mass," said Julie Anderson. "Someone mentioned we should meet the organist. We'd be surprised, the parishioner said, to see the organist's hands."
Michael Flax, a member of Christ the King Parish in Topeka, lost most of the fingers on his right hand when he was 9 years old. Nevertheless, he learned to play piano.
"As for the photo, I wanted to emphasize Michael's joyful personality but, at the same time, show his hands so readers could see his musical technique," said Marc Anderson. "Even though we interviewed him in our parish hall . . . Julie and I both knew we needed to visit his home, as that was the only way I could take pictures of him playing his precious piano, the one he learned to play on as a child."
Freelance photographer Jay Soldner also snagged a second-place Best Multiple Picture Package — Sports for his center spread montage of swimmers from four Catholic high schools in "Just Add Water." And one impressed judge commented, "Kudos to the photographer on getting names!"
And he didn't even get soaked.
Rounding out the freelancer- dominated second-place category was Jill Ragar Esfeld, who took silver in Best Reporting on a Special Age Group — Children and Teens Younger than 18, with "You Go, Girl." The "go girl" is Bishop Miege High School senior Ruby Rios, who was named one of the metropolitan area's "30-under-30" for launching a computer coding club for grade school girls.
"I was impressed by her willingness to share her knowledge with others," said Esfeld. "She was outstanding in her personality as well as her intellect, and I knew then that her story would be a good one."
Esfeld also captured the The Leaven's sole third-place win in the category of Best Feature Writing — Weekly Diocesan Paper, with "Schooled in Faith." This story told how pilgrims reacted when their guide, Jack Hallis, collapsed while visiting Nazareth in Israel.
"I love stories that show the hand of God in what some might call a coincidence," said Esfeld. "Katie Cummings wasn't supposed to be on the School of Faith trip that had Jack Hallis as its guide.
"By coincidence, a space became available to her. When Jack had a heart attack, Katie, who is a cardiac nurse, was able to save his life. I thought it was important to focus on the fact that the group of pilgrims prayed the rosary as Katie gave Jack CPR, and continued to pray through his recovery."
Honorable mentions duly noted
Freelancer Esfeld, having won silver and bronze, also picked up an honorable mention in Best Reporting on a Special Age Group — Senior Citizens with her story "Tea Party."
It told how a group of women would get together twice a month for tea and talk parties in the memory care unit of Santa Marta retirement community in Olathe.
"I loved visiting with the ladies in the memory care unit at Santa Marta for their afternoon tea," said Esfeld. "Barbara Chamblin, who hosts the teas, has found a beautiful way to help these women bond with each other and recapture the past. I think The Leaven has an important role in showing the unique ways our Catholic community serves one another, and this story did just that."
Even a former Leaven reporter scored an honorable mention in Best Feature Writing — Weekly Diocesan Newspaper. Moira Cullings, who is now with the Denver Catholic, was recognized for her story "Defying the Odds," about Holocaust survivor Sonia Warshawski, the subject of the documentary "Big Sonia."
"I was honored to win an award for my story about Sonia Warshawski, who survived three concentration camps during the Holocaust," said Cullings. "When I heard Sonia and her daughter Regina speak at Curé of Ars Parish in Leawood last year, I was deeply inspired not only by her life story, but also by her powerful message. She has been through unfathomable trauma and yet is so full of hope, strength and tenacity."
Staffer Olivia Martin won her first Catholic Press Association awards, two honorable mentions, for a sports story and a personality profile.
The first, "Just Do It," was an inspirational story about St. James Academy senior Zoe Schierts, a cross-country runner who competed despite cerebral palsy and multiple surgeries. This was entered under Best Personality Profile — Weekly Diocesan Paper.
The second, "The Ironman," was about St. James Academy teacher Tyler Supalla, who competes in the physically and mentally demanding Ironman races. This was in the category Best Sports Journalism — Sports Feature or Column.
"The best part about writing is the serendipitous uncovering of many stories within one story," she said. "That is exactly what happened in these two pieces.
"The 'Ironman' piece proved to be the most effortless article I've ever written — Tyler Supalla is a good friend of mine and it was almost too easy to hunt down sources that had interesting and true things to say about his endeavor. And telling Zoe's story was incredibly impactful for me. Every single time I've gone on a run since writing that article, I think of Zoe — especially when I'm about to give up and walk. I've even started praying the rosary aloud with a friend while we run."
Rounding out the haul from St. Petersburg was the invitation to Leaven designer and production manager Todd Habiger to teach a workshop on design.
"My presentation was 'Bringing words and photos to life through design,'" said Habiger. "Over the years, The Leaven has been recognized for its strong design and I was happy to share my ideas."
"I tried to give practical design tips on usage that attendees could take home and implement," he continued. "I stressed usage of photos as well as pull quotes, information boxes, typography and infographics.
Although nervous at the beginning of his presentation, Habiger admits he was glad to have been asked."It was an honor to present a workshop on design to my colleagues," he said.