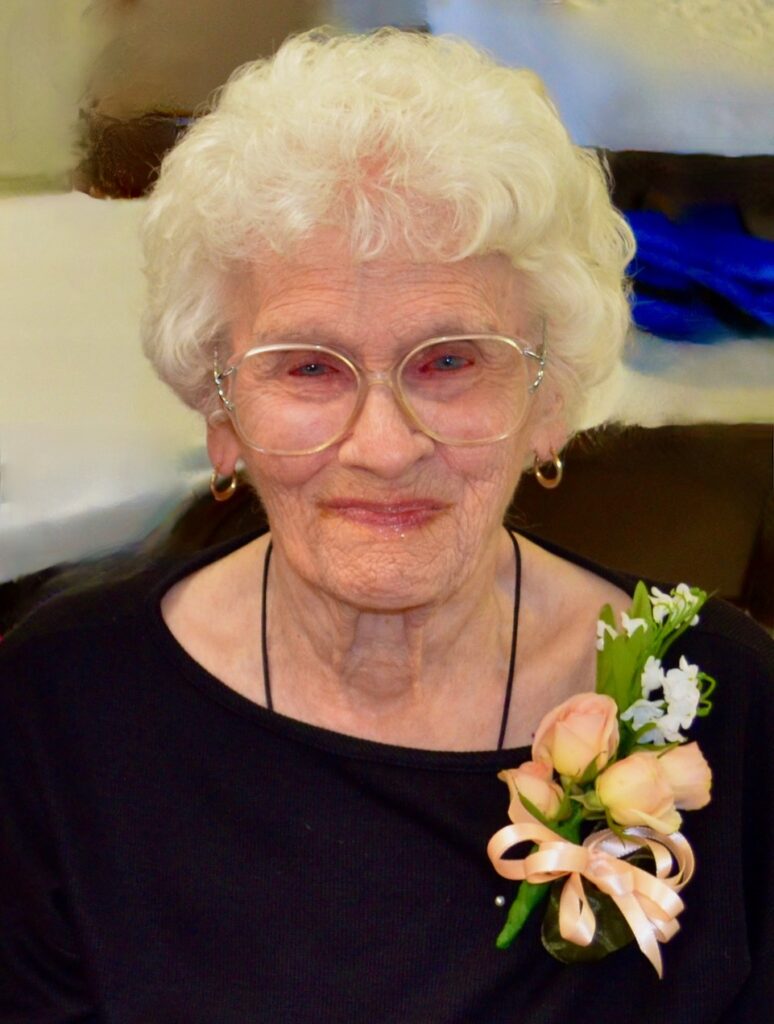 by Mary Ann Brown
Special to The Leaven
RURAL LEAVENWORTH — A Leavenworth Countian will commemorate a rare life milestone this year. Lydia Bromell Heintzelman of rural Leavenworth County will observe her 105th birthday on June 5.
Having already joined the centenarian sector, estimated to represent a little more than 300,000 of the world's population of eight billion, Lydia can certainly be considered a witness and contributor to over a century of history.
On June 5, 1918, in the rural village of Ruble, about seven miles west from Leavenworth on K-92, Lydia became the first of five children of Emory Alfred Bromell and his wife Martha Mary Richstatter, daughter of German immigrants, at Ridgewood Farm. Lydia's paternal grandparents, Richard W.B. and Lydia Hooper Pike Bromell, having immigrated from England in 1883, had initially managed the farm for Lucien Scott, president of the First National Bank in Leavenworth and later purchased its 400 acres from the estate. Ridgewood Farm was known for its purebred Hereford bulls and thoroughbred horses, supplied for Scott's 35,000-acre L&S Ranch in Texas.
United States President Woodrow Wilson had declared war on Germany the previous year in April 1917, and on June 5 of that same year, 10 million men registered nationwide in the first army draft. A subsequent draft registration was held on the day Lydia was born, adding those men who had reached the age of 21 since the registration of the previous year.
The year 1918 however, marked the end of the First World War but also the beginning of the "Spanish flu" pandemic that claimed 50 to 100 million people worldwide.
Lydia has led a quiet and simple country life surrounded by family and friends. She was a member of the Saint Joseph of the Valley Catholic Church, attended the Bell one-room rural school, and in 1941, at the age of 23, married Joseph Heintzelman, age 39. Joe was the grandson of John and Margaret Senhausen Heintzelman, French immigrants who settled and purchased land in Leavenworth County in 1858, before Kansas had even become a state. Victor Heintzelman, one of their 10 children, had married Catherine Wosser, whose Irish parents immigrated to Leavenworth County, also in 1858, to also become parents of 10 children, including Joe. All were farmers in the county.
In turn, Lydia and Joe Heintzelman became the parents of six children, three boys and three girls: Dorothy Marie, Regina Ann, Thomas Joseph, Donald Eugene, Ruth Elaine, and Daniel Dominic. Joe died in 1970 and was buried at Mt. Calvary Cemetery, Leavenworth, where four of their children now also rest. The oldest and youngest daughters, Dorothy (Lonnie) Phillips and Ruth Heintzelman, remain, all residing on the original 160-acre Heintzelman farm.
Throughout her entire life, Lydia has lived within four miles of her birthplace at Ridgewood Farm. She has called the old Heintzelman family place her home for over 80 years, where she still resides, and has outlived all her younger siblings and their spouses. She has seven grandchildren, eight great-grandchildren, three great-great grandchildren and countless nieces and nephews.
As a centenarian, Lydia has seen tremendous advancement in communications, travel, education, health care, and in women's and civil rights. She has lived through the terms of 19 presidents, subsequent wars, the Great Depression, Prohibition, space exploration, economic expansions and downturns, good times and bad, joys and sorrows, and yet another pandemic.
In 2013, when the Saint Joseph of the Valley parish celebrated its 150th anniversary, where the Heintzelman family ancestors were original founders back in 1863, and the Bromell family lifelong members, Lydia was recognized as the oldest parishioner.
Ten years later, she retains the title.