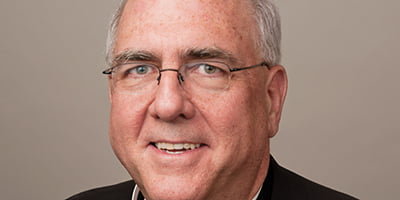 by Archbishop Joseph F. Naumann
The recent observance of St. Patrick's Day reminded me of the joke:
Do you know what Irish Alzheimer's is? It is when you forget everything except the grudges!
Unfortunately, the Irish by no means have a monopoly on keeping grudges.
For the Christian, this is a real problem. Jesus tells his disciples that it is not sufficient to love your neighbors, friends and family. Christianity is not about just being nice to the nice. Jesus tells his disciples that we must love our enemies and pray for our persecutors.
Frankly, I often glide over the phrase in the Lord's Prayer where we ask our heavenly Father "to forgive us our trespasses as we forgive those who trespass against us." In our fractured humanity, when someone treats us badly or insults us our natural impulse is to strike back. Yet, we heard recently in one of the daily Mass Gospel readings that we are to love our enemies and pray for those who persecute us.
Immaculée Ilibigiza, the famous survivor of the Rwanda genocide, in which a million of her tribe were brutally massacred (including her own parents and two of her three brothers), has become an international advocate for forgiveness and reconciliation. In her book, "Left To Tell," Immaculée chronicled how she and seven other women survived the genocide by being hidden in a tiny bathroom in the home of a Protestant minister. During part of this prolonged period of living under the constant threat of death, Immaculée was filled with anger and rage. She realized that, if given the opportunity, she would have murdered those who perpetrated these atrocious crimes against her tribe and family.
Immaculée states rather bluntly that she survived on prayer. However, when she prayed the Lord's Prayer, she decided to just skip over the sentence about forgiving the sins of others. Immaculée knew that, when praying, it was important to be completely honest. She did not want to pray words that were contrary to what was in her heart.
This seemed to work well for her for a short while, until Immaculée heard a voice during prayer saying to her: "Immaculée, Jesus himself authored this prayer. He does not need you to edit or re- write it." At that point, Immaculée began to beg God to give her the grace to be able to forgive, because she knew that she was not capable of doing this by her own power.
The single most important thing that any of us can do in our Lenten observance is to go to confession. If we make a sincere and heartfelt confession of our sins, then we will experience a profound encounter with Jesus. One of the fruits of this encounter will be to be transformed by Our Lord's merciful love.
The sacrament of penance not only frees us from our sins, but provides us the grace to live a more virtuous life. It especially disposes us to be more forgiving of oth- ers; in other words, to forget our grudges.
When we forgive someone who has hurt us, it does not mean that we condone their behavior. Forgiving does not mean that we forget what happened to us. Forgetting our grudges does not mean we become tolerant of evil, but rather that we no longer harbor a desire for revenge against someone who has wronged us.
Forgiving those who have hurt us is really very liberating. As long as we hold onto our anger against someone who has perpetrated some sort of injustice against us, we allow that person, in a way, to continue to control us and to hurt us. When we are able to forgive from our heart those who have offended us, then their evil is no longer dominating our hearts and, in a sense, controlling our lives.
Once again this Lent, the priests of the Archdiocese will be available to hear confessions every Wednesday evening from at least 6-7 p.m. When we examine our conscience sincerely, it redirects our attention from being focused on the sins of others and allows us to recognize our own sins.
Without an awareness of our own sins, we really have no need for Jesus, because we have no need for a savior or a redeemer. When we humbly and honestly approach Jesus in the sacrament of penance, we discover that Our Lord's love is not contingent on us always doing everything right. Jesus loves us even in our weakness.
Pope Francis, when asked to describe himself, said that the most accurate description was: "That he was a sinner touched by God's mercy." Each time we receive the sacrament of penance, we are touched profoundly by God's mercy and thus are freed from the burden of our own guilt and empowered to love and forgive others.
Do yourself a favor this Lent and experience God's mercy through the sacrament of penance. Remember your own sins. Allow God to heal your heart and forget your grudges!