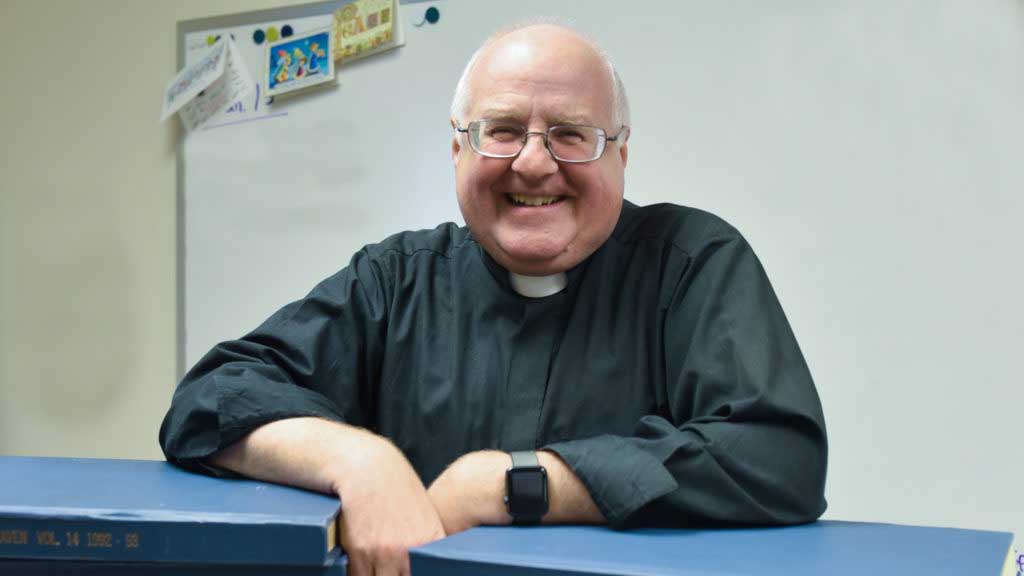 by Father Mark Goldasich
I planned to write this column for the Nov. 10 issue since it would be closer to the day this theme is celebrated. But honestly, I don't think the world can wait that long. It needs an infusion of this as soon — and as often — as possible.
I'm talking about World Kindness Day held every year on Nov. 13. Many people probably haven't heard of this celebration even though it's been around since 1998. It was introduced by the World Kindness Movement, a global coalition of kindness organizations, with a goal of promoting goodwill through simple acts of kindness and, in doing so, bring people closer together in compassion across the globe.
Kindness has a ripple effect, as this story shows:
Tears glistened in the eyes of a Salvation Army officer named Captain Shaw as he looked at three men standing before him. Shaw was a medical officer recently assigned to India to take charge of a leper colony. The men were shackled, and these restraints were cutting into their hands and feet.
Shaw turned to a guard and asked that the prisoners' chains be unfastened.
"It isn't safe," said the guard. "These men are dangerous criminals as well as lepers."
"I'll be responsible. They're suffering enough," said Shaw as he took the keys from the guard, knelt and removed the shackles, and tenderly treated the men's wounds.
About two weeks later, though, Shaw had his first misgivings about freeing the criminals. He had to take an overnight trip and dreaded leaving his wife and child alone. His wife insisted all would be fine and Shaw left.
The next morning when Shaw's wife opened her front door, she was startled to see the three criminals lying on her steps. One of them explained, "We know the doctor go. We stay here all night so no harm come to you."
That's how these dangerous men responded to an act of kindness and love extended to them. (Story adapted from "The Power of Love" in "Illustrations Unlimited," edited by James S. Hewett.)
I believe that some of the most serious sins are those of omission — the good we're capable of doing but choose not to. Pope Francis often speaks of this as "indifference" to the suffering in the world.
Celebrating the World Day of Kindness is a practical way to wake us up and shake us from our selfishness. Kindness is a conscious choice to respond generously and joyfully to the people around us, especially those in need. And that kindness, as shown in the story above, is infectious.
Take some time to make a list of how you'll celebrate kindness on Nov. 13. To get you started, consider some of the following ideas:
• Send a handwritten thank-you note to three people who have positively influenced your life.
• Write uplifting messages on Post-it notes and leave them for others to find.
• Call a local school and offer to pay an overdue lunch bill for a child.
• Let somebody merge while in traffic.
• Leave a generous tip to someone in the service industry.
• Reach out to someone having a tough time or to a lonely neighbor.
• Fix a meal, clean house or offer some time off to a caregiver.
Seek to live these words from Eucharistic Prayer IV for Various Needs: "Open our eyes to the needs of our brothers and sisters; inspire in us words and actions to comfort those who labor and are burdened. Make us serve them truly, after the example of Christ and at his command."
And the best part is: You don't need to wait for a special day to do this!