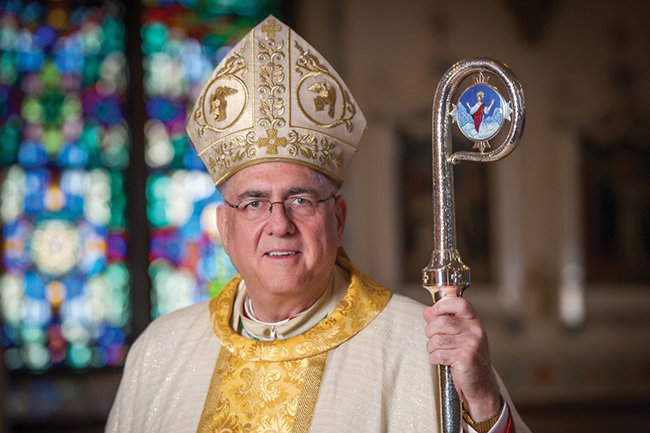 by Archbishop Joseph F. Naumann
Advent is the season that focuses our attention on the virtue of hope.
For the Christian, our hope is not based on our ability to overcome any obstacle. Hope is not simply an exercise in positive thinking or naive optimism.
Our hope is based on our confidence in God's love for us as revealed throughout salvation history, but most powerfully and eloquently in the Word made flesh who dwelt and dwells among us. Our hope is anchored in the faithfulness of God's mercy despite the sinful infidelity of human beings.
It is because of our confident hope in God's faithful love that Christians have expectant eyes searching for expressions of Our Lord's goodness in the events of our lives. I do not know about you, but I come to this Advent with a great longing to renew and strengthen the virtue of Christian hope in my heart.
Our previous executive director and president of Catholic Charities, Ken Williams, initiated a practice to begin every meeting of the staff and volunteers of Catholic Charities with a hope story.
Ken sought to create a culture within Catholic Charities that recognized the revelation of God's beauty and love in the midst of some of the distressing and often tragic circumstances of life for many of those whom Catholic Charities strives to serve. I want to share with you three brief recent hope stories that were a source of great encouragement to me.
Recently, I had the opportunity to meet with one of our former seminarians, Thomas Vehige, and his bride Genevieve.
Thomas left the seminary many years ago. Despite possessing many qualities and gifts that are essential for priestly ministry, Tom discerned that he was not called to the priesthood. He left the seminary with a desire to serve the church as a layman.
After some time, Thomas discovered the Family Missions Company, a lay apostolate committed to responding to Our Lord's commission to proclaim the Gospel and make disciples.
The Family Mission Company trains, sends and sustains families as well as single laymen and women to evangelize and provide humanitarian aid in some of the poorest communities around the world.
Thomas has spent the past several years in India helping to bring the love of Jesus to the poor and helping to equip local Catholics to become even more effective witnesses of the joy of the Gospel.
His wife Genevieve, while in college, became acquainted with the Family Missions Company through her sister. Genevieve has been a missionary in the Philippines for a couple of years.
Thomas and Genevieve married this past spring. They are back in the United States assisting with the formation of other lay missionaries.
In the not too distant future, they are eager as a married couple to resume their missionary service abroad.
Genevieve shared that she discovered a profound and deep joy in attempting to share the love of Jesus and his Gospel with others.
The very same day I met with Thomas and Genevieve, I attended the oath of office ceremony for a new United States District Court judge, the Honorable Holly L. Teeter. Holly's husband Derek serves on the Catholic Education Foundation board, as well as the St. Lawrence Center advisory board. Some years ago, they gave me the privilege of baptizing one of their three sons.
U.S. Senators Pat Roberts and Jerry Moran spoke at the ceremony. They shared why they had enthusiastically supported the confirmation of Holly's appointment as a federal judge.
Holly and Derek ranked first and second in their KU law class. Before entering law school, Holly had earned a degree in chemical engineering. After graduation from law school, she served for a time as a federal prosecutor.
The most moving of the speeches preceding her oath was given by Derek. In his talk, he noted not only Holly's professional qualifications, but also her wisdom and compassion that he observed up- close as her spouse.
Derek referenced the example of St. Thomas More, patron for lawyers, as one whose courage and integrity Holly sought to imitate in her practice of the law.
A very touching part of the ceremony was, after taking the oath, her three young sons assisted the new judge with the robes of her office.
Judge Teeter in her remarks thanked and acknowledged family, friends, mentors and colleagues for equipping her to assume her new responsibilities. She quoted the wisdom of St. Teresa of Calcutta as another guiding light for her life.
The ceremony made me reflect upon the awesome responsibility of judges to be the dispensers of justice in our society by faithfully applying the law fairly and without prejudice. It also made me proud to be Catholic, because both Holly and Derek are excellent examples of individuals striving to live their faith in their personal, familial and professional lives.
My final hope story I experienced a few weeks ago in reading my mail. A mother had sent me a drawing and a prayer from her young son.
As you may recall, some time ago, I mentioned that I was fasting and abstaining from meat on Wednesdays and Fridays as part of my intercessory prayer for the healing of victims and the renewal of the church in the wake of the recent scandal.
Also, later in this column, I mentioned that I was joining the other bishops of the United States in fasting during the week leading up to our November meetings in Baltimore.
The mother wrote to me and told me when their family was offering prayers for various intentions, her son expressed a desire for them to pray for that guy who is not eating! I am very grateful to this little boy for his prayers and for the prayerful support of his family.
I encourage you during this Advent season to pause and recognize the hope stories in your life. Our God is constantly revealing his love for us if we but have eyes to see.