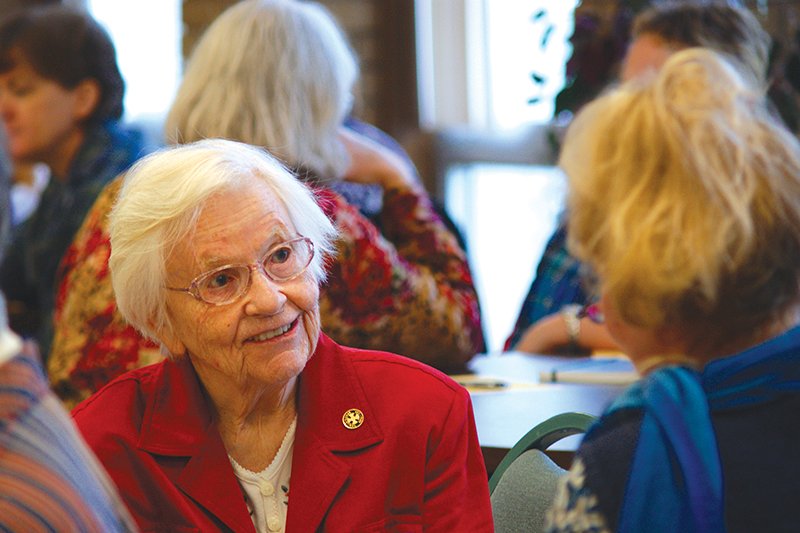 Archdiocesan retreat centers offer something for everyone
---
by Elizabeth Alex
elizabeth.alex@theleaven.org
KANSAS CITY, Kan. — So you can't drop everything to spend 40 days in the desert, fasting in preparation for Easter.
But you can make time to reflect — and transform — in a retreat designed for Lent.
Maureen Sturdevant of Holy Cross Parish in Overland Park says retreats are a powerful part of her spiritual journey.
"It is taking time to reflect on where your life is at present, and perhaps choices you've made and how they fit it with your spiritual goals."
Retreats are central to spiritual growth for Patty Wernel of Queen of the Holy Rosary Parish in Overland Park as well.
"I started out fitting it in where I could," she explained. "It has grown into a way of life."
Wernel has found there is a type of retreat to suit anyone, and several options for retreat centers in the archdiocese — during Lent, and throughout the year.
"Mystic retreats, centering prayer retreats, silent retreats, grieving retreats and retreats on the psalms,"  are all available, she said. "We are so blessed with so many good places."
Sophia Spirituality Center in Atchison, Sanctuary of Hope in Kansas City, Kansas, and Christ's Peace House of Prayer in Easton offer a variety of retreats, ranging from an afternoon of directed prayer to a weekend gathering, to days of silence and those specifically focused on the season. (Usually there is even a fourth choice — Marillac Center run by the Sisters of Charity in Leavenworth, but it is currently closed and is not scheduled to reopen until this fall.)
"Not only is [the Lenten season] a time to celebrate the Lord's passion, but it can be a time to make a transformational change in your own life," said Vince Eimer, director of Christ's Peace House of Prayer, which reopens March 17.
His Lenten retreats focus on spiritual readiness, daily prayer, personal discipleship and service of others. Eimer says Lent is the perfect time — and a retreat is a perfect place — to "put on spiritual armor and battle with ourselves and our inclination to selfishness and original sin."
Sophia Spirituality Center is known for a large number of retreats held on many weekends throughout the year, but the Lent retreat is special.
Sister Eleanor Suther, OSB, calls Lent "a time to go deeper into the mysteries of our faith."
"It's a time to examine your life and see how you are living it," she added.
A retreat center can also provide the space to treat oneself to a few precious moments of solitude that cannot be found anywhere else. Julie Elwell of Sanctuary of Hope in Kansas City, Kansas, says people come from across the country to experience the center that is like "stepping back in time" to the 1890s, with 33 acres of nature in which to meditate.
"You take the time to listen to God because it is quiet," said Elwell.
Sturdevant has attended retreats at all of the centers in the archdiocese, plus several outside the area as well. Her advice for someone interested in attending a retreat is to "start small."
"I would look for a retreat that has something like six hours a day," she said. "It should be something that gets you away from your usual setting. Just find a topic that appeals to you."
Wernel says a retreat, whether it happens to be during Lent or another time, provides something she can't find every day — "an opportunity to allow God to speak in a way he can't with all the busyness of the day."
During the Lenten season of 2015, most area centers offer something specifically tied to Lent and preparation for Easter during February and March.
The price of most retreats range from suggested donations of $30-$40, to set fees of up to $75. (Overnight retreats cost more.) Anyone interested is encouraged to sign up by phone or online in advance. (See sidebar.)
But whether it's for just a morning, or an entire weekend, Catholics will find in these mini-retreats an opportunity to deepen — or widen — their spiritual life.
"Things can happen in that quiet time," said Wernel. "It's better than a vacation."