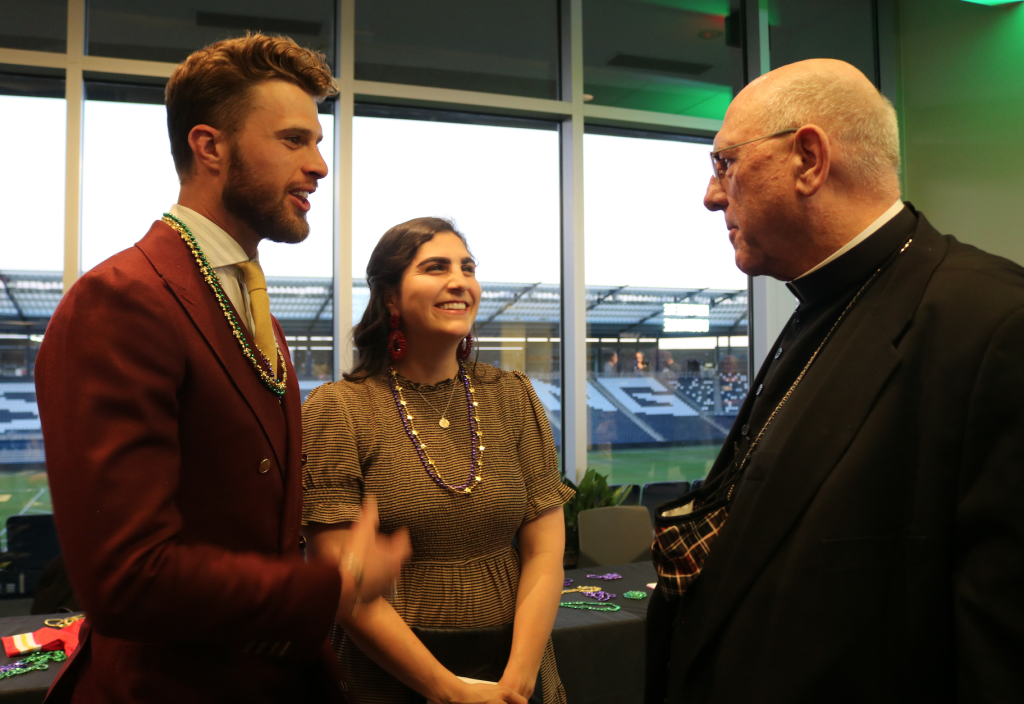 by Marc and Julie Anderson
mjanderson@theleaven.org
KANSAS CITY, KANSAS — There are more than 2,500 pregnancy resource centers across the country, according to Archbishop Joseph F. Naumann, and collectively they have served more than a half a million women, empowering them "to choose life and find a community of support."
He was speaking to a crowd of some 300 people from across the archdiocese gathered March 1 at Children's Mercy Park, home of Sporting Kansas City, to support one of the newest such centers — that of the Kansas City Kansas Pregnancy Clinic (KCPC) founded in 2019.
Serving as the clinic's first fundraiser, the Mardi Gras banquet featured a cocktail hour with opportunities for photos with Harrison Butker, kicker for the Kansas City Chiefs. The event also included a buffet dinner with traditional New Orleans fare and a silent auction consisting of items that Butker autographed that night.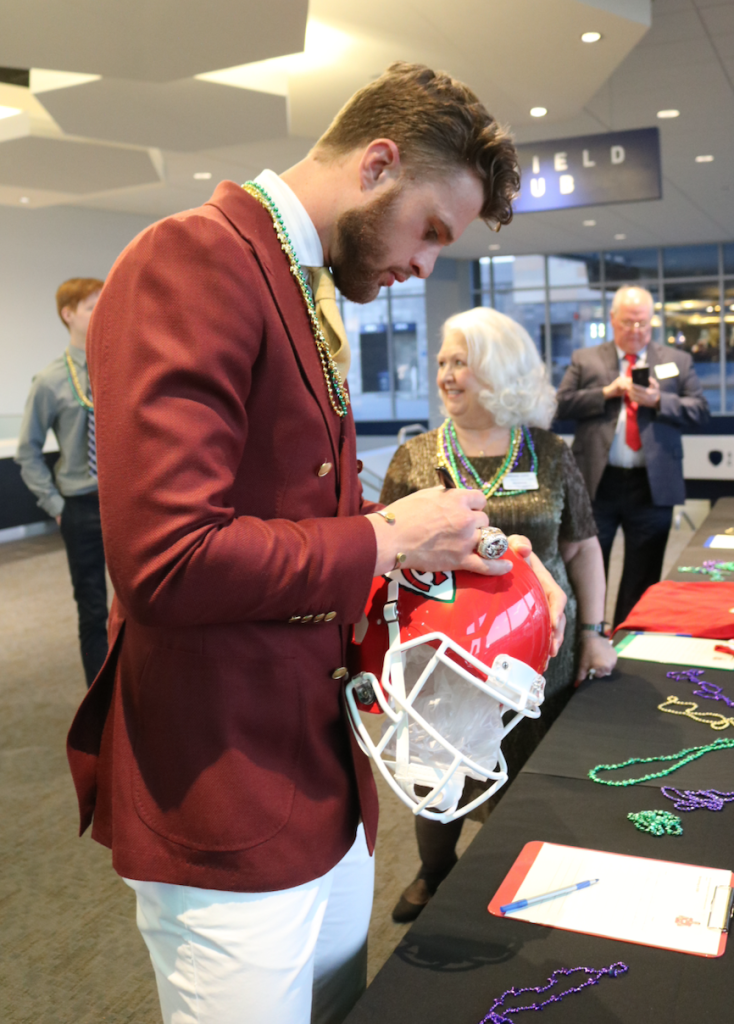 Additionally, clinic volunteer executive director Donna Kelsey presented Knights of Columbus State Deputy Jamey Roth with an award for his organization's support. Throughout the nation, Knights have provided 1,500 ultrasound machines to pregnancy resource centers, including more than two dozen within Kansas, one of them being the clinic's ultrasound machine dedicated on Oct. 9, 2021.
Kelsey explained in her remarks how she and her husband Ron came out of retirement in 2019 after Planned Parenthood unveiled plans to establish an abortion clinic in Kansas City, Kansas. The couple has made it their life's work to help foster a culture of life within society.
"It is our passion, and it is our mission in life to do something for the unborn on a daily basis," Donna said.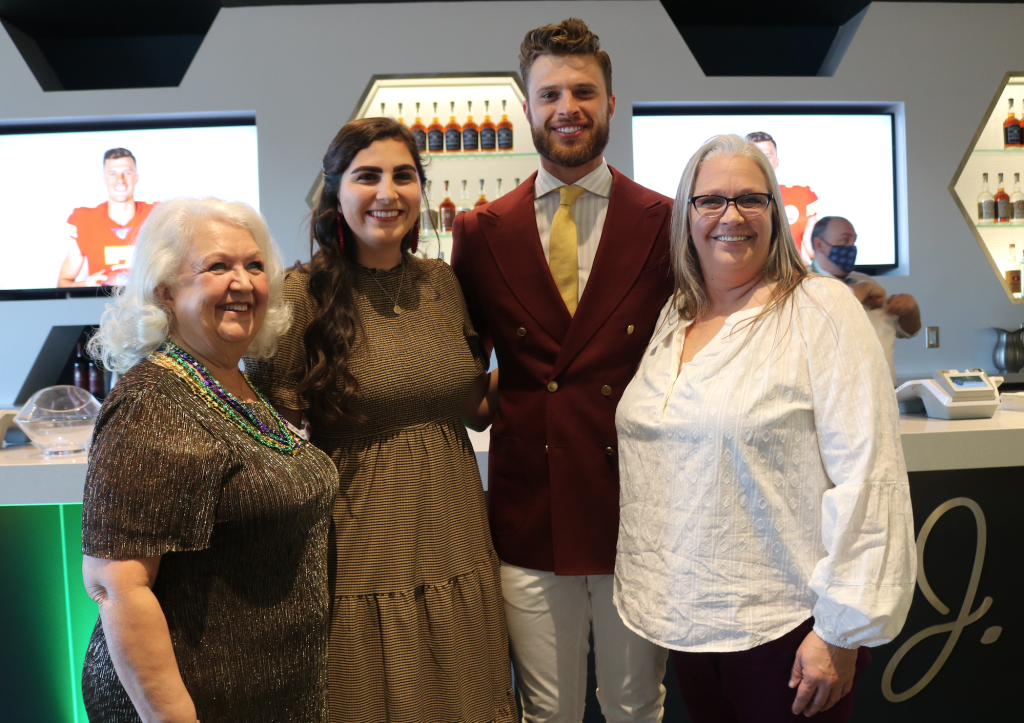 The couple's commitment spans decades.
Ron had worked as the consultant for the archdiocesan pro-life office since 2005, serving until his retirement in 2016. During his tenure, he helped establish three pregnancy resource centers in the archdiocese — Wyandotte Pregnancy Clinic, Olathe Pregnancy Clinic and Mary's Choices in Topeka.
When Ron learned in 2019 about Planned Parenthood's intentions to open a clinic in the Kansas City area, he began to mobilize a grassroots effort against the organization. Although their efforts got the lease revoked, as far as the couple knows, the organization still plans to open a clinic.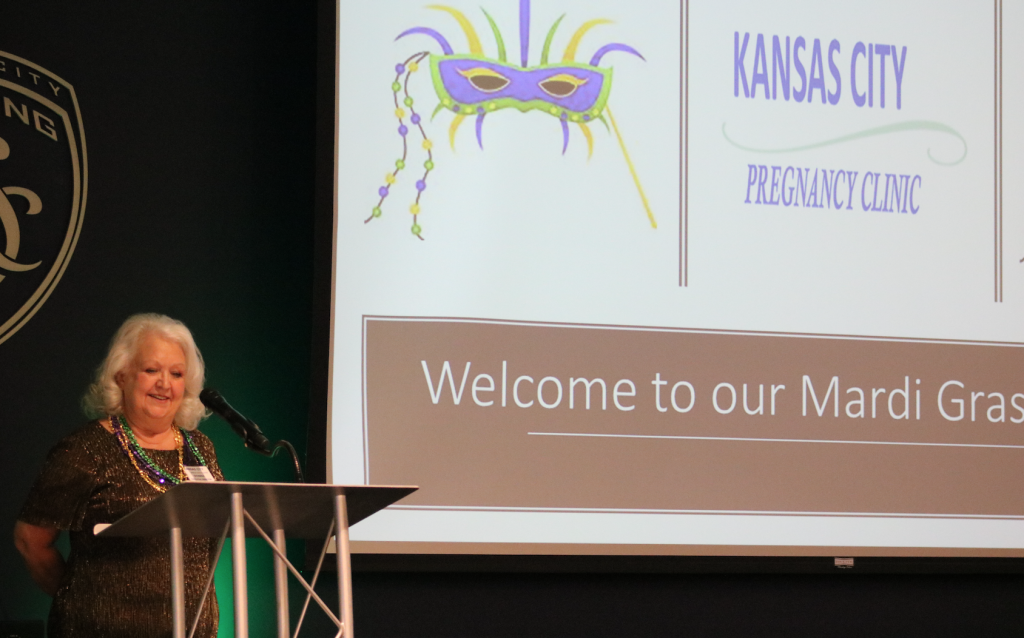 "One evening, late in the night, I woke up and Ron's sitting there with a discerning look. He said, 'I'm 90 percent sure we need to open another pregnancy clinic,'" Donna said.
Partnering with others throughout the region, the couple helped found the clinic in the Mercy and Truth Medical Mission building on Sept. 8, 2019. The clinic opened its doors on July 1, 2020, and offers pregnancy tests; ultrasounds; education regarding abortion; adoption and parenting options; counseling; community referrals; and a baby room full of clothing, diapers and formula. The free services are offered in either English or Spanish.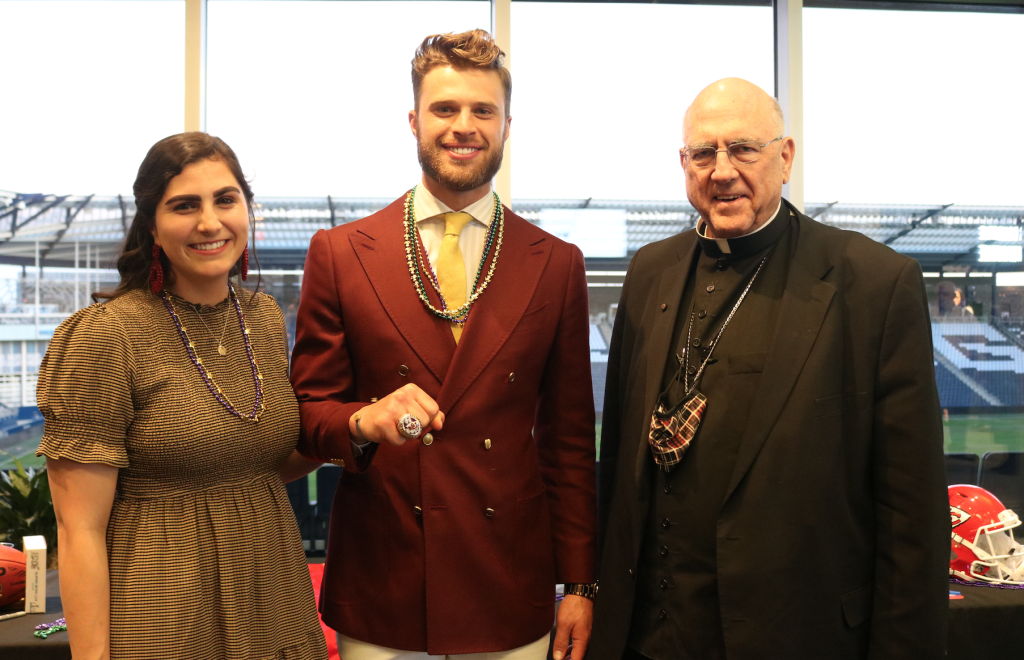 "We minister to so many different women," Donna said. "Women who have been trafficked, women who have been abused, women who are just alone. They're scared. They're terrified. . . . Society has made it OK for these women to abort. . . . We are there to walk them through that decision, and we do it in many different ways. We can just sit and visit with them. We have a video they can watch. We have models they can hold, and we can explain things to them. That's our job. We don't want them to come back to us and say, 'You didn't tell me.' So, we want to answer all of the questions they have about their pregnancy."
Near evening's end, Donna invited everyone to partner with the clinic by making a donation, emphasizing everyone can make a difference.
"When we save a baby, you have helped us save a baby," she said.