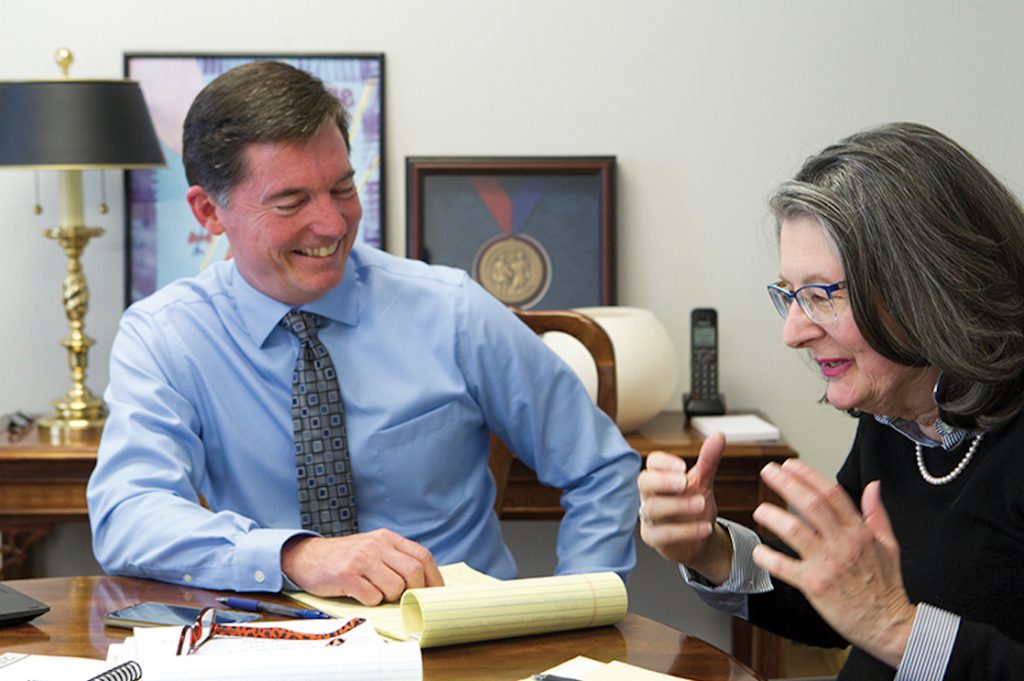 by Joe Bollig
joe.bollig@theleaven.org
KANSAS CITY, Kan. — In his work as parish administrator for St. Michael the Archangel Parish in Leawood, Chris Arth was involved in just about everything that happened at the parish.
He did this for 16 years. And he loved it.
But recently, another opportunity came along and it seemed that God was moving him toward another role — that of legal counsel for the Archdiocese of Kansas City in Kansas.
Arth took the matter to prayer — and got his answer. On Nov. 4, Arth began as legal counsel for the archdiocese. He succeeds Jeanne Gorman, who served in that role for 15 years.
"Many times, I've said, 'Jesus, I trust in you,' and I trust this is where he wants me to be," he said.
Archbishop Joseph F. Naumann was pleased with the hire.
"Chris comes with great legal acumen but also an understanding of the church and its culture," said the archbishop, "and I think that's going to be a big benefit.
"He really understands the legal issues important to the church, and he understands the culture of the church, which is not easy for someone who hasn't worked closely in the church to understand."
Chris and his wife Dana have five children, two still at home. One of them attends St. James Academy in Lenexa. They moved to Overland Park four years ago, but St. Michael is still their home parish. Dana works for Blue Cross in Kansas City, Missouri.
Arth went to the University of Kansas and graduated with a bachelor of science degree in business administration in 1987. He graduated from Washburn University School of Law in 1995.
He and Dana, who earned her Doctor of Jurisprudence degree from the University of Kansas School of Law, married in 1995. The Arths lived in Lawrence, with Chris working at a law firm in Topeka and Dana working for a law firm in Kansas City.
Arth's life changed when his high school friend, Kevin Kief, died in the crash of Swissair Flight 111 on Sept. 2, 1998. Kief's family asked him for help.
"I became the attorney who dealt with all the other attorneys for the family," said Arth. "I was very close to his parents."
The Kief family wanted to memorialize their son with a scholarship, and that brought Arth into contact with John Flynn, the development director at the St. Lawrence Catholic Campus Center at KU. Flynn asked Arth to consider a position at the center in development; Arth wound up working there from 1999 to 2003.
Arth learned a lot about fundraising and development work during his 14 years at St. Lawrence and it prepared him well for his next step.
The Arths had moved and were members of St. Michael the Archangel Parish when, one Sunday, Chris saw in the bulletin that the parish wanted to hire a parish administrator. He applied and got the job in 2003.
One of Arth's greatest challenges at St. Michael was helping build the new church and school, which included raising funds. He also helped found the "fund-a-need" fundraiser to generate monies for all sorts of projects — which included buying a food warehouse for Catholic Charities in Kansas City, Kansas, and helping build a church in Uganda.
Many of Arth's duties while at St. Michael involved working with the archdiocese, and he got to know a lot of people at the chancery in the process. When the archdiocese began to look for Jeanne Gorman's successor, his name came up. He was encouraged to apply by Gorman and others.
Arth will serve as in-house counsel for the archdiocese. As such, he will deal with legal matters for all archdiocesan entities: schools, parishes and ministries.
"Schools will call with questions; parishes will call with questions," said Arth, who will keep an office in Overland Park. "There are 4,500 employees in the archdiocese — and that [can lead to] a lot of personnel issues."
But personnel matters are just the start.
"There are contracts, real estate transactions and corporate matters — resolutions and annual meetings," he said. "There are boards. There's paperwork involved in all that, and annual filings."
One thing he won't do is act as trial attorney — it's not the thing that a general counsel does. When necessary, the archdiocese will hire the appropriate outside legal counsel with expertise in the specialized area.
The church will likely face challenging times in the future as faith comes under attack in many arenas.
"I'm going into this with my eyes open," said Arth. "I love my faith, and I love the priesthood. I think this is where God wants me to be, and I'm going to do everything I can to help our church."